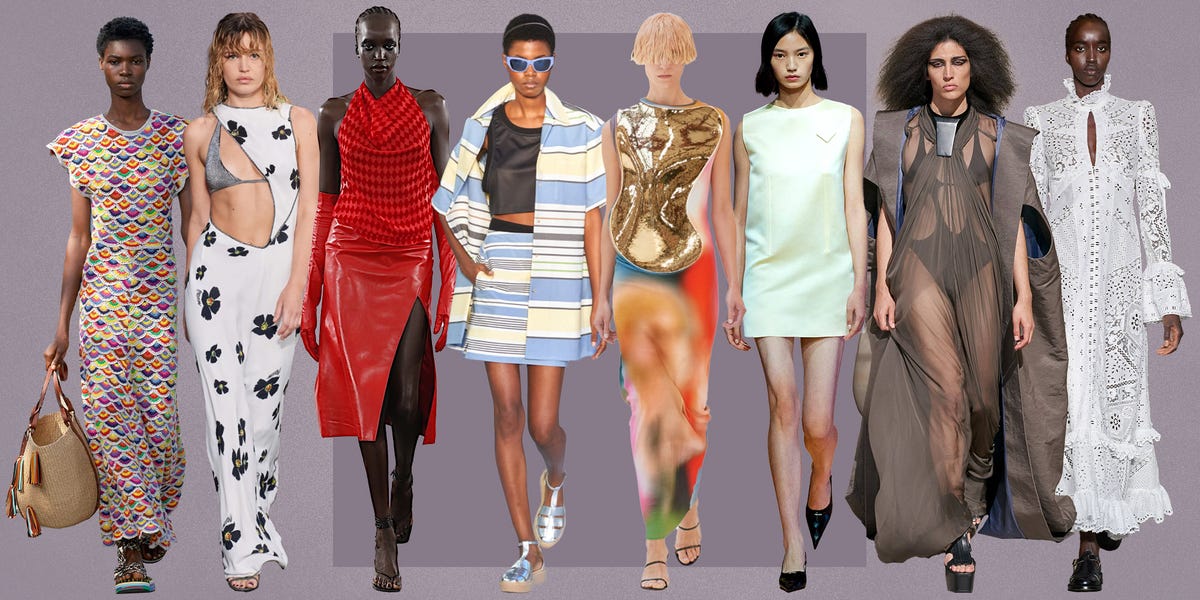 10 Biggest Fashion Trends to Wear in 2022
2022 is well under way, but as we approach Fashion Month, we're taking a look at the trends that can already be anticipated this year—and planning how to dress for it. Here, the biggest trends to look out for in 2022.
Mini Skirt Suits
After seasons of maxis and midis, the mini is about to take the stage, but in the form of suiting. Consider this the perfect opportunity to take your matchy-matchy sets of 2021 into 2022 with more tailoring—and a bit more leg.
GET INSPIRATION
---
Sporty Space
Athletic lines are going intergalactic—and there couldn't a better time for it. With tech-integrated fabrics and classic sporty silhouettes, the space age meets the age of athleisure.
GET INSPIRATION
---
Chromatica
Statement dressing will take the stage this year, but instead of fussy accoutrements, it's bold colors that will kick clothing into the realm of "POW!" From the recent runways at Richard Quinn, Proenza Schouler, and Prada, one thing became clear: ROYG-BIV makes for a revelation in celebratory dressing.
GET INSPIRATION
---
Folk Lace
This year, rebellion may come in the form of lace. Demure and feminine, delicate embellishment offers seasonal softness to follow the rise in temperatures—and hemlines.
GET INSPIRATION
---
Trains
After years of thigh-high slits, and down-to-there necklines, subtle sex appeal comes in the form of classic cuts with dramatics trailing trains that are meant to turn heads.
GET INSPIRATION
---
Luxe Beach
If Emily in Paris is any indication, high octane glamour doesn't need to stop where the sand meets the sea. On this year's beach getaway, dress to the nines in intricately detailed swimwear, cover-ups, and accessories, carving out a more is more space in a locale more often dominated by denim cut offs and classic bathing suits.
GET INSPIRATION
---
Homespun
Heritage techniques such as quilting, embroidering, and varying knits have ruled the trend cycle ever since 2020. This romanticization of the everyday—and crafting—continued on the runways, proving once and for all that in fashion, maybe there really is no place like home.
GET INSPIRATION
---
Stripes
Stripes are a perennial favorite, but this year they are getting a major glow-up. Instead of the classic horizontal pattern, new variations of color, width, direction are used to give relaxed cuts and structure.
GET INSPIRATION
---
Structurally Sound
In many of the S/S 2022 collections, it was abundantly clear that that soft silhouettes of the early COVID era have made way for, not a total 180, but rather a juxtaposition of structure and shape. Seen on the runway at Loewe, Alexander McQueen, Richard Quinn, and Tory Burch, the continual thread was the presence of boned corsetry, and elegant structure to enhance the silhouette.
GET INSPIRATION
---
Skin Is In
After seasons of protective layering, it would seem that the era calls for showing some skin. But fear not, the runways aren't calling for us to bare all. Instead, seductive, sinewy silhouettes that reveal snippets of the midriff are the way to go and have been seen on at shows from Missoni to Christopher Esber, Marni, and even Fendi. The takeaway? Maybe to live la dolce vita, you have to show a little skin. But not too much.
GET INSPIRATION
---
This content is created and maintained by a third party, and imported onto this page to help users provide their email addresses. You may be able to find more information about this and similar content at piano.io