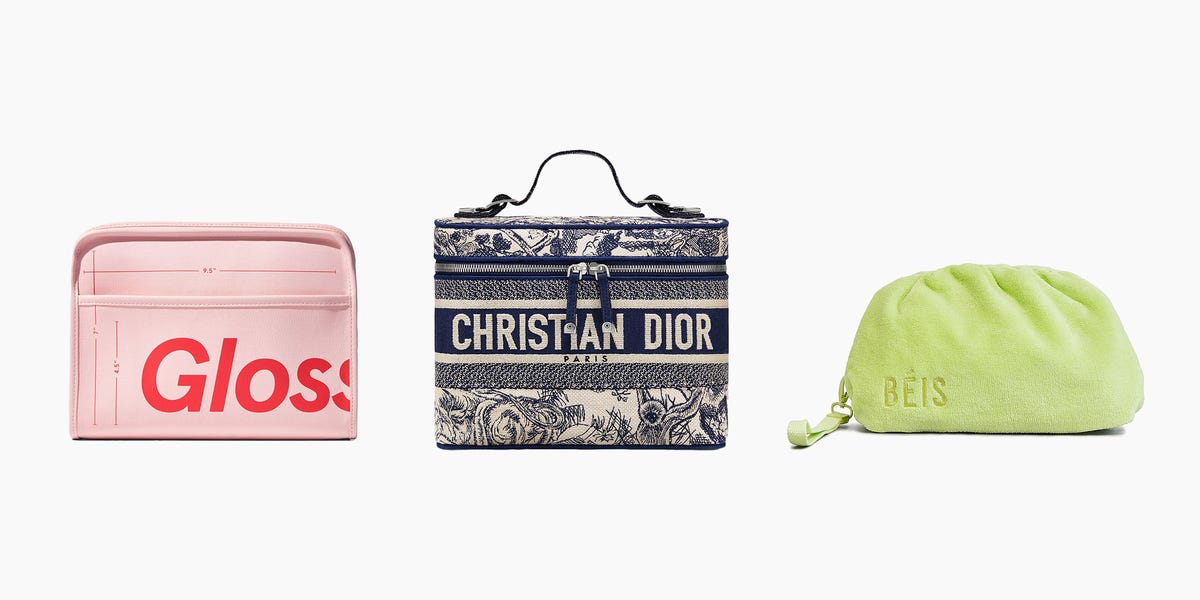 15 Best Travel Makeup and Cosmetic Bags 2022
Travel is stressful, full stop. Add losing your eyelash curler or brand new lippies in your checked bag, and it's a disastrous tale. Take the unnecessary drama out of the situation and opt for an organized travel makeup bag that easily fits in your carry-on luggage— or will at the very least leave your checked back organized amidst the chaos.
These fifteen travel makeup bags provide ample room for all the necessities for weekend trips and month-long reprives. (And if you need some vacation inspiration, we've got a few suggestions here.)
Happy travels.
1
Best for a long vacation
Clear Cosmetics Case
Two individual compartments
Water-resistant
Too large to fit inside a weekender bag
Pricey
This two-sided makeup bag is exactly what you need for a long trip. The handled bag unzips into two separate clear compartments, so staying organized is a breeze. It's large enough to fit full-sized products if you don't have travel-sized versions of your favorites. Bonus: the individual sides minimizes damage from any accidental product explosions.
2
Best for airport
Clarity Jetset Case
This see-through makeup bag makes security at the airport a breeze. The clear design allows for quick and easy access to your favorite products, ditching the endless dig-for-lipstick scene on the runway.
3
Turns into a purse!
Violet Vanity Case
Clear sides are great for grabbing products quickly
Black-owned
Triangular shape can be hard to pack
For the fastest "get ready with me" routine, opt for this see-through makeup case. Perfect for travel, its structured shape and gold feet can stand upright on any surface. Bonus: If you're heading to a sports game or festival, add the chain and it can do double-duty as a handbag.
4
Best for pool day
The Terry Cosmetic Clutch in Citron
This bright terry cloth makeup bag can double as a clutch (just remove the strap) so you can take it from the beach to a night out. It's also waterproof and Shay Mitchell approved!
5
Splurge
Travel Vanity Case
Investment piece
Cute in an Insta pic
Covered in the iconic designer print, this hard-shell vanity case has enough space to accommodate all your top shelf favorites. The interior pocket makes for convenient brush storage and the Italian crafted top handle makes it easy to take on the go!
6
Best for Small Bathrooms
Hanging Toiletry Bag
17 different prints
Fits Anywhere
Affordable
Fabric can wear down after a while
All the functions of your dad's old school dopp kit but much cuter. The bag hangs from a hook (perfect for a shower rod or back of door) so you don't have to dump out all of your makeup products into the hotel sink. There are also storage compartments, breathable mesh, and a ton of fun color options.
Comes in 3 sizes
Has vegan leather option
With 23 different prints to choose from, this vacationer makeup bag can match your suitcase. The nylon versions are machine-washable bag (and there are vegan leather versions, too)—all of them open wide enough for you to easily see each and every one of your products without having to dig!
8
Proceeds go to charity
Jumbo Zip Pouch
Oversized
Water-resistant
Too large for a weekender bag
Pattern Beauty (and Tracee Ellis-Ross fans!) will love this oversized pouch with the brand's logo. Every sale supports organizations & programs that empower women & people of color.
9
Best for full sized products
Beauty Bag
Doesn't fit full-sized products.
Calling all Glossier stans—let the world know with this gorgeous pink and red cosmetic bag. The interior pouch and three side pockets allow you to store different products separately so you can stay organized. Bonus: coated cotton material makes it easy to wipe away any stains, even ones from the messiest of foundation spills.
10
Best for Traveling Couples
Wash Bag
Interior pockets are padded
Black-owned business
Handmade out of nubuck leather, this kit has a 4 interior pockets making it effortless to separate your various products and tools. And the neutral design vibes make it a great gift for you beau, too.
11
Best for type-A packers
The Cosmetics Bag
Can be personalized
Very organized
Shaped just like a packing cube, this simple, yet stylish cosmetic bag has transparent pockets and neoprene compartments for all of your products! Our favorite feature is the detachable brush holder, which makes it easy to organize all of your beloved beauty tools.
Comes with removable compartments
Meet the Mary Poppins bag of makeup bags. It has spacious storage compartments, a large wrap around zipper, and a stand-out gold chain so you'll have your entire hair, makeup, and skin routine inside with ease.
13
Best Catch All Bag
Lilac Oversized Makeup Bag
This pastel bag is the perfect home for all your basics. The wraparound zipper, this roomy bag opens wide enough for you to see the full array.
14
Best for Organization
Makeup Train Case
Adjustable dividers
Inspired by the pros
Can be hard to pack
With removable dividers, this durable case can fit palettes, lipsticks, brushes, etc. in a comfortable and customizable way.
Designed for smaller products
Looking for a mini pouch to throw in any summer tote? Here it is! This clear cosmetic bag comes with a large zipper tag to help you grab your necessities in a flash for any on-the-go touch ups.
How do I pick the best makeup bag for travel?
Finding a makeup bag that fulfills your long list of needs can be done. When on the hunt, prioritize space. If it can't fit all of our products then what's the point? It's best to look for a bag that caters to your specific makeup and preferences. Bigger full-sized items can be easily thrown in a spacious bag, whereas smaller items such as lipsticks, liners, individual shadows, etc. beg for a bag with pockets and dividers as opposed to a catch-all. At the end of the day, a makeup bag should keep you organized, happy, and sane!
What's the best makeup bag material?
Anything water resistant! Most makeup bags are lined with water-resistant or waterproof materials such as clear plastic, nylon, or polyester.
How should I clean my makeup bag?
Beauty lovers know the danger of a loose cap. Though spills may be unavoidable, cleaning them up is something we all must learn to master. Turns out the secret is not so secret: antibacterial household spray! Any Clorox, Microband, or Cleansmart spray, etc. will do the trick. Tip: Make sure to bring makeup pads on every expedition, in case a spill decides to attempt destruction. Shop our favorite antibacterial reusable cotton rounds here.
How should I organize my makeup bag for travel?
When organizing your makeup for a trip, there are a few important things to keep in mind:
Try to leave full-sized products at home. If it's a short enough trip, go for the minis.
If you can, pick the combined products (for example: A bronzer + blush compact rather than bringing both bronzer and blush).
Check the amount of product you have left before packing. Arriving at your destination with only a drop left isn't doing anyone any good!
If you don't have mini versions of your fav moisturizers, primers, setting spray, shampoo, or conditioner, don't fret. You can find travel-sized bottles here, which can save you from a last minute trip to the drug store! Plus, they're TSA approved.
When packing, it's helpful to do your full routine start-to-finish and place each beauty item in your makeup bag, and nothing else. This way, you can avoid the unnecessary-yet-tempting products!
This content is created and maintained by a third party, and imported onto this page to help users provide their email addresses. You may be able to find more information about this and similar content at piano.io