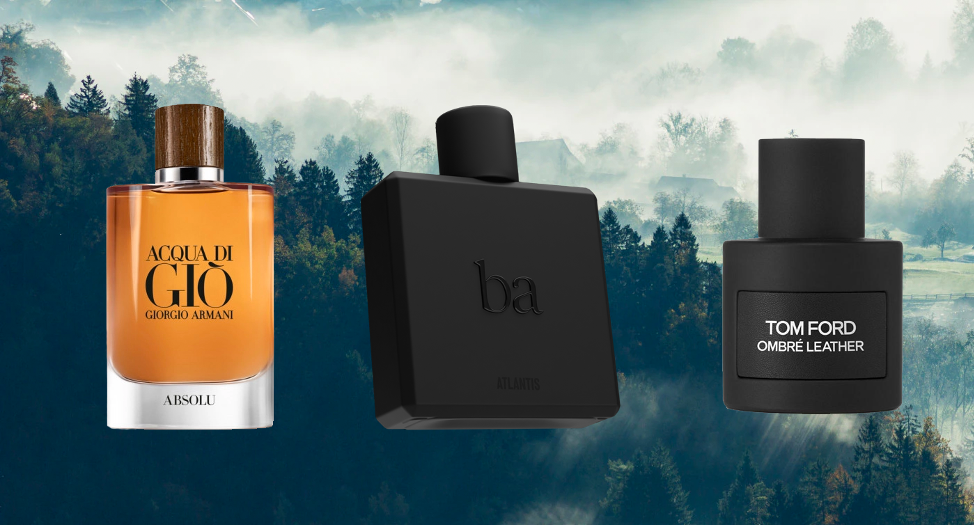 27 Best Perfumes for Men in 2023
For men, looking good and smelling good go hand in hand. Both are required for anyone who wants to present himself in a good light. A man's scent makes the first and last impression, whether he's on a date, traveling or striding into the workplace. However, because smelling good is so important, choosing a suitable perfume can quickly become overwhelming.  
To help you out, we did the legwork for you. We combed through scores of perfumes for men and narrowed the list down to the 27 best perfumes for men in 2023. During our search, we looked for perfumes that would energize a man and help him feel young, alive and sexy. These perfumes range in price, fragrance, family and presentation. They are all unique in their own way, allowing each man to stand out and show off the characteristics that make him special. Read on and experience these perfumes for yourself.
Blu Atlas' Atlas provides a burst of energy and a base of sensual masculinity that will last you throughout the day.
Atlantis eau de parfum is a symphony of notes that come together in a delightfully refreshing way. With the first spritz, you will be enticed by the citrusy and fruity interplay between bergamot, lemon and blackcurrant. As the fragrance intensifies, you will be drawn further into its charmes by the middle notes of lavender, clary sage, peach and apricot. Then Atlantis finishes off strong with masculine touches of aromatic violet, ambrette seed and musk.
This vegan, phthalate-free formula has captured us, and we can safely say that Atlantis is our top choice for the best perfume for men in 2023.
2. Acqua di Giò Absolu Eau de Parfum by Giorgio Armani
Warm, sexy and elegant describe the man who wears the glorious fragrance of Acqua di Giò Absolu by Giorgio Armani. This perfume is a bold statement that is like receiving an embrace from the most attractive man in the crowd. It envelops you in warmth and love from head to toe.
Such satisfying sentiments are provided by a dazzling blend of marine top notes perfectly sweetened by labdanum. The touch of patchouli in the base heightens and deepens the fragrance, boosts the man's confidence, and helps him portray his strength, courage and loyalty.
Staying true to its signature design, Giorgio Armani is showcased in the iconic Acqua di Giò bottle, which is recognizable from a distance. Its warm, amber tone is just a hint of the allure within its vessel.
3. Ombré Leather by Tom Ford
Ombré Leather is a depiction of the true American man. The floral and leathery tones summon the dreams of prosperity, wealth and success promised by the American West. As the fragrance mixes with the body's chemistry, it deepens through touches of patchouli, vetiver and jasmine.
Tom Ford's Ombré Leather evokes feelings of luxury. The deep leather fragrance is reminiscent of weathered leather jackets and opulent cars. As you run your finger across the textured label, you will anticipate the glorious scents held within.
4. Spicebomb Infrared by Viktor & Rolf
Spicebomb Infrared is for the trendsetter who loves trying the newest, hottest thing to elevate his style. This cologne is composed of sharp, spicy and warm tones that will give off seductive charms throughout the day. The intense fragrance of Spicebomb Infrared will project your warm personality and alluring charisma.
We are also captivated by the grenade-shaped bottle that speaks of the boldness and rich warmth that is found in just one spritz of this cologne.
5. Boadicea the Victorious Blue Sapphire – Pure Perfume
Every now and then we all have something to celebrate in life, and there is no better way to do that than with the Blue Sapphire Pure Perfume by Boadicea the Victorious. The glorious blend of lemon, orange and green accord in the top notes is an invitation to join the festivities as you breathe in the refreshing aroma. They exude feelings of joy and excitement as the party goes on and is deepened by rose, spicy cardamom and jasmine. The luxurious banquet is finished off with a soothing touch of patchouli and amber.
This perfume is a celebration in a bottle. Its creators blended this fragrance in hoor of the 65th royal wedding anniversary of their Royal Majesties Queen Elizabeth II and Prince Phillip. The sapphire-blue bottle is the perfect representation of majesty and high class.
6. Bleu de Chanel
Since its release, Bleu de Chanel has attracted a cult following among men – so much so that it can now be considered a classic fragrance. This perfume has everything a man could hope for in a fragrance: citrusy, earthy and woody scents that revitalize the senses and bring out a man's best features.
The key notes in this perfume are citrus, laudanum and sandalwood cedar. They will ensure any man feels strong, masculine and elegant. We believe that Bleu de Chanel is fitting for any man and is one of the best perfumes for men in 2023.
7. Woody Green Apple by Dossier
For the man who is setting out on new adventures, Woody Green Apple by Dossier is the best option to take along for the ride. Its crisp top notes of green apple, grapefruit and mint will propel you to make those first steps. As the scent deepens, the middle notes of alluring lavender, rose and cinnamon will give you the courage to walk confidently toward your goal. Base notes of cedarwood, patchouli and amberwood will give you the strength and fortitude to conquer your dreams and aspirations.
This perfume is one of the finest fragrances for men who are taking on new challenges in life. Its clean, vegan formula is just what you need to feel and smell great while ensuring you are maintaining your health, as well as that of the planet.
8. Dior Homme Perfume
When you get just one shot at making a good impression, you can't go wrong with something as alluring and sexy as Dior Homme Perfume. This perfume is a timeless composition of Atlas cedar, Haitian vetiver and patchouli. It is an earthy and woody fragrance, full of warmth.
We love the sleek and elegant design of this perfume. It comes in a rectangular bottle with a solid black strip in the middle. The amber color of the perfume speaks of the warmth that is sure to invite interest and respect.
9. The Inimitable William Penhaligon
The Inimitable William Penhaligon is a charismatic gentleman who is full of class, nobility and adventure. With a scotch on the rocks in one hand and a cigar in the other, he strolls into the room and charms every guest with his eloquent sophistication. His essence is perfectly captured in this woody and earthy cologne.
The key notes in this perfume of wonder are vetiver, cedar and ambrox. Just like Mr. Penhaligon himself, this perfume punctuates the air and draws a warm smile from the lips of everyone nearby. It creates admiration and respect toward the man who is wearing it.
If you are as charismatic as The Inimitable William Penhaligon, or wish to be, this perfume would be an excellent addition to your wardrobe. It will inspire you to take the leap toward the unknown and adopt an optimistic attitude toward the difficult things in life.
10. Terre d'Hermès Eau Intense Vetiver
Terre d'Hermès Eau Intense Vetiver is an earthy and spicy composition that is best suited for the man who works long, grueling hours during the day but is ready for adventurous evenings with friends and loved ones. This perfume is a blend of grapefruit, black pepper and flint. It has the perfect balance of classic woods and modern citrus tones that make this perfume unique and alluring. At work, it will help you appear as a man of values and wisdom. When you're out on a date, it will ensure you come across as attractive and sophisticated.
11. Sexual Paris Pour Homme by Michel Germain
There is something undeniably sexy about a sophisticated man who is well-groomed and well-mannered. Such is the man who reaches for Sexual Paris Pour Homme on a regular basis.
Inspired by his love for his wife, Michel Germain created a cologne that hits all the right notes of passion, seduction and love. This gloriously sexy perfume is a blend of cardamom, champagne mandarin, fir balsam and sandalwood. It is wonderfully alluring, pulling those around closer to bask in its sexy splendor. If you're looking for the "it" perfume to carry you to the love of your life, Sexual Paris by Michel Germain is a great place to start.
12. Carolina Herrera Bad Boy Eau de Toilette
Bad Boy Eau de Toilette by Carolina Herrera is for the daredevil who is constantly seeking adventure and defying the odds. Bad Boy is full of surprises, evoked by its key notes of sage, tonka bean and cocoa. The masculine tones are perfectly balanced with green notes that provide a surprisingly rich flavor.
Bad Boy is housed in a unique lightning-bolt bottle. Just like the scent, this bottle will spark your curiosity and will quickly become a staple addition to your grooming area. Rise to the top and beat the odds with the help of Bad Boy Eau de Toilette by Carolina Herrera.
13. Jimmy Choo Man Eau de Toilette Spray
Jimmy Choo Man is a perfume for the man who loves to stay classy and elegant while showing off his unique style and characteristics. This perfume is a combination of fresh aromatics like lavender, spicy pink pepper in the heart and green patchouli at the base. It is full of energy that will help you stand out as a man of confidence who is willing to step outside of his comfort zone.
The design of Jimmy Choo Man's presentation is sleek and elegant. This showstopping perfume is encapsulated in a silver bottle with straight edges and metallic detailing at the top.
14. Gentleman Eau de Parfum by Givenchy
With the first spritz of Gentleman Eau de Parfum, we were mentally transported into a Victorian-style parlor complete with burnished leather sofas. We were instantly surrounded by elegant, sophisticated gentlemen who were sipping on their glasses of whiskey and pondering their next move in a game of chess.
Such are the sentiments that wash over us thanks to the deep and luxurious perfume of warm whiskey absolut and cedarwood. It gives off the impression of a well-to-do man who is full of refinement and elegance. This is the scent of an accomplished man who has all of his ducks in a row.
15. La Nuit de l'Homme Yves Saint Lauren
La Nuit de l'Homme by Yves Saint Laurent is suited for the well-dressed man who loves crisp, white shirts and black suits. It is a formulation of fresh masculinity brought on by cardamom, cedar and coumarin. The bright notes punctuate the air, and as the fragrance deepens, the warm cedar provides an element of mysterious sensuality.
16. Amouage Eau de Parfum Spray
Amouage Eau de Parfum is sensual, with bright, fresh notes of oregano, pimento berry and bergamot, an unusual combination that warms the soul and refreshes the senses. In the heart of the fragrance are sweet tones of amber, vanilla and Somali opoponax. These gentle touches combine perfectly with the base of smoky woods, oud and leather. This entire perfume is pleasantly harmonious, speaking of the man's gentle spirit and calm demeanor.
Amouage Interlude comes in a sleek blue bottle whose color cascades into a deep shade of blue on the bottom. It features a gold accent in the middle and a simple golden logo on the front. The gold-accented cap completes the design with an elegant statement, fitting for the refined man.
17. Bvlgari Pour Homme Eau de Toilette Spray
For the man of few words, Bvlgari's Pour Homme Eau de Toilette is the perfect perfume, as it will do all the talking. It is a gorgeous scent of woody and floral tones that are contrasted with musk, creating an atmosphere of luxury and prestige. With a magical fragrance such as this one, your words and intentions will be understood quickly and you will be given more regard than ever before.
18. Tiffany & Love by Tiffany Eau de Toilette for Him
Very little needs to be said about this perfectly crafted perfume. Tiffany & Love for Him was formulated to honor the love, passion and commitment two people have for each other. Its spicy and fragrant top notes of ginger and mandarin are the perfect scents to bring together two lovebirds who only have eyes for each other.
The heart of this perfume features juniper, geranium and lavender, which solidify the fragrance and the couple's love for each other. Blue sequoia and sandalwood in the base evoke feelings of seduction and irresistible charm.
19. Purple Label Eau de Toilette
When we take in the woody aroma of Purple Label Eau de Toilette, we think of a superbly dressed, refined and well-mannered man who has a zest for life. Purple Label is a beautiful bouquet of fresh blackberries, tobacco flower and mahogany wood. The fresh, woody tones of these plants come together to provide an element of surprise and modern sophistication.
We love the packaging, which is ideally suited to the name and perfume. The solid purple bottle has a slight gradient effect when placed in the light, summoning you to experience the Purple Label for yourself.
20. Versace Eros
The Greek god Eros was a god of passion, love and desire. Inspired by this mythological character, Versace created their own interpretation of Eros in the form of their awe-inspiring cologne. Versace Eros is a composition of cool and spicy tones that are provided by mint, orange blossom and Madagascar vanilla. It is a strong fragrance with vibrant and cool spice that will intrigue the senses and cause a trancelike state in the wearer and those close to him.
We also enjoy the packaging, which is inspired by the Ancient Greeks. The turquoise bottle is embossed with a labyrinth and the head of Eros. Its turquoise cap also features a gold sculpture of Eros.
21. Light Blue Eau Intense Pour Homme by Dolce & Gabbana
Dolce & Gabbana created a paradigm shift in the world of perfumes for men when they released Light Blue Eau Intense Pour Homme, which has become an iconic perfume. This perfume is one of a kind, featuring sharp notes of grapefruit, fruity juniper and musk. It is an intense fragrance, fitting for the man who loves an extra boost of confidence.
Light Blue was inspired by the magical Mediterranean Sea, giving off fresh aquatic scents mixed with citrus and musk. It is a cooling fragrance that is perfect for all times of the day.
22. Phantom Eau de Toilette by Paco Rabanne
Paco Rabanne will always be known for his mind-blowing designs and fragrances that leave a lasting impression on everyone who encounters them. This cologne is a unique composition of rhubarb, lemon, lavender and vetiver. It is freshy, fruity and satisfying. The surprising fragrance will inspire you to take on greater risks and try new things.
We cannot begin to describe our enthusiasm for the eye-catching, unconventional packaging of this cologne. The bottle is in the form of a robot with silver armor; the spritzer is hidden in the top of the head. Looking at it from a distance, nobody will suspect the glorious fragrance hidden within.
23. Bade'e Al Oud for Glory by Lattafa
Lattafa is a luxury designer from Saudi Arabia that inspires the world with its long-lasting and unique fragrances. This cologne is a blend suited for both men and women, and features saffron and musk. It is bright and cheery, inviting joy and excitement. The deep woody and musky notes are a perfect complement to the oriental perfume and will evoke feelings of longing and nostalgia.
The bottle of this perfume makes a beautiful statement in any room. The solid black bottle is the perfect host for the geometric design on the front, which holds the brand's logo and name.
24. A*MEN Ultimate Eau de Toilette Spray by Thierry Mugler
For the man who isn't afraid of the occasional act that requires courage, A*MEN Ultimate Eau de Toilette Spray is the perfect perfume to inspire him to carry on his noble work. This perfume is a bold composition of wood, bourbon vanilla and coffee. It is addictive and seductive, offering vibrancy and aromatic freshness.
This perfume is a classic fragrance. Since 1992, it has been inspiring men  to be bold, courageous and unstoppable. We adore the unique packaging of this cologne. The bottle is a vivid blue, giving a hint of the bright essence within. On the front is a metallic blue star that captures the eye and invites everyone far and near to take a whiff of the perfume's wondrous essence.
25. Tom Ford Oud Wood Men's Eau de Parfum Spray
For the man who loves a good, classic perfume, Tom Ford's Oud Wood will be the perfect scent for all your adventures in 2023. This cologne is a beautiful blend of rare oud wood, sandalwood and Chinese pepper. Though it features many classic earthy and woody elements, this perfume also adds a touch of surprise with cardamom. It is the perfect perfume for an extra dose of sensuality and masculinity.
The iconic packaging of this fragrance takes on the classic shape of a chess piece, adding an element of beauty and elegance to the man's vanity. The strong concentration of this perfume will carry you through the entire day, offering its strength and confidence along the way.
26. Azzaro Chrome Eau de Toilette
Azzaro Chrome is a perfume suitable for men of all ages, lifestyles and personalities. It is a light formula of citrus, aquatic and woody tones that will provide every bystander with a breath of fresh air and renewed energy. The green touches of bergamot and mate leaves will accentuate the wearer's vitality and carry him through the day with a sunny disposition.
This fresh, aromatic fragrance is showcased in a beautiful glass bottle that is a light shade of blue. The chrome cap is the perfect addition to the fragrance, giving it a crisp and clean look.
27. Armani Code
As we wrap up our lineup of the best perfumes for men in 2023, we'd like to bring your attention to Armani Code. This perfume has become a cult favorite among many men, and for good reason. The fragrance is a cocktail of bergamot, lemon, olive tree blossom and wood. It is an exquisite scent that allows a man to be his most seductive and sophisticated.
This soft fragrance is aromatic and therapeutic. It is the perfect accompaniment for a warm date with your significant other. Though it may be chilly outside, this perfume will warm you from within, exuding feelings of joy and happiness.