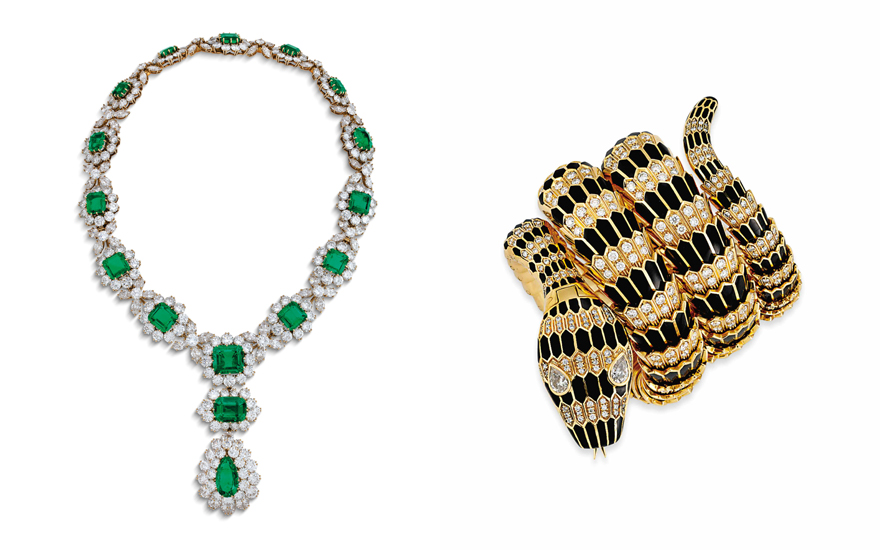 An expert guide to collecting Bulgari jewellery
An introduction to the best Bulgari rings, bracelets, necklaces and watches, including exalted designs such as the Trombino ring, the Giardinetto brooch and the Serpenti bracelet-watch
A brief history of Bulgari
Bulgari — or BVLGARI — was founded by Constantine Sotirios Boulgaris (1859-1932), which was Italianised to Sotirio Bulgari. He began his career as a jeweller at Epirus in Greece before leaving for Corfu in 1877. He moved on to Naples and finally, in 1881, to Rome. Three years later, he opened a shop in Via Sistini, which was replaced by the current flagship store in Via dei Condotti in 1905. The Bulgari signature is often spelt BVLGARI — with a V rather than a U, which is a reference to the classical Italian alphabet.
Bulgari expanded before the First World War with shops in San Remo, Sorrento and Naples. The emphasis, however, was always on Rome, where in the 1930s the firm became internationally famous. Bulgari created a diamond tiara for the 1930 wedding of Prince Umberto of Italy and Princess Marie José of Belgium, and counted the American magnates Robert Lehman and Frank Jay Gould among its many famous clients.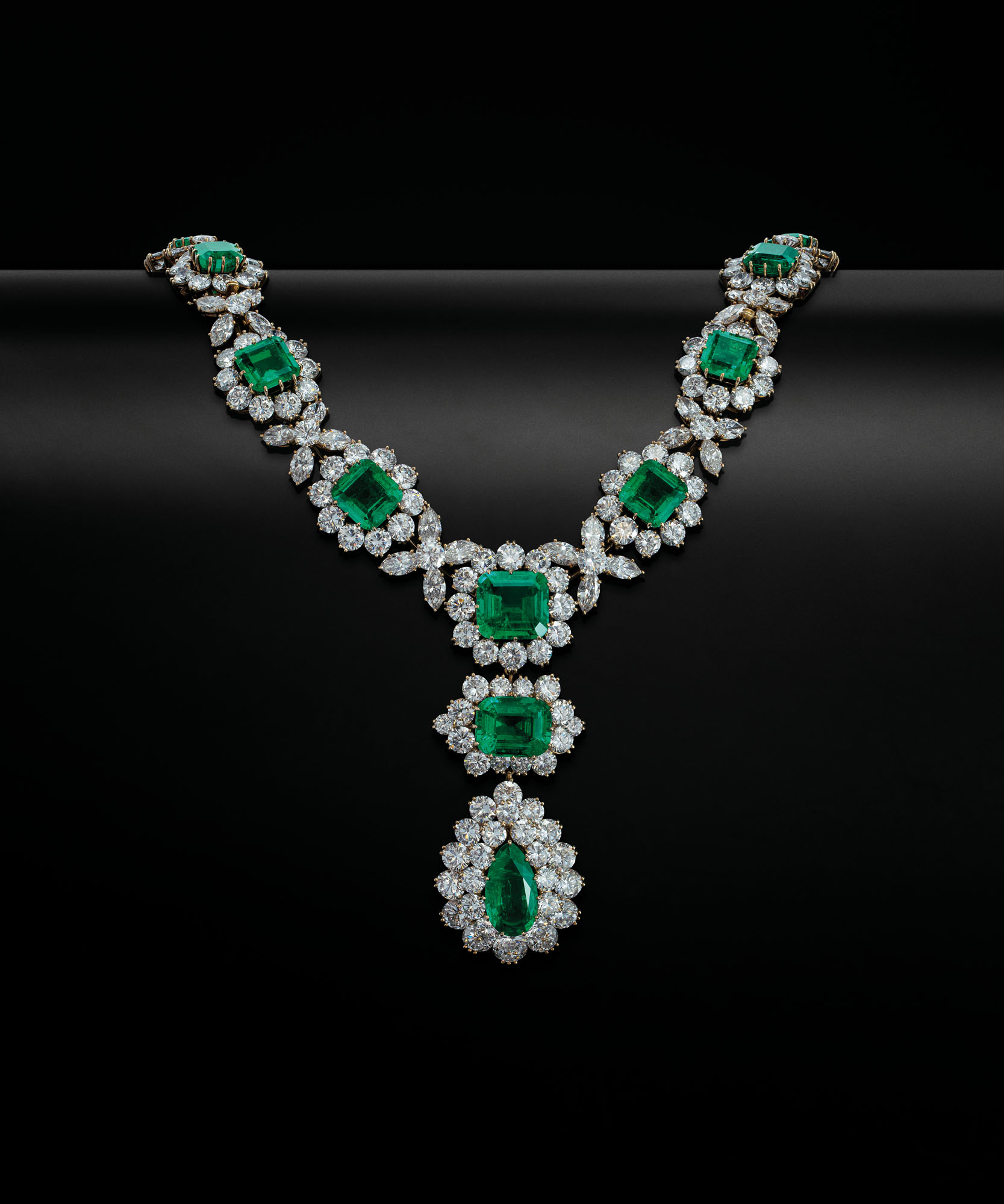 Jewellery production practically ceased during the Second World War but slowly recovered in the 1950s. By the following decade Bulgari was making jewellery — bows, brooches and bold earrings — lavishly set with precious gemstones.
The 1930s and the Bulgari Trombino ring
The Trombino (translated as 'little trumpet') is one of Bulgari's most successful and long-lasting designs. The first model appeared in the early 1930s and was instantly popular because it allowed the gemstone to stand proud. The shank of the Trombino ring was a broad band of pavé-set diamonds graduated to a horizontal line of baguette-cut diamonds.
One of the most famous Trombino rings was bought by Elizabeth Taylor in 1971, which consisted of a sugarloaf cabochon sapphire weighing more than 25 carats. It realised $866,500 when it was sold at Christie's in 2011. Christie's sells many examples of the ring in the £20,000-50,000 range.
Bulgari's big breakthrough in the 1960s
Bulgari began to attract a truly international following during the 1960s. Sophia Loren was photographed wearing an important Bulgari diamond necklace at the 1961 Cannes Film Festival, Gina Lollobrigida wore the firm's emerald and diamond jewellery at the premiere of The Sound of Music in 1965, and Princess Salimah Aga Khan became a regular client — when her collection was sold by Christie's in Geneva in 1995, it featured 18 lots by Bulgari.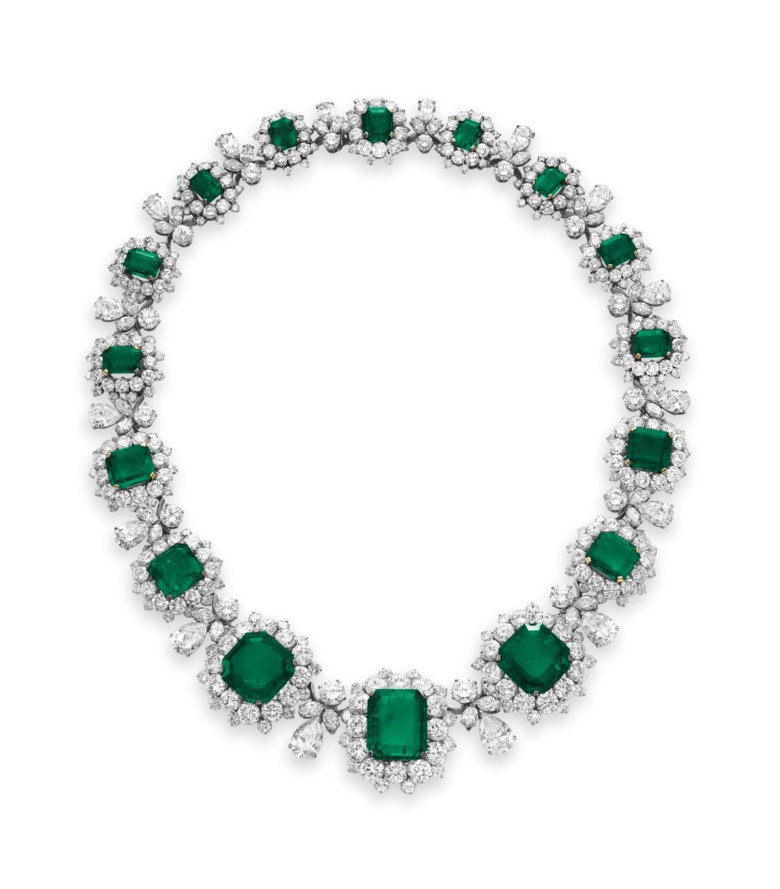 When she was filming Cleopatra  outside Rome in 1962, Elizabeth Taylor found Bulgari impossible to resist. One of the most famous jewels from the period was the magnificent emerald and diamond necklace that Richard Burton bought for Elizabeth Taylor as a wedding present in 1964 (above). When sold by Christie's in 2011 it fetched $6,130,500. Taylor's matching earrings sold for $3,218,000 the same year.
Bulgari's burst of colour and the Giardinetto brooch
In 1962 the Italian government organised an exhibition in Paris of 75 jewellers from Italy, marking the inauguration of the Italian Institute of Culture. Up until this point Paris had reigned supreme in respect of design and manufacture, but Italian jewellers were now determined to introduce a new dimension to jewellery design.
Bulgari led the way with the use of numerous colour combinations and bold pieces of statement jewellery. It focused less on the intrinsic value of the gems and more on the impact they created. Diamonds were used sparingly, partly to keep costs down, but also to allow coloured gemstones to take centre stage.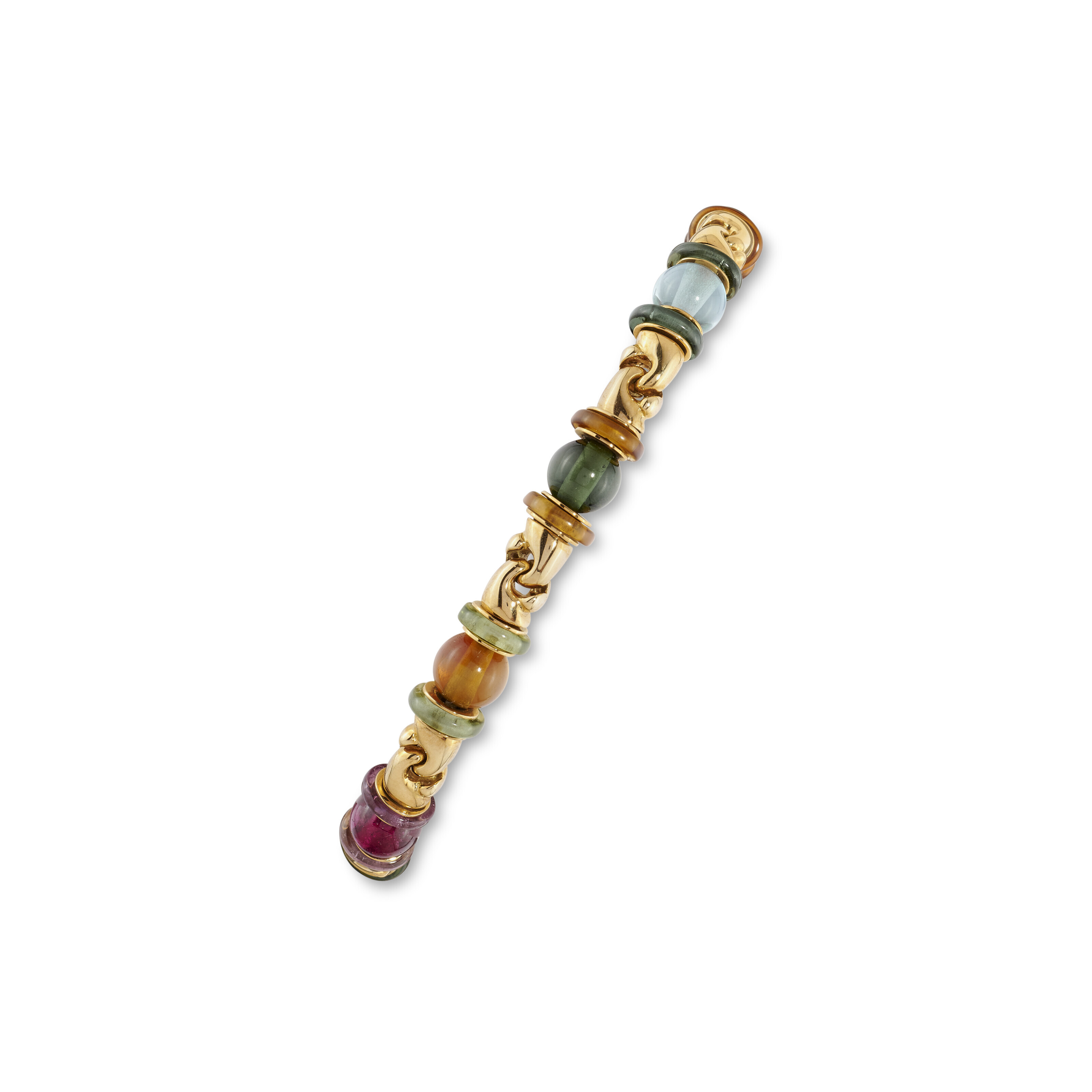 In the early 1960s, Bulgari created a series of 'Giardinetto' brooches, which allowed the firm to use a wide range of colour combinations and gemstones, whether cabochon or calibré-cut. It was this explosion of colour that defined Bulgari for the period 1955-95, and it is these iconic designs that are keenly competed for at auction today. Such pieces also remain a guiding principle for Bulgari's contemporary designs.
Bulgari Serpenti bracelet-watch
In some cultures the serpent was a fertility symbol, and in others it represented strength, eternity and seductiveness. In ancient Crete, snakes were worshiped as guardians of birth and regeneration because of the way they shed their skin.
Bulgari produced some stylised coiled serpents in the late 1940s, but it was not until 15 years later that the technique was perfected. The secret lay in the white gold or steel spring within the metal bands of the Tubogas coil, which gave the Bulgari Serpenti bracelet-watch tremendous flexibility.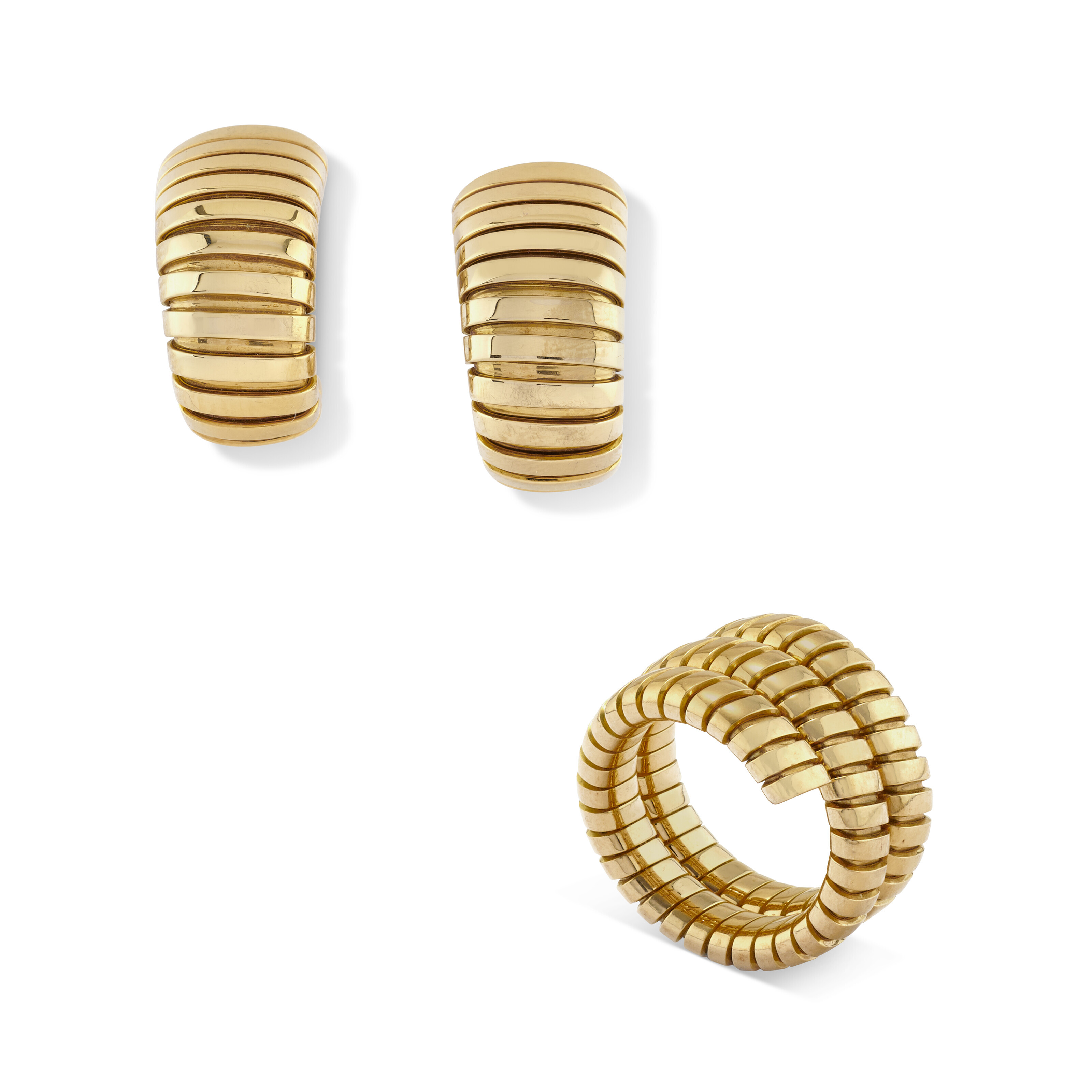 The first models produced in the 1960s were nearly all made in yellow gold with diamond-set heads and tails. The Bulgari Serpenti bracelet-watch worn by Elizabeth Taylor in Cleopatra consists of a pavé-set diamond head with emerald eyes, which set the tone for numerous versions that were made in the years that followed.
Many Serpenti bracelets included a watch concealed within the serpent's head. The dial is revealed from beneath a hinged cover. The movements for these watches came from leading watch manufacturers, including Jaeger-LeCoultre, Vacheron Constantin or Audemars Piguet, while the dials came in many different shapes.
The colourful enamel examples are meticulously crafted, with scales handmade from sheets of gold before being attached to each other at the core.
Early examples only wrap around the arm once or twice, but in later examples three or four coils are normal — a design called 'The Twist' goes around the arm seven times. The Bulgari serpent tradition continues today with the 'Head over Tail' serpent watch that was introduced in 2015.
Bulgari in the 1980s: Monete jewellery
The 'Monete' jewellery range of coin-set necklaces, bracelets and earrings is instantly recognisable, and one of the few designs that has not been imitated by other manufacturers. It remains one of Bulgari's most enduring and popular lines.
The idea of mounting coins in jewellery is not new — there are plenty of examples from ancient Rome of a fashion that continued into the Byzantine era. Even the Anglo-Saxons are known to have mounted coins in jewels. The famous 19th-century Italian jewellers Castellani and Giuliano often incorporated Roman gold and silver coins into bracelets in what was termed the 'neo-archaeological' style.
In tribute to the firm's Greek origins, Bulgari liked to use an Athenian tetradrachm — a silver coin equivalent to four drachmae — of circa 420 BC, with the head of Athena on one side and an owl symbolising wisdom on the other, or a tetradrachm featuring the head of Alexander the Great (336-323 BC).
While Bulgari did encase a few coins in boxes during the late 1930s, it was not until the 1980s that the firm started producing a large number of coin-set necklaces, bracelets and occasionally earrings. Ancient Greek and Roman coins were popular, but so too were 18th and 19th-century Italian coins, and lapis lazuli, cornelian and sardonyx cameos.
Bulgari Parentesi — modular, easy-to-wear jewellery
In the 1980s there was an appetite for easy-to-wear jewellery that was stylish and affordable. The Parentesi range — translated as 'brackets' or 'parenthesis' — ticked all the right boxes: it was bold, distinctive, and could be as formal or informal as required.
The first Bulgari Parentesi jewellery was created in 1982. The original model consisted of three elements — one shaped as an hourglass, one formed as brackets, and another to fit into the cavity of the bracket. This modular jewellery could be adapted to different sizes simply by removing one or more elements.




Sign up today

Christie's Online Magazine delivers our best features, videos, and auction news to your inbox every week

Subscribe




A popular design is one in which the gold hourglass section is replaced with pavé-set diamonds. New applications have included 'Alveare' (beehive) in 1988 and 'Nuvole' (clouds) in 1998, as well as different versions of 'Parentesi' in 2006.