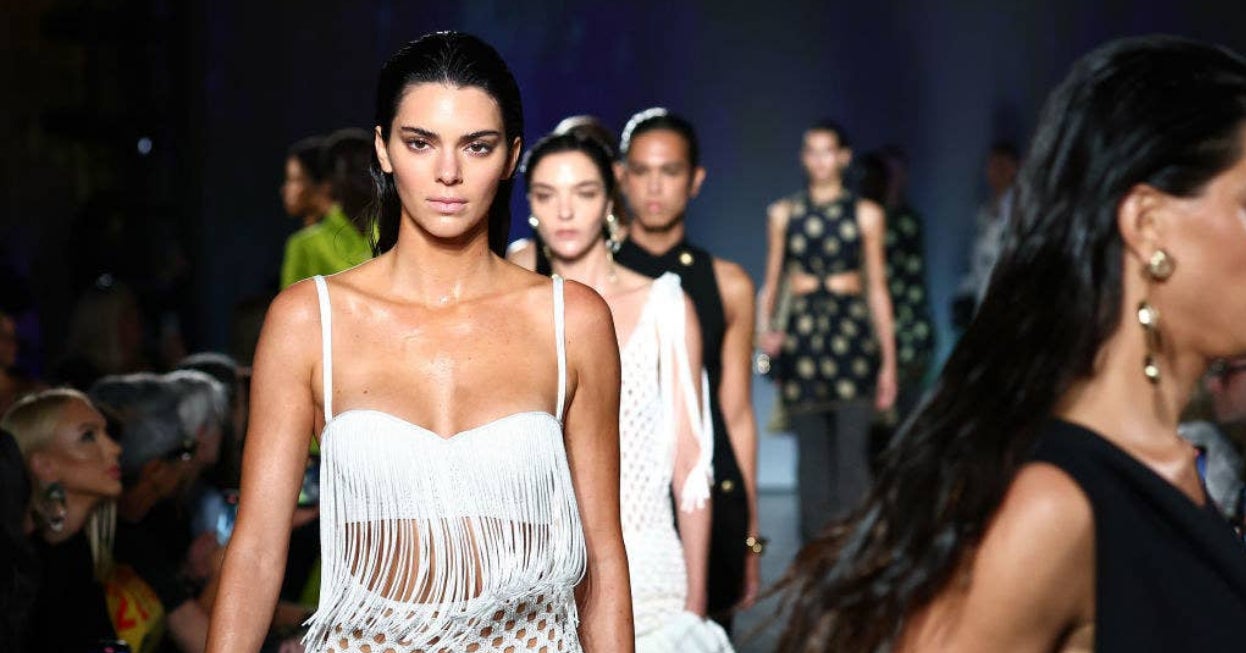 Are Fashion Week Models Paid? We Got To The Bottom Of It
It's a new era of supermodels, with models like Gigi and Bella Hadid, Kendall Jenner, Cara Delevingne, Karli Kloss, Hailey Bieber, Sofia Richie, and Kaia Gerber gaining mega-fame as models in the last decade.
Every year, all these models — and more — gather for the biggest event of the season: New York Fashion Week.
Now, with famous models' glamorous lives so visible, I always just assumed that models well-known and regarded enough to walk in huge events like Fashion Week shows probably live really glam lives. Except…it turns out this might not be the case.
While scrolling through photos and videos from the week, I stumbled across a TikTok from model marcsebastianf about how "Fashion Week isn't real," which claimed something shocking — that models are not paid for walking in Fashion Week shows. In fact, Marc claimed that many models are paying, as they say they have to pay for their own transportation and lodging, and possibly agency fees. The TikTok quickly went viral, with other models and workers piping in to support Marc's claims.
Commenters even claimed that many runway shows and modeling jobs do not pay, or pay very little. Sure this couldn't be true, I took to TikTok to find models to interview — and this is what I found out!
First of all, the week is not exactly one organized event. While both the Council of Fashion Designers of America (CFDA) and International Management Group (IMG) work with designers to put on a calendar of shows labeled "New York Fashion Week," there's actually been some legal drama over who owns the rights to the actual name and what purposes they can use it for. This has led to designers, boutiques, companies, and even individuals using the term "NYFW" to describe their events. Because this is so common, and the week has become so huge, for the purposes of this post, we'll be using the term "NYFW" to refer to any show that uses the term, and not just the event entity run by IMG/events on CFDA's calendar.
Even for shows on these "official" calendars, the creative direction — including casting, hair, and makeup (and by extension, hiring) — is left up to the designers, brands, or whoever is putting on the show, according to an industry professional. This leads to vastly different experiences for models, hairstylists, and makeup artists depending on the show they're working on. Models are usually considered independent contractors, and do not, in most cases, have a union representing them. This presumably leaves models up to the mercy of designers (in the case of CFDA/IMG events) or really anyone putting on an event, like a boutique (in the case of non-"official" events).
All this leaves models (and in fact, anyone who works in the fashion industry) potentially vulnerable to exploitation — especially during the dates of "New York Fashion Week." The name recognition of "NYFW" (even if the events aren't "official"), potential for discovery, and possible exposure means many models, hairstylists, and makeup artists are willing to work for free — or are afraid to make trouble or gain a bad reputation if they do ask for pay, or reimbursement for expenses.
For example, 21-year-old Kailyn Shepherd walked in two shows: Victor De Souza and Mirror Palais (both on IMG's calendar). She was paid for both shows.
However, Shepherd commuted from Massachusetts and had to put in plenty of her own money to attend. For her first show, the Victor de Souza show, Shepherd says she spent about $100 on transportation and $100 on food. The show paid her $120, meaning that in order to attend, Shepherd had actually shelled out $80 of her own money.
For the Mirror Palais show, Shepherd says the show emailed her last minute to let her know she'd need to be there at 8 a.m. to see her in a different look. To be there in time, Shepherd says she had to take a $250 taxi from her rural town to Connecticut at 3:30 a.m., where she could then take the train. Between the train, food, and the bus ride home, she estimates she spent an additional $85. The show paid her $500, meaning that after expenses, she only made about $165 for the show.
Despite her large expenses, Shepherd says she didn't ask for reimbursement as she was afraid of how it would look, especially as a newer model. "The modeling industry is notorious for low-paying jobs. … Many brands know that you'll do the job even if it barely pays anything for the exposure." Kailyn says she would've walked even if she hadn't been paid at all "in hopes of bettering my chances of signing to a New York agency, building my modeling résumé, and gaining that stamp of legitimacy, for lack of a better word, that 'NYFW' gives a model."
28-year-old Mandy Lopata, who walked in seven shows this "NYFW" (none of which appear to be on IMG or CFDA calendars), also spoke about the difficulty of making a living as a model. In Lopata's experience, modeling (which she got into through her career in photography) includes a lot of unpaid work. "You really spend so much time trying to get into shows running around from casting to casting. Then, you spend more time the day of the show with super early call times (10 a.m. for a 5 p.m. show) and even more time after by chasing everyone for pictures and videos. All normally unpaid," Lopata claimed.
"I'm still figuring out what the whole point is other than loving the experience itself. I've met many models doing this who don't get paid to do it," claimed Lopata, who started work as a model after falling in love with runway as a photographer. She says she was only paid for one show she participated in this year, and even for that show, she'd spent money on transportation. However, like Shepherd, she did not want to ask for reimbursement for her travel costs. "It was never mentioned that I'd be given travel expenses, and I took the cab by choice," Lopata stressed.
Adaeze Noble, in contrast, says that "for the most part, a lot of jobs pay well, it just depends on how consistently you're getting booked and the quality of your work." However, she claimed runway in particular often doesn't pay much (especially in comparison to e-commerce or beauty). She claimed models are often paid in clothing — meaning many models also have to work at least part time.
This year, she walked for NTA x NYC, which had five designers — four of which she walked for. She says she spent about seven hours at the show, and had an hour-long fitting the day before. She says there was no pay, which was corroborated by Natalia Trevino Amaro, who ran the non-CFDA/IMG-affiliated event. "Everyone that worked at every capacity was volunteer-based, so no one got paid to be there," Amaro said. "It was self-funded by me for a bunch of independent sustainable designers, which is why the budget didn't allow for models to be paid at this show. They were all made aware, and I let them opt out if that wasn't something they were able to participate in."
Noble was able to participate, but it came at a cost. As she lives in DC, she says she bought an $80 Amtrak ticket to get there. She says she was able to stay with family in the city, but estimates she spent about $100 on food and transportation while in the city — meaning she spent about $180 to participate in the unpaid event.
Some models spent even more exorbitant amounts participating in shows. 20-year-old Nicolette Cortez walked in the Delayne Dixon show (which does not appear to be on the CFDA or IMG calendars), and she says she was given only a dress for participating. She had traveled from Philadelphia to New York, and as she didn't have anyone to stay with in the city, says she spent $1,200 on a hotel (plus, an additional $120 on travel).
As previously mentioned, sometimes, whether or not a model is paid can come down to if they have an agent. For example, 23-year-old Kesha Dalal walked in her first "NYFW" at the Art Hearts event (which featured multiple designers and does not appear to be on the IMG or CFDA calendars). She says she was not paid or gifted any items, although she did say she thinks other models represented by agents at the event were paid.
The situation seems similar for those behind the scenes. 30-year-old hairstylist Carly Hayes says she was not paid for the Emmanuel Acosta or MusesKloset shows (neither of which appear to be on the CFDA/IMG calendars) — however, she says she was able to sit and watch the latter show, and got one of the gift bags they were giving to guests.
And sometimes, makeup artists and hairstylists will actually be sponsored by salons or brands. This was the case for Parker Davis, Creative Director for Scottfree Salons/National Educator for Sachajuan, who worked the DoviArt show this season (which does not appear to be on the CFDA/IMG calendars). He says he got paid a day rate plus travel expenses, but by a product company and salon who stepped in to sponsor, rather than a designer. Still, he considers himself one of the lucky few. "It took me years of doing it for free and at my expense to get here," he claimed.
This echoed words from many of the models I spoke to, as well as an anonymous makeup artist, who called makeup artists and models both "famously underpaid." The artist expressed how difficult it is to get into the industry, saying people like models and artists are stuck in "a 'people ask for show experience to get booked, but how do you get show experience without experience' situation." The artist says they were not paid for either show they participated in this year, though one show was sponsored by a makeup brand, and they were able to keep the products.
"It's very standard to be unpaid for shows," said a hairdresser who asked to remain anonymous but has participated in multiple "Fashion Weeks," though she said larger brands sometimes will pay. "I've been paid in the past from Badgley Mischka as well as a few others," she claimed. "My understanding is the agencies are in bidding wars with each other. Sometimes, the designer sticks with the lead stylist they have a connection with [and] uses the same lead year after year. … Other times, it comes down to the wire: What team will do it the cheapest?"
However, the common thread with hairstylists, too, was that they'd still do the work if there was no pay — not just for exposure and the possibility of free products, but for the experience. "Working backstage is such a unique environment for stylists," Davis said. "We work together, setting our egos aside, to create amazing styles that become part of another artist's story. Everyone from hairstylists to makeup artists to stylists and dressers come together in a symphony of creativity to create art that moves down a runway for people to see. It's stressful, chaotic, things rarely go as planned, and there seems to never be enough time, but when you have an amazing team, it all comes together, usually at the last minute. I have met the most amazing people over the years, and most have become lifelong friends."
And there is hope — some hairstylists, like Sandi-kaye Henry, (who has worked "NYFW" since 2016) do get to the level that they're well-paid. Henry says she was paid for all nine of her shows (which included shows on CFDA and IMG's calendars and shows not on the calendars) — though she did not want to say the exact number — and she was also gifted tools. "Based off my own experience, it's common to be paid and gifted for these events. However, I think it's also based on who you are working for," Henry said. "I've heard other artists complaining about not getting paid."
All in all, the modeling and fashion industries seem rife with the potential for exploitation and promises of "exposure" that don't even always translate into more jobs — or, if they do, the additional jobs may also be unpaid or pay very little. And it seems to me that models, makeup artists, and hairstylists are in very vulnerable situations where they may feel they have no choice but to do unpaid work.
While some might see doing unpaid labor in order to establish yourself as reasonable, in the US, it's a bit of a legal anomaly. Unpaid internships are generally illegal in the US unless they offer school credit. And while unpaid acting jobs are common, most jobs you've heard of — such as for national commercials, theatrical and most streaming films, and network or cable TV shows — typically have to adhere to union rules and pay their performers. But, again, there is no such union or organization of similar strength in this case. And "NYFW" events — especially those run by CFDA and IMG — are hardly at the level of a nonunion acting job like, say, a student film. The week generates a huge amount of revenue ($887 million).
In addition, the "prestige" models are chasing through participating might be more elusive than they think, as many boutiques and event organizers just tack on the term "NYFW" to their events. Models may be doing free work for shows and designers that aren't necessarily prestigious or well-known.
In my opinion, the modeling industry is past overdue for a reckoning, and our glamorous view of the industry is overshadowing the harsher reality. What do you think? Are you surprised to hear models aren't necessarily paid for walking in shows with "NYFW" in the title? Let us know in the comments.
Correction: The designer behind the Delayne Dixon show said they paid thousands of dollars in order to participate. A previous version of this article misstated the amount.