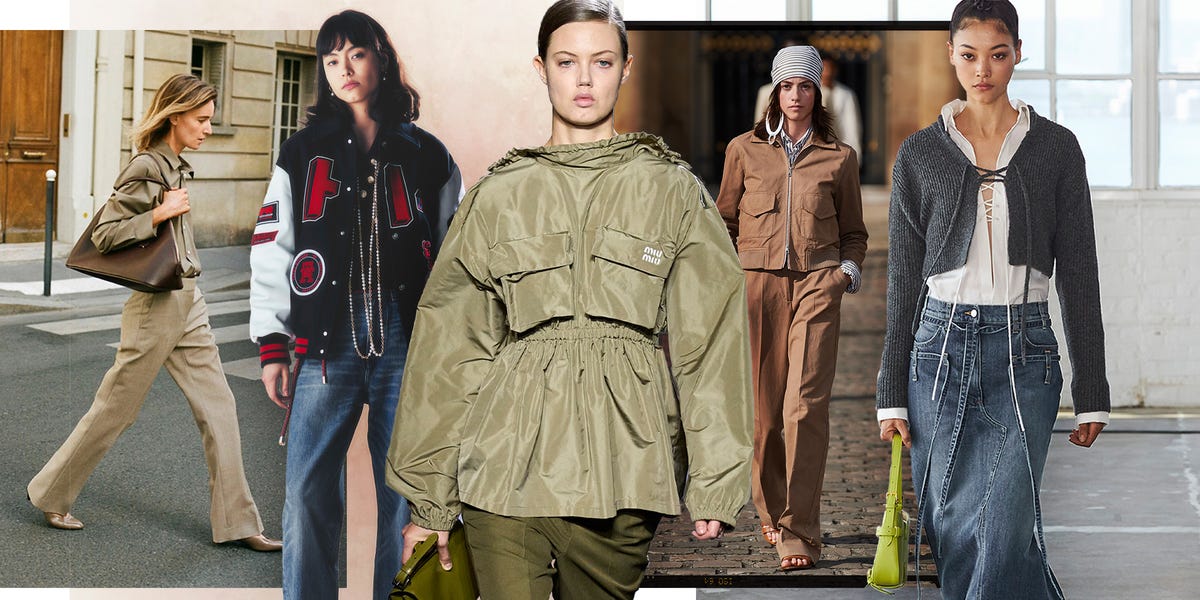 BAZAAR's American Sportswear Guide 2023
The spirit of American sportswear was all over the spring 2023 runways, from elevated takes on staples like the plaid shirt (in luxe leather at Bottega Veneta, below) to sleek spins on the classics. There's something special about fashion with ties to a home base and fashion history all at once—and many of the season's best wardrobe heroes have deep roots in the functional apparel of America's past. See: denim with Western nods or workwear with industrial pockets and rivets.
The best part about each emblem of American style? They all get better with age. Ahead, as first seen in BAZAAR's March 2023 print edition, I break down the key looks and pieces defining American Sportswear today. These jeans, utility shirts, and prep school blazers are all nods to classic American dressing and universal wardrobe staples to buy now and wear forever.
The Western Wardrobe
Denim is always a good idea—and it's a pillar of Western-inspired style. Over the past few seasons, and spring 2023 especially, runways including Celine, Givenchy, and Altuzarra fueled a denim resurgence with dozens of luxurious upgrades. Then for a touch of nostalgia, pulling on a pair of Levi's 501s always feels appropriate. There's such a range!
As a city girl, I love adding a Western accent to my outfits. From pops of flannel shirting to a bandana necktie scarf, they make a look feel grounded. Whether you double up with a jean trucker jacket layered under a fringe suede jacket, or lean all the way in with a denim shirt and skirt to match, you're guaranteed to look effortless (and a little rugged). Pairing it all with classic white high-top sneakers feels simply cool.
WHY DON'T YOU…?
Wear your bandana as a necktie scarf or tied around a bag.
The Preppy Uniform
The most classic approach to sportswear? Uniform! Think prep school and collegiate days, a mix of heritage pieces with a sporty edge. Designers are celebrating preppy wardrobes all over the runways with twists on our favorite items. Two standout examples: Coach breathed new life into the classic cable-knit sweater by adding abstract prints and modern weaves, while Wales Bonner constructed a patched, studded, and personalized letterman's jacket.
Whether you invest in a navy double-breasted blazer with gold buttons or opt for a statement varsity jacket, you are sure to be top of the class. Tie it all together with a hair bow (or an actual tie), throw on a baseball hat, and pick up an L.L.Bean canvas tote to carry your essentials. As for jewelry, pearl earrings and a signet ring are forever items with a preppy vibe.
WHY DON'T YOU…?
Go with a classic flat to polish off any look.
The Workwear Staples
For utilitarian function and practical ease, workwear comes with built-in features to take on anything that comes your way while still looking put-together. All-in-one boilersuits with extra pockets and henleys layered over T-shirts and tank tops are more than pragmatic. As seen on spring runways like Bottega Veneta, Max Mara, and Miu Miu, they're versatile and even elevated with the right styling.
Anything with cargo pockets has an innate sensibility. Whether they're applied to a button-down work shirt or bag, the best cargo pieces feel a little nostalgic and reference how they were originally intended to be worn (for work!). With tonal neutrals as the main color story, the items below can be quietly cool statement pieces.
WHY DON'T YOU…?
Engrave ID jewelry for a personal touch.
---
This article originally appeared in the March 2023 issue of Harper's BAZAAR.

Senior Fashion & Accessories Editor
Jaclyn Alexandra Cohen is Harper's Bazaar's Senior Fashion & Accessories Editor. Outside of the office she can be found downtown with her twin sister, figure skating somewhere or on the hunt for the perfect striped top. Follow her on Instagram @jaclynalexandra