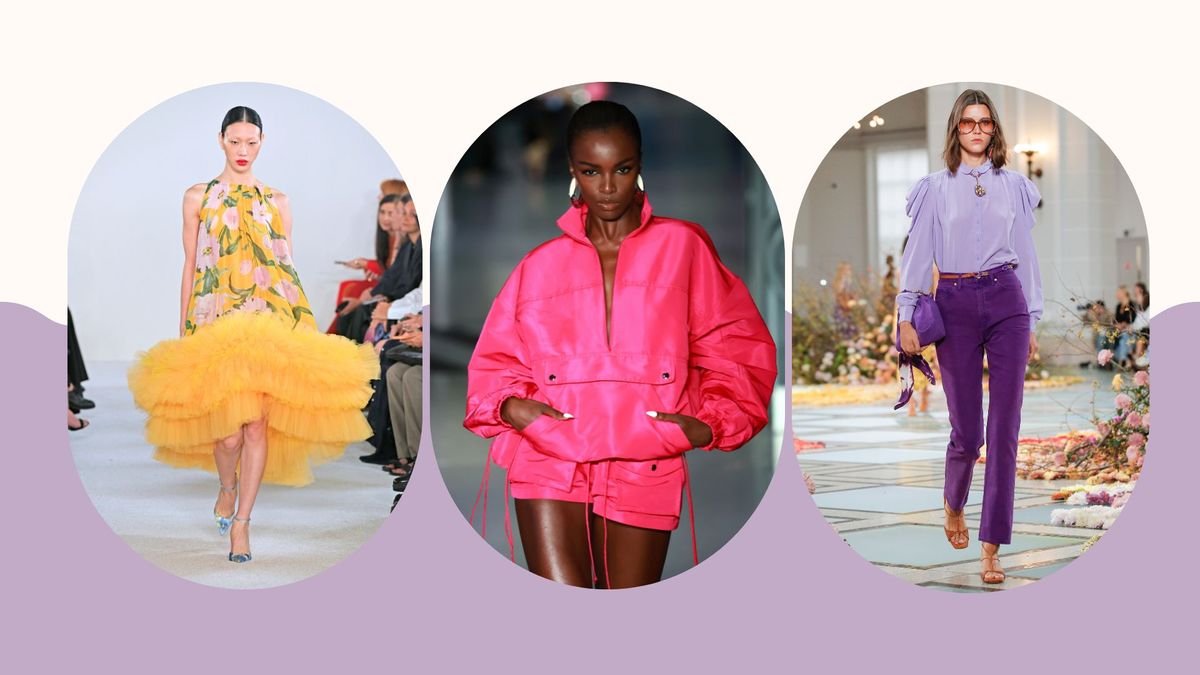 Fashion trends 2023: Style experts' top tips for next season
Want to get ahead of the fashion trends 2023? Every six months designers present a preview of their collections to fashion editors, buyers, and style fans. Available six months later, global fashion weeks give us a glimpse into upcoming fashion trends, readying us for the season ahead.
You might only just be getting to grips with the Fall 2022 fashion trends, but we're already looking ahead to next year. Kicking off the fashion trends 2023, New York Fashion Week always plays host to the first fashion week of the season and is responsible for giving an initial blueprint to the next series of trends. And whether you wear designer clothes or not, straight-to-market brands watch the shows carefully to decipher which fashion trends the industry is likely to be celebrating in six months time, using the shows to help to guide their own collections too. 
Although designers aren't governed by anything in particular, there is often cross-over threads between collections thanks to external influences that gently and independently impact styles. And while trends used to change quite drastically every six months, we're seeing a number of the big fashion trends 2022 sticking around being developed, extended and updated for the fashion trends 2023, with silhouettes and colors that have been a roaring success set to still have a spot in your wardrobe for the forseeable.
Fashion trends 2023: New season styles revealed
As New York Fashion Week closes and the fashion pack get ready to head to London Fashion Week. We have been noting down and spotting the key fashion trends 2023 has in store. While designers stayed true to their own personal style signatures, there were some common key threads and we expect that these will trickle down through other fashion weeks and straight-to-market collections, and eventually ending up in your wardrobe. 
So here are the seven fashion trends 2023 from New York Fashion Week that you need on your radar.  
1. Purple Hues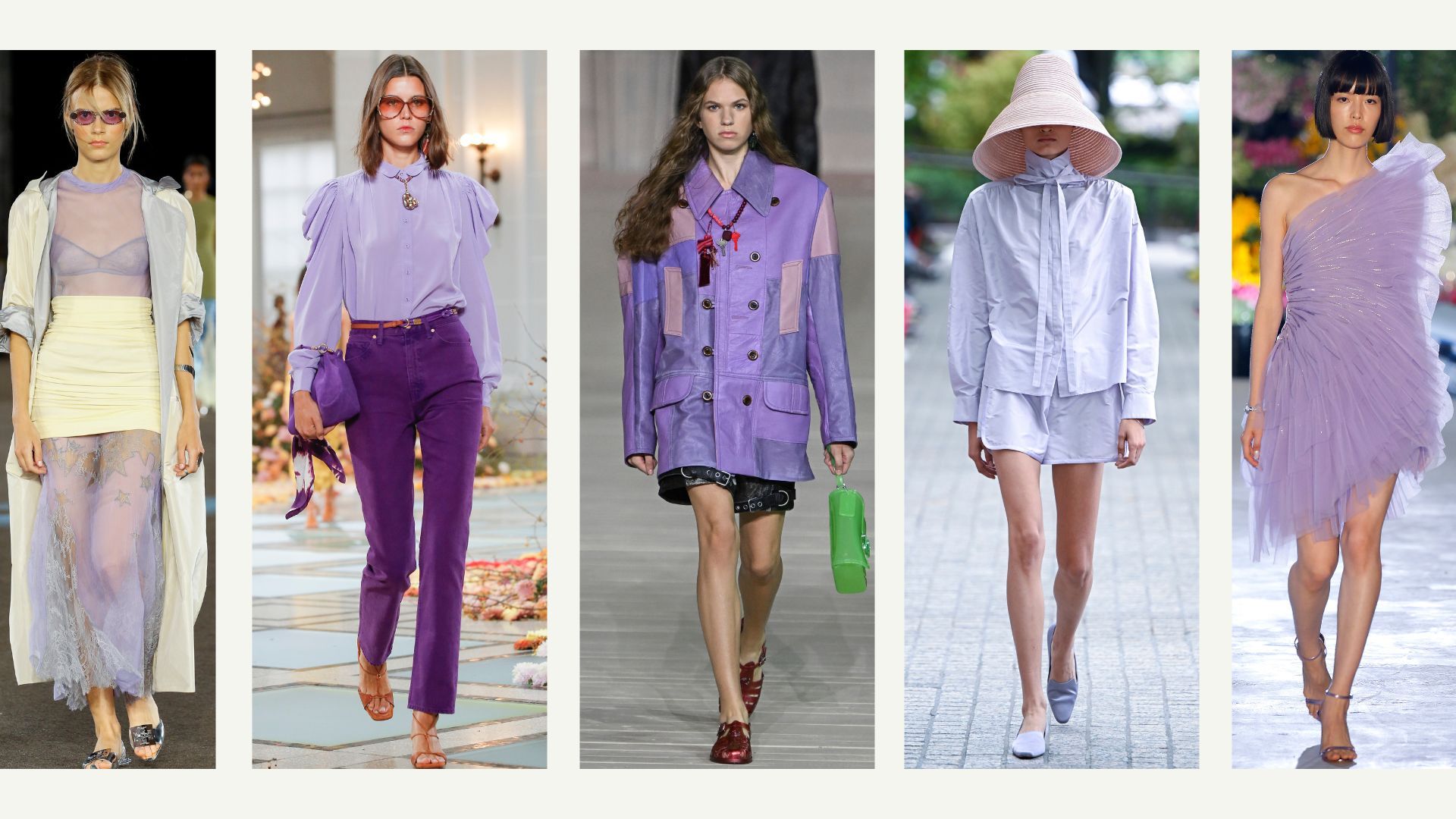 One of the biggest fashion color trends 2022 had to offer is set to remain a firm favorite for 2023. Lilac has adorned everything from casual separates to special occasion pieces and it seems that purple tones across the spectrum are here to stay. 
While the pastel iteration of the color was by far the most popular at New York Fashion Week, richer and deeper hues broke through at Ulla Johnson and looked particularly chic paired with lighter, lavender pieces for a tonal ensemble. Tory Burch and Adam Lippes offered the palest interpretations, so soft they could be mistaken for cream, giving the now staple colorway a new lift for spring 2023. 
Although there was plenty of casual separates, lilac was also given an occasionwear makeover, with some of the best cocktail dresses from the likes of Pamella Roland and Dennis Basso and is certainly one wedding guests and those looking for the best bridesmaids dresses should consider as we head into next year.   
What to look out for:
Party dresses: Got a special occasion coming up? A pretty and romantic hue, lilac and purple tones made a big impact in 2022 and their reign on partywear will continue into 2023. Look for silver beaded and tulle iterations to add a new twist to the trend.
Tonal ensembles: For a head-to-toe look that gets the fashion crowd's approval, pair lilac with deeper purples, look to Ulla Johnson for inspiration. 
Sporty styles: Give androgynous sportswear a pretty twist, with rain-ready jackets and sleek sweatshirts in the palest of purples. 
2. Tassel Details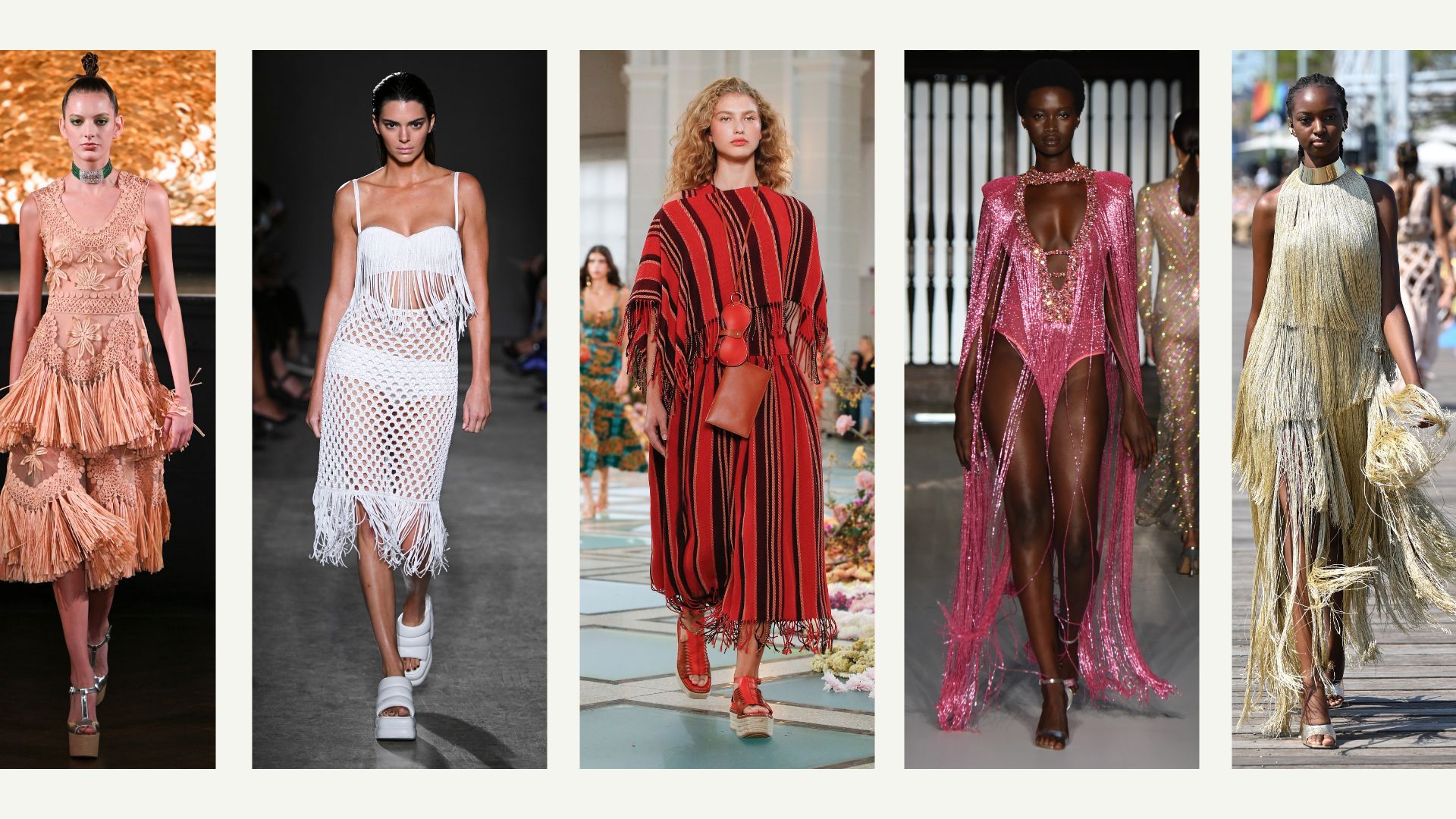 Another trend extending its lifecycle from 2022 into 2023 was tassel detailing. One of our favorite summer trends, the best dresses and party pieces were treated to a fully fringed makeover for a look that will be hard to resist. Fringing is an ideal trend in the summer as it doesn't work particularly well with coats, and of course, you want the tassel detailing to be on show at all times. Ideal for dancing or for sunny breaks, fringe gives every item of clothing added depth and movement.
The level of fringing differed across the runways, with sweepingly dramatic full fringing at PatBo and Bronx & Banco, while the likes of Proenza Schouler and Ulla Johnson offered softer and more relaxed iterations of the trend. While tassel detailing is often linked to discovering what is boho style, for the fashion trends 2023 the look feels less bohemian and more glam. With party dresses where the trend shined best. 
A favorite look of the style set, fashion stylist and editor Antonia Kraskowski (opens in new tab) explains why this is the dancefloor-ready look to love next year.
"Tassels and fringing are a great way to add drama to your look for spring. From subtle fringing on skirts and knits to full-blown flapper-inspired dresses, this is a trend that you can take as far as you fancy".
What to look out for:
Fringed dresses: Bring a touch of glamour to your closet in 2023. With lots of metallic hues, when it comes to dresses, you want thick layers of fringing, layered on top of bodycon silhouettes, for a party-ready aesthetic that will sway as you move. 
Tasseled knits: For a more casual take on the trend, look to lightly tasseled knits that draw more on the bohemian and artisanal roots of this style. 
Beachwear: From the best beach cover-ups to the latest swim styles, tasseled finishes will help elevate your poolside ensemble.
3. Lace and Laser Cutting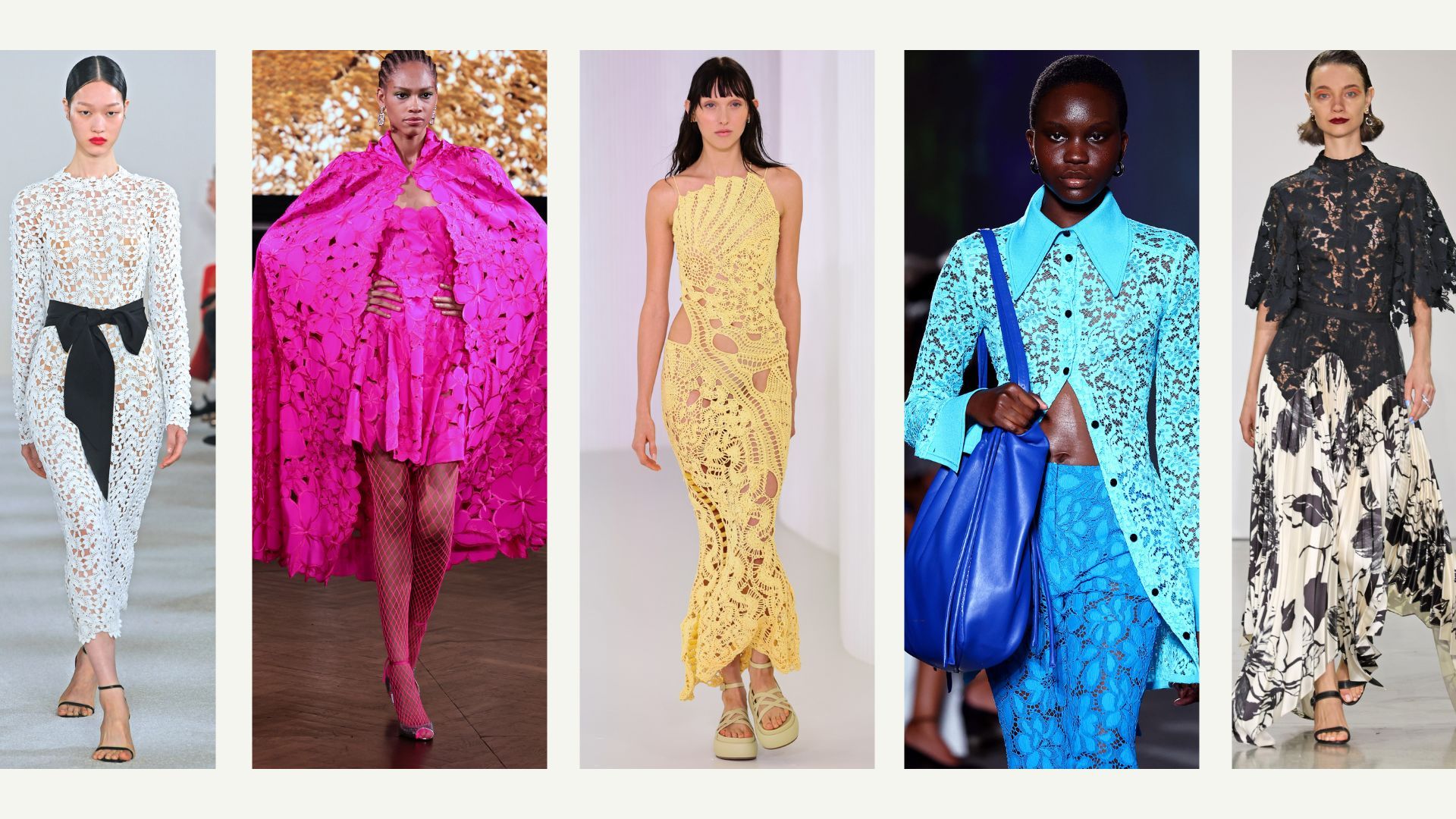 Lace detailing is a great look for a spring/summer outfit as the lighter fabric and cut-out detailing lends itself to gloriously warm weather. We have seen an increased leaning towards artisan detailing, coupled with new technologies in recent years and this combination of lush lace and intricate laser cutting pays homage to craftsmanship.
Lace fabric might have been the basis for this 2023 fashion trend but interpretations of the look differed from brand to brand, with Naeem Khan offering a dramatic cape ensemble, while Proenza Schouler and Bibhu Mohapatra showed off more wearable blouse iterations. 
Seen in a rainbow of colors, from classic white to bold and punchy pinks and blues, thanks to the detailing, this style automatically lends itself more to evening and occasionwear. An ideal investment for what to wear to an engagement party or wedding next year.
What to look out for:
Lace shirts: Giving tailoring a feminine twist, lace and laser-cut shirts will look particularly chic styled under well-tailored blazers for a softer finish.
Laser-cut dresses: Ideal for wedding guests to what to wear to the races in 2023, laser-cut designs encapsulate the romanticism of lace but with a thoroughly modern finish. 
Lace skirts: Injecting any outfit with a romantic feel, look for large lace, over vintage-inspired styles to offer a more modern direction.
4. Frothy and feathery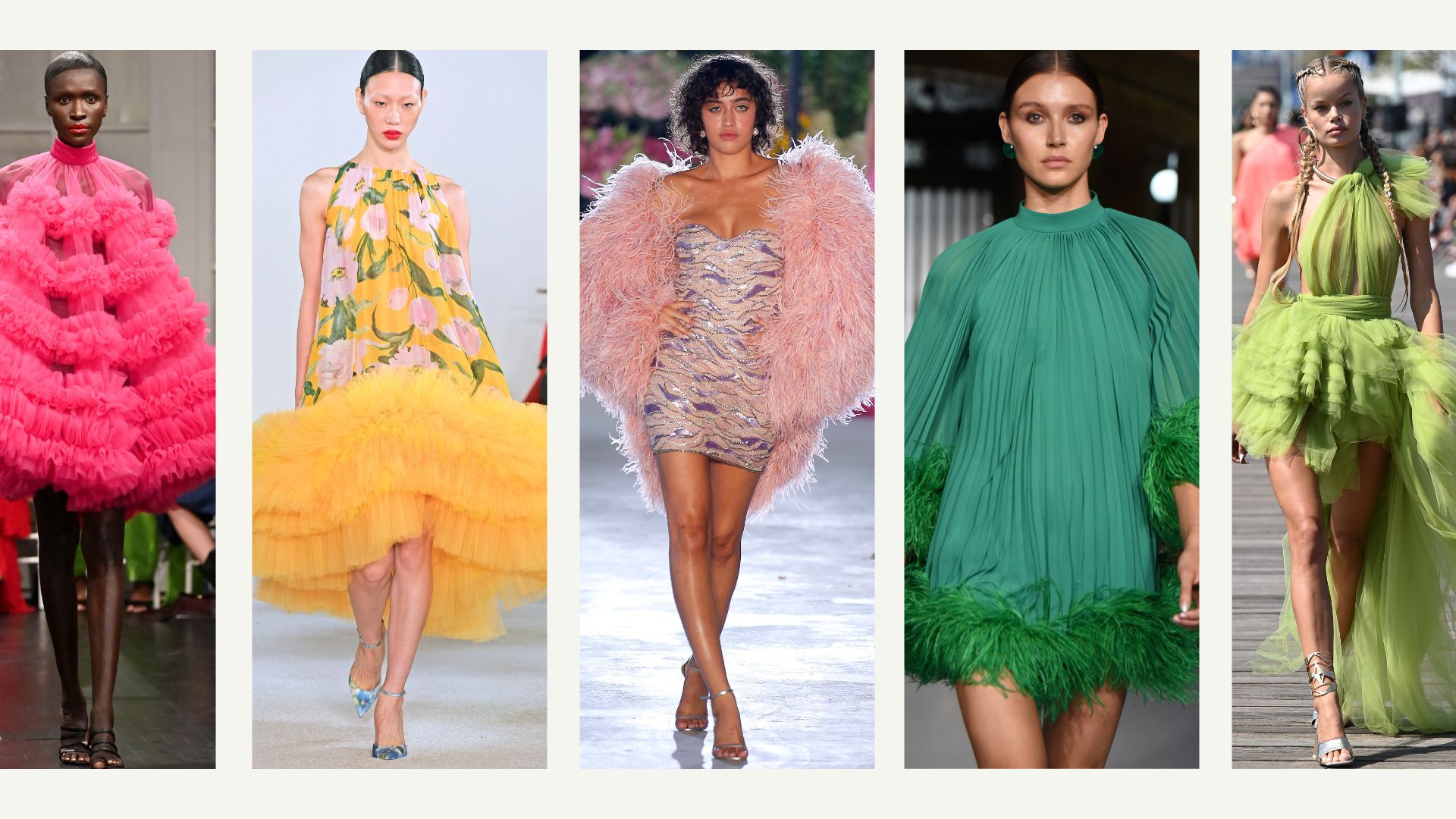 The fashion trends 2023 clearly demonstrated that there was romance on the cards, with tactile and frothy tulle and feathers adorning a selection of styles across New York's eight day fashion extravaganza. From full tulle dresses at Siriano, that continued this season's volume trend, to statement hemlines, adding drama to dresses at Herrera. This trend is very much the icing on the occasionwear cake, with almost meringue like peaks of soft fabric, making it the style to help you twirl into a summer evening. Equally luxurious, feather detailing was used to give added luxe to thigh-skimming hems, while a '20s style feathered jacket highlighted what to wear over a dress next summer. 
No color was off limits here, with a mixture of pastel hues and bold jewel tones all playing their part in creating one of the most fun and decadent fashion trends 2023 is set to deliver. 
What to look out for:
Feather trims: On basically everything, but certainly on your best summer party frocks. Opt for simple A-line or trapeze silhouettes to let your hemline do the talking. 
Tulle tiers: Siriano made a point of reminding us that when it comes to dresses, bigger is better. Be the belle of the ball at any  soiree with a tiered dress with tulle layers. This look is about turning as many heads as possible.
Feathered jackets: Update eveningwear looks with feathered jackets for outerwear that elevates your favorite frocks. A look that you'll certainly be able to take through to those fall outfit ideas too. 
5. Rays of sunshine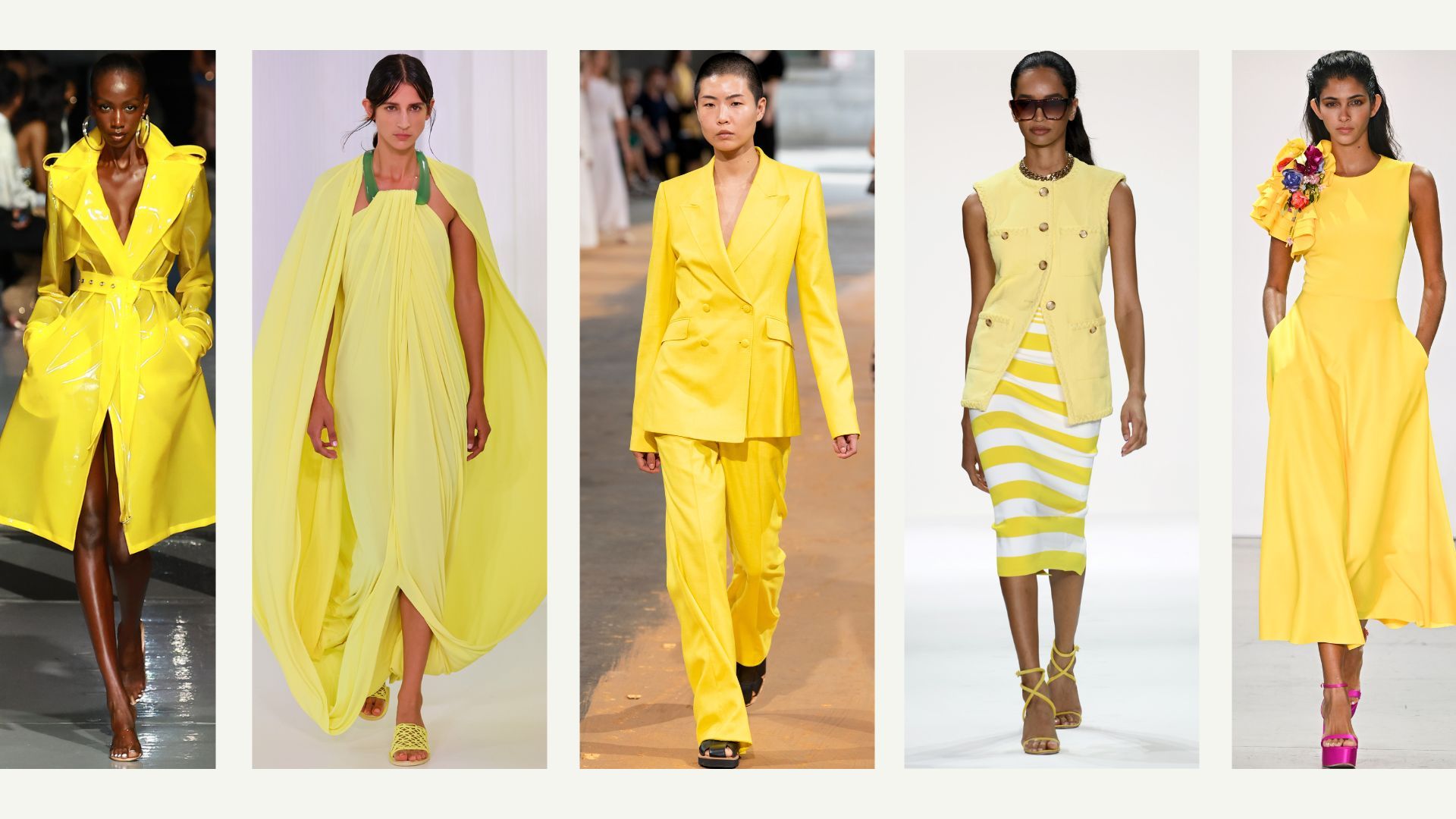 Nothing says summer has returned like sun rays shining through the clouds and New York Fashion Week certainly felt drenched in sunshine, even though in reality the rain clouds were never far away. For the fashion trends 2023 expect the season to be ushered in with significant amounts of yellow, as we welcome rising temperatures back into our lives – we can't wait. 
From sharp suiting at Gabriela Hearst to the best wedding guest dresses at Badgley Mischka, the bright and sunny style might not be the easiest to pull off but it is guaranteed to offer everyone a much needed dose of dopamine dressing when February 2023 eventually rolls around. 
If yellow is one of those colors that leaves you asking 'what color suits me', everyone can wear yellow, you just need to think about how. To make this tricky hue work universally, look out for sleek skirts or a yellow bag and keep the color away from your face. 
Antonia's verdict: "Sunshine shades are a spring staple. This cheering shade is bound to put a spring in your step in the new season ahead. Try wearing with neutral tones such as cream and beige for a grown-up take on the trend."
What to look out for:
Occasionwear dresses: When it comes to the summer party circuit, shine brightly in yellow hues. Look for ladylike silhouettes, such as A-line dresses with well-tailored bodices to meet the brief.
Light layers: A bright trench coat, like the style spotted at Laquan Smith, will certainly make rainy days feel a little happier. 
Yellow stripes: If you don't want to go for full-on yellow, take a leaf out of Veronica Beard's book and go for bold yellow and white stripes for an easier way to wear the trend.
6. Sports Luxe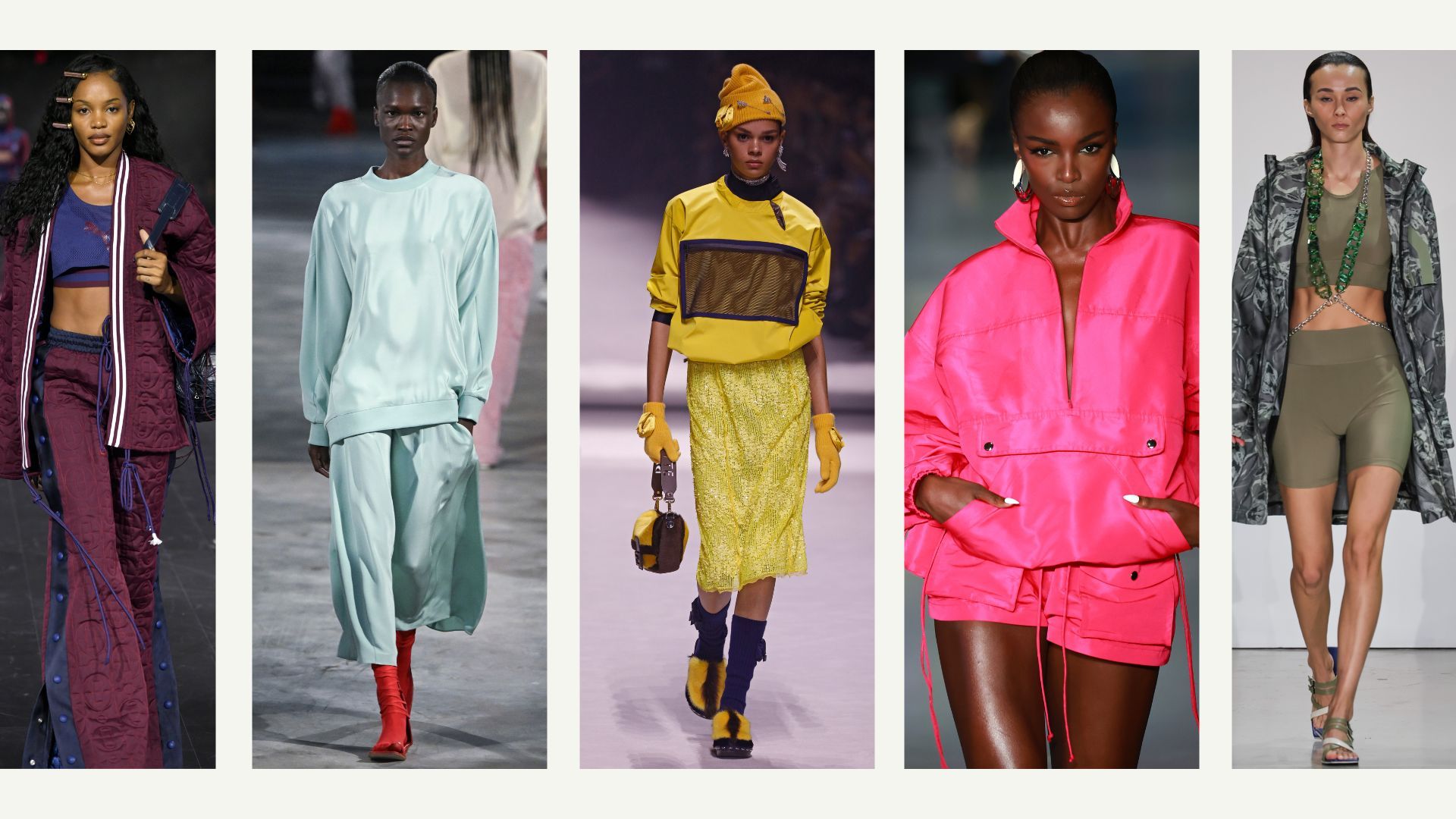 The idea of 'no pain, no gain', stands no ground here, as Sports Luxe is the fashion trend for 2023 that guarantees you can look great and feel comfortable in one stylish step. 
But make no mistake, although this look is 'relaxed' in the fashion sense, it is still far more polished than throwing on old leggings with your best hoodie. While the silhouettes are sporty, the fabrics bring the luxe element, with Tibi treating fashion fans to silky sweatshirts, paired effortlessly with matching skirts. Fendi channeled '90s grunge with its high-low mix of embellished slip skirts, teamed with sporty jackets – with what is set to be some of the best sweatshirts of the season. 
Although more practical sportswear did make brief appearances on the runway, it was the bold and directional looks elsewhere that really got our heart rate up. To up-style classic sportswear pieces and give them a fashion-forward refresh, add heels to silky tracksuit trousers or cargo pants for a more elevated finish.
woman&home deputy fashion editor, Charlie Bell (opens in new tab) explains how to take this look from gym floor to dance floor:
"Athleisure is now one of the most popular fashion categories but the look for 2023 is more elevated. To avoid looking like you've just stepped out of gym, pick just one sporty item and style with more ready-to-wear pieces, for example, a crop top style sports bra under a blazer, or a bomber jacket worn over a dress. This high-low mix will give you the fashion elite's stamp of approval."
What to look out for:
Bomber jackets: One of the big outerwear trends for fall 2022, this sporty style layering piece will follow us into the new year, so invest now and wear for the next 12 months – that's what we call great cost-per-wear.
Silky sweatshirts: Up-style your every day with satin-style sweatshirts. Easy to tuck into jeans or midi skirts, the light-catching fabric instantly makes this athleisure sweater feel more luxe.
Sports jackets: Draw inspiration from this season's best waterproof jackets to add an activewear spin to your closet. Half zip designs and oversized, practical front pockets are the details to look out for.
7. Bubble Hems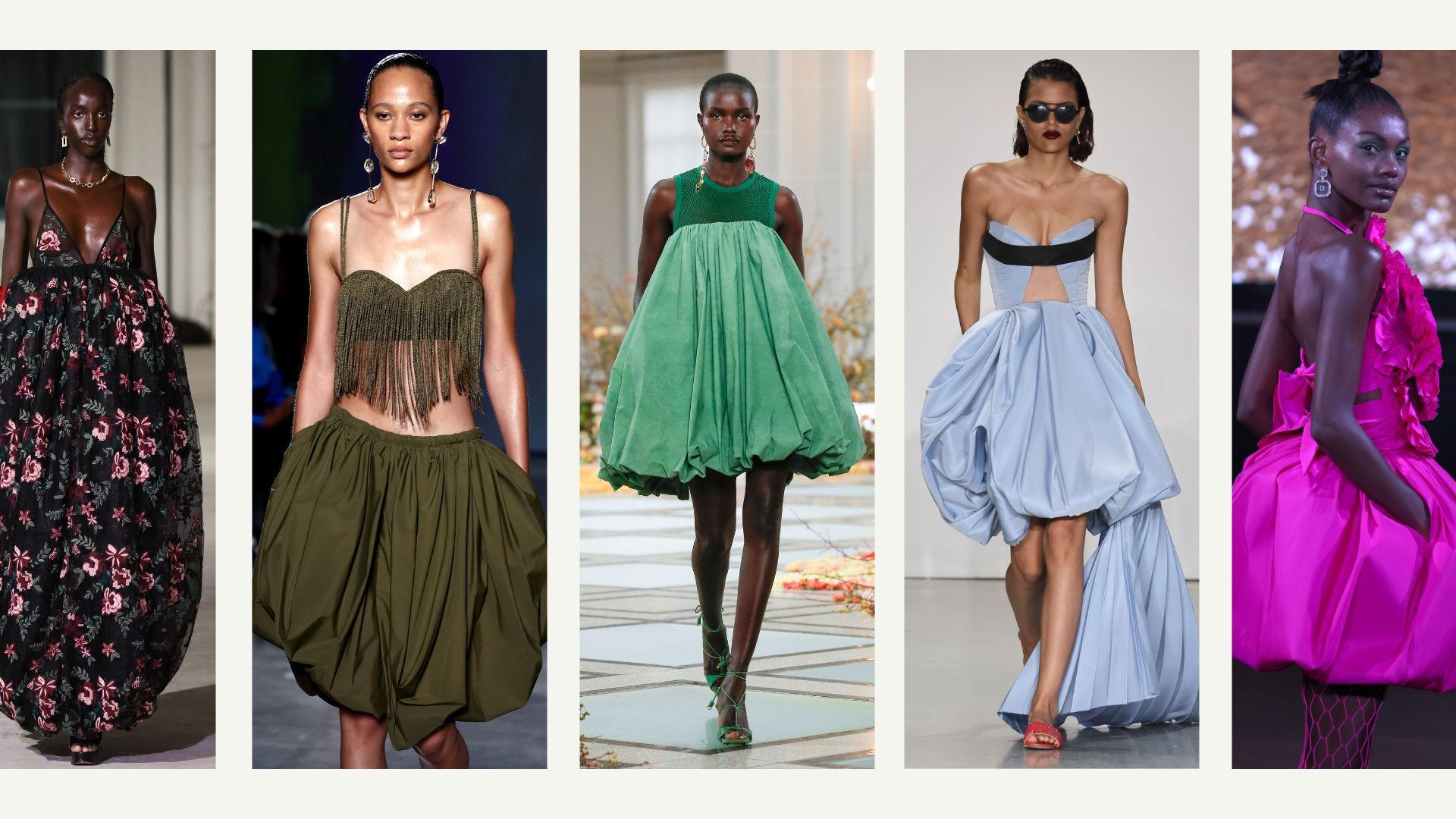 The voluminous bubble hem makes a playful reappearance every few years, and while it is unlikely to become a firm favorite in the way an A-line midi skirt has, a bubble skirt still makes for a fun addition to the fashion trends 2023.
On the runway we saw the bubble hems take on many guises. From floral maxi dresses, to thigh skimming minis, this full silhouette was about creating maximum drama. In a host of colors, whether it was the red carpet-ready styles at Bibhu Mohapatra and Naeem Khan or the more casual interpretations at Ulla Johnson and Proenza Schouler, this larger than life style made itself known. 
A harder silhouette to wear, as always, it comes down to balancing your proportions to make sure that you wear this look, rather than the other way around. If you opt for a bubble hem skirt, wear with a fitted, tucked-in top to highlight your waist and a more tailored top half. Opting for a dress? Choose between a leg flashing silhouette, or an arm baring style to avoid losing your frame entirely. 
What to look out for:
Bubble hem skirts: A look that always feel feminine, to make this style work for occasionwear opt for textured or high shine fabrications. 
Bubble hem dresses: Show off your pins with thigh hem iterations, team with chunky wedges or sleek plimsolls for a fresh feel. 
8. Ruffles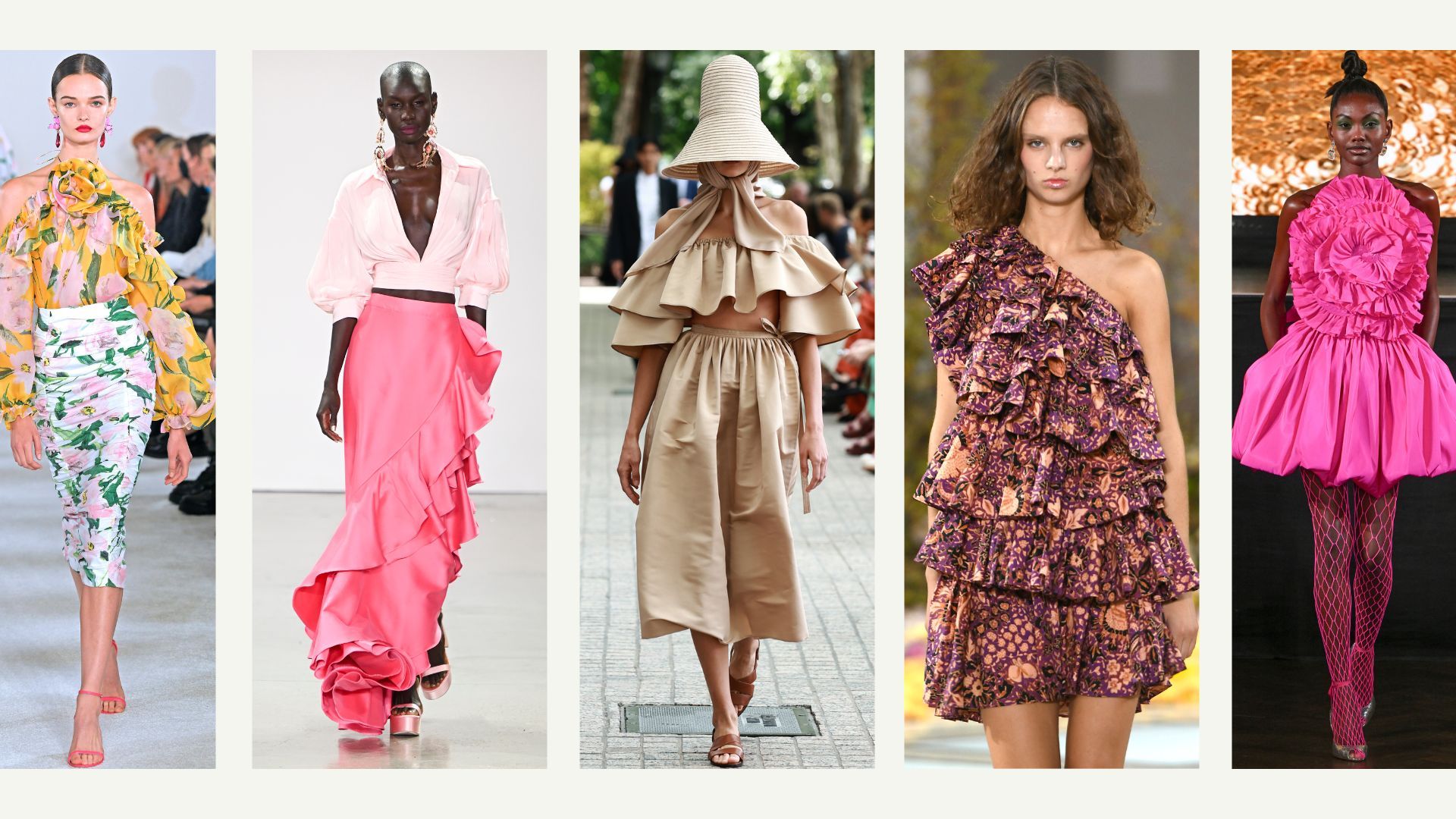 The most feminine trend we spotted, ruffles big and small made themselves known sashaying down at numerous runways. Signalling a return to glamour for the both evening and day dressing, volume continued to play a big role in how designers interpreted clothing for 2023. A trend that has been front and center for the past few seasons, from big skirts to big sleeves, the explosion of ruffles feels like an extension of a desire to be more present and noticeable, in other words, it's time to let your style shine. 
Adding a party-ready feel to skirts, ruffles sat vertically, horizontally and diagonally across the body adding decadence every turn. From delicate chiffon ruffles at Carolina Herrera to the daringly dramatic daywear at Adam Lippes, ruffled detailing offers an opportunity for feeling elevated at every opportunity – something we can certainly get behind.
If the statement nature of this trend unnerves you, Antonia suggests you can gently step into the ruffle trend, and go as big or as small as you feel comfortable with.
"Ruffles are a fun way to make a style statement – if you're not sure you can pull off a multi-tiered frock, opt for smaller ruffle detailing items such as blouses and skirt hems."
What to look out for:
Ruffled skirt: When it comes to the best long skirt outfits for 2023, don't underestimate the power of an elongated ruffle. Look for vertical ruffles that will draw the eye up and down your silhouette.
Ruffled shoulders: From tops to sweatshirts, expect appliqued ruffles to add luxe detailing to casual styles.
Ruffled blouses: A great way of injecting this look into a workwear wardrobe, a ruffled blouse softens androgynous pieces and tailoring in an instant.