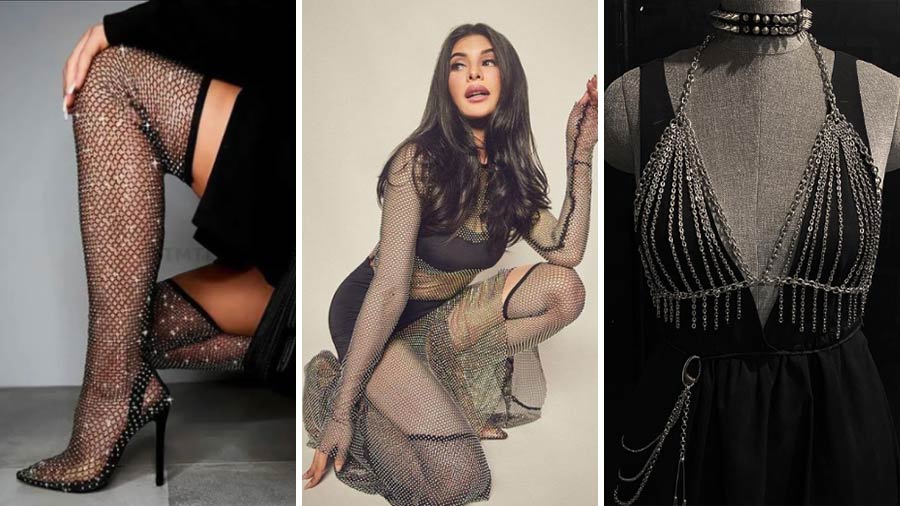 fashion trends – Jewellery as clothing is the new trend on the fashion block
There's a new trend on the block that we have to talk about — it's clothing that looks like jewellery. We saw the glitter and shimmer trend last year, but now, that aesthetic seems to have been taken up a notch by designers. Now it's all about layering elaborate jewellery-like pieces on clothing to create a visually stunning fit unlike any other.
The clothing is either made from actual jewels and crystals or have chains, which make them look like intricate pieces of jewellery. Some outfits have jewels studded on the clothing itself, which makes it very glam. 
If you want to take a trip to the gutsy side and try this trend out, here are some picks to shine bright and look the bomb…
Rhinestone dress

Have a luxe date planned? This dress will make your bae's jaw drop. With a structured black dress underneath, this dress is layered with an intricate rhinestone layer, which looks like a work of art. If you're going dancing, this dress will shine bright every time the light hits it. The retro flared sleeves are a great addition to the dress and all you need to do is wear black heels and red lipstick. 
Skirt

Stick to the classics — white shirt and black skirt — and throw in a shimmery bejewelled skirt to the mix. What more does one need? The fit is sleek, sexy and a definite showstopper. It's OTT and shiny, making it the perfect fit for anyone who loves to make a grand entrance at every party. 
Midi-dress

This crystal dress is a must-have in your wardrobe. The dress has crystals along with strips of black making a silhouette of a bralette and skirt. Wear boob tape sneakily to let the back of the dress shine. The flared hem of the dress adds a retro touch to the look. Wear your hair down and wear thigh high boots with the fit, and you're ready to rock 'n roll.
Top

When it comes to bejewelled tops, there are two routes you can go down — a full-sleeved rhinestone top or a cowl-neck one. Both these have very different effects and aesthetics. The first, while very OTT, has a more casual look because it would #slay with a pair of trackpacks. The latter, on the other hand, has a strong Poo vibe from K3G, demanding to be paired with a miniskirt. In our opinion, get both! 
Stocking boots

If you're looking for a way to add sparkle to your fits, these rhinestone stocking boots are the way to go. It's a mix of thigh-high stockings and boots with heels. They have a strong Kardashian-style influence, which make them an OTT piece to have in your wardrobe that you can pull out every time you want to look like a diva. 
Chain bralette

Grunge is the way to go if you want to show off this chain bralette. It may not sparkle, but it has a punk rock edge to it. Wear a black bralette under it and layer it up with this piece along with faux leather pants and boots — you'll make heads turn no matter where you go.