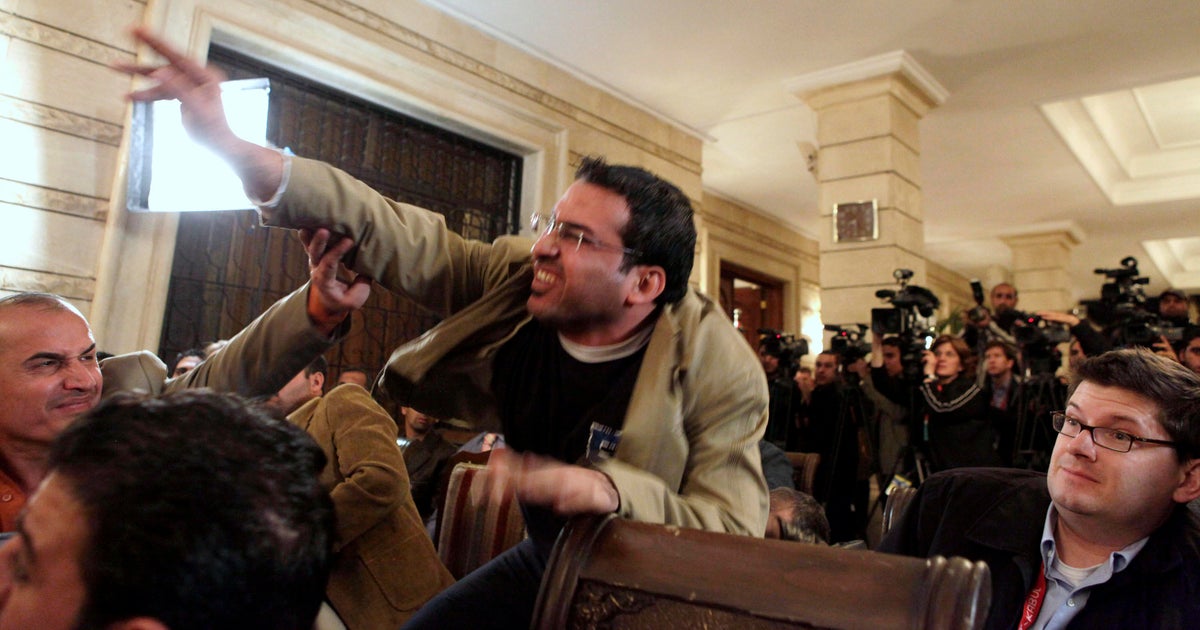 Iraqi journalist who threw shoes at George W. Bush says his only regret is he "only had two shoes"
Two decades just after the U.S. led the invasion of Iraq, one particular of the most unforgettable times for lots of in the location continues to be the 2008 news meeting in Baghdad when an Iraqi journalist stood up and hurled his shoes at then-U.S. President George W. Bush. As the U.S. leader spoke alongside Iraqi Key Minister Nouri al-Maliki, he was forced to duck the flying footwear as the journalist shouted: "This is a farewell kiss from the Iraqi persons, you pet dog!"
The male was quickly pounced on by stability forces and eliminated from the place, and says he was subsequently jailed and beaten for his steps.
"The only regret I have is that I only had two shoes," Muntazer al-Zaidi, the Iraqi journalist who expressed the feelings of numerous Iraqis at the time, told CBS Information on Monday, specifically 20 decades right after the beginning of the U.S.'s marketing campaign of "shock and awe."
Then-President Bush's administration justified its selection to assault the Iraqi routine headed by Saddam Hussein with assertions that the dictator was hiding chemical or organic "weapons of mass destruction," but no such weapons were at any time observed.
Al-Zaidi claims he did not toss his shoes in a instant of uncontrolled anger, but that he experienced essentially been waiting around for just this sort of an chance given that the commencing of the U.S.-led invasion. He explained Bush experienced prompt that the Iraqi men and women would welcome U.S. forces with flowers, which left him on the lookout for an enough reply.
"I was seeking for the reverse and equivalent response to say that Iraqis you should not receive occupiers with flowers," the journalist advised CBS Information, including that he staged his protest to oppose "this arrogant killer, and out of loyalty to the Iraqi martyrs killed by American occupation soldiers."
Sentenced to three years in jail, al-Zaidi was witnessed by many Iraqis as a countrywide hero, and he served only nine months of his sentence.
He suggests he was crushed and tortured for 3 times adhering to his arrest by Iraqi officers, who he claims despatched photos of himself blindfolded to the Americans. He suggests 3 months of his jail phrase had been invested in solitary confinement as he experienced medical problems.
"Back again then, in the midst of being tortured for 3 times, there was a rumor that I experienced apologized. I advised the investigator I did not apologize, and if time was rewound I would do it all around all over again," he instructed CBS Information. "Even realizing what I would go by, nevertheless I would stand up and throw my footwear at him."
Al-Zaidi mentioned the nervous wait around for the expected invasion in advance of March 20, 2003, left Iraqis on edge, with stockpiling food items and some others fleeing important cites for smaller sized cities considerably from Baghdad, fearing American bombs.
"People today have been like, semi-dead, like zombies, going for walks as if they have been in a unique earth," al-Zaidi recalled. "Then the zero-hour came. Most if not all Iraqis were being woken up by the sound of explosions."
The journalist states some of Iraq's infrastructure continue to has not been fixed, and he blames the invasion for "political and financial corruption" and the latest political gridlock in his state, in which "every political get together has its possess armed faction or militia that kills and terrifies people today, kills their opposition and assassinates protesters."
Al-Zaidi returned to Iraq soon after dwelling and doing work outside the state for a long time, and he's among the the 1000's of people today who have joined protests due to the fact 2011 from Iraq's Western backed authorities.
"We are trying to notify the environment that the Iraqi individuals are remaining killed and ripped off," he claimed. "We are suffering and we will go on to endure, but the future of Iraq is in our arms and we want to take out this authority that dominated Iraq for the previous 20 decades."