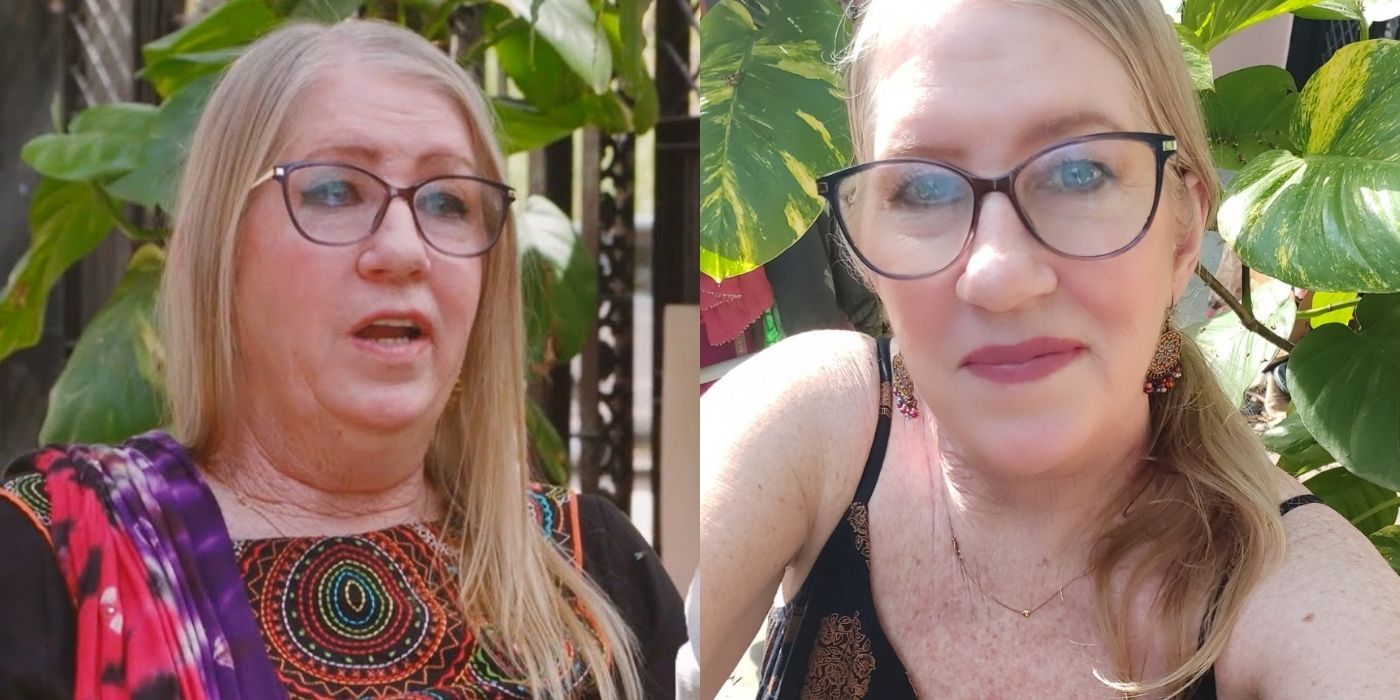 Jenny Slatten's Best No Makeup Looks After Weight Loss
The 90 Day Fiancé star Jenny Slatten has been looking younger after she lost a lot of weight. Jenny's no-make-up looks compliment her makeover.
Jenny Slatten from 90 Day Fiancé: The Other Way looks great with or without makeup, especially after her recent weight loss. When Jenny was introduced as a 90 Day Fiancé star, she was mocked for leaving her home and family behind for a catfish. Jenny was considered foolish for wanting to get married to Sumit Singh, who'd lied to her, not only about his identity but also about his secret wife while dating the American lady. But Jenny and Sumit's love for each over proved to be stronger than most other TLC couples. They even tested positive for COVID-19 together, and have since gotten dazzling makeovers.
Palm Springs resident Jenny has been staying with Sumit in North India for a while now. Their wedding, which was shown during the 90 Day Fiancé: The Other Way season 3 finale, took place in August 2021. Jenny and Sumit may have been wanting to look fit and fabulous for their D-day since both took a healthy approach to weight loss after their coronavirus recovery. Although Jenny hasn't fully revealed her transformation secrets, she had told fans that it's partly due to walking.
Related: 90 Day Fiancé: Jenny Slatten & Sumit Singh's Relationship Timeline
Mom of three Jenny had lost about five or six pounds in March 2021 and may have shed some more weight since then. The grandmother has been looking slimmer than ever in her Instagram and Facebook updates of late. Fans do assume that it also has got something to do with Jenny and Sumit finally being together, free from worries. Their wedding lifted a huge weight off Jenny's shoulders, despite Sumit keeping it hush-hush from his family. Jenny now has more time to focus on her well-being, which is why she looks pretty young for someone who's in her mid-60s.
Jenny Is Ethereal In Her White Kurta
Jenny's daughter Christina recently filmed a closet tour video for her TLC celeb mom. In the video, Jenny revealed her extensive collection of kurtas which dazzled fans. In June 2021, reality TV star Jenny stunned her Facebook friends similarly by dressing up in a cool cotton salwar kameez set with a matching white dupatta and gold sandals. Since Jenny was at home, she kept her makeup minimal and wore her smile as an accessory for the mirror selfie. "You're slim so everything looks great on you …. Especially the Indian attire…" a fan told Jenny in her post comments.
Jenny Looks Like A 20-Something In Casuals
In January, Jenny showed a different side to her while out shopping with Sumit. Some of the couple's Instagram followers were surprised to see Jenny holding an H&M bag, thinking they'd finally made their way to the U.S. While Sumit confirmed they were still in India, it was also Jenny's outfit that caught the attention of TLC viewers. With no makeup and her silky blonde hair draped over her shoulders, 90 Day Fiancé celeb Jenny wore flared side split hem jeans with a black hoodie to beat Delhi's winter. The ever-so-smiling Jenny paired her outfit with blingy tennis shoes which got her comments such as, "You look like a kid Jenny" and "Jenny, you look beautiful! Did you lose some weight?"
Jenny Glows In Her Rainbow Outfit
Several fans agreed that 63-year-old Jenny has never looked better as they praised her Goa-appropriate dress. Jenny was recently in the Indian state for a beach vacation with Sumit, Christina and Christina's partner Jennie. The 90 Day Fiancé: The Other Way icon showed off her long, slim legs in the colorful mid-thigh length kaftan. Jenny's skin looked taut and spotless in this make-up-free look, which could be the result of a good skincare regime and a healthy diet. Fans are loving how Jenny started to look younger, day by day after starting her weight loss journey. Jenny dressing up in fun dresses like this striped number just proves it.
Next: 90 Day Fiancé: Why Fans Think Sumit Singh Married Jenny Slatten
Source: Jenny Slatten/Facebook, Sumit Singh/Instagram
90 Day Fiancé: Gino Reveals Drawing Of Jasmine's Dream Wedding Dress
About The Author