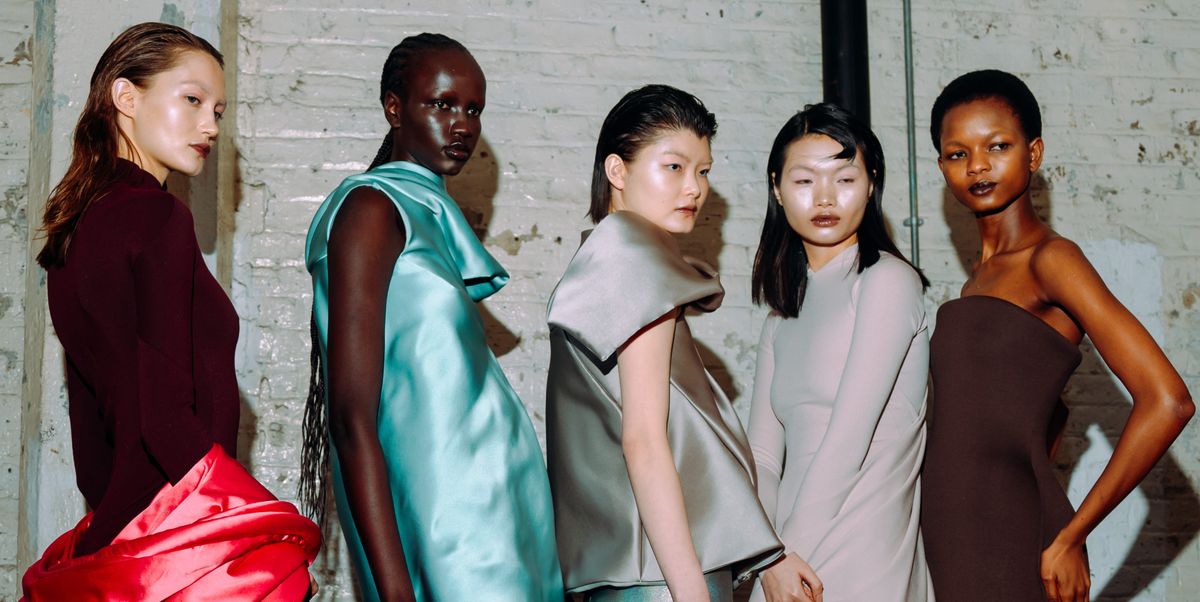 London Fashion Week A/W 2023: Fashion East to Molly Goddard
London Fashion Week A/W 2023 looks to continue the city's unique amalgam of emerging talent and heritage names – the latter represented in perhaps the most anticipated show of the season so far, ex-Bottega Veneta creative director Daniel Lee's debut at Burberry on Monday evening. 'I really would like [people] to see the new vision and feel reassured,' he revealed earlier this year. 'Like, "Oh, yeah, this makes sense: This is what Burberry should be."'
Elsewhere, expect a return to the usual busy schedule after last season was disrupted by the death of Queen Elizabeth II and the ensuing official mourning period (several shows were cancelled or rescheduled). These include shows from JW Anderson (who swaps last season's evening slot for 11am on Sunday morning), Conner Ives, Christopher Kane, Simone Rocha, Nensi Dojaka, Molly Goddard, Roksanda and a return to the London runway for Julien Macdonald on Sunday evening. Moncler's blockbuster Art of Genius will arrive in the city on Monday with a live show at London's Olympia, featuring collaborations with Alicia Keys, Pharrell Williams, Mercedes-Benz, Adidas Originals, Roc Nation by Jay-Z and more. 
Here, in our ongoing round-up, the best of London Fashion Week A/W 2023. 
London Fashion Week A/W 2023: the highlights

Simone Rocha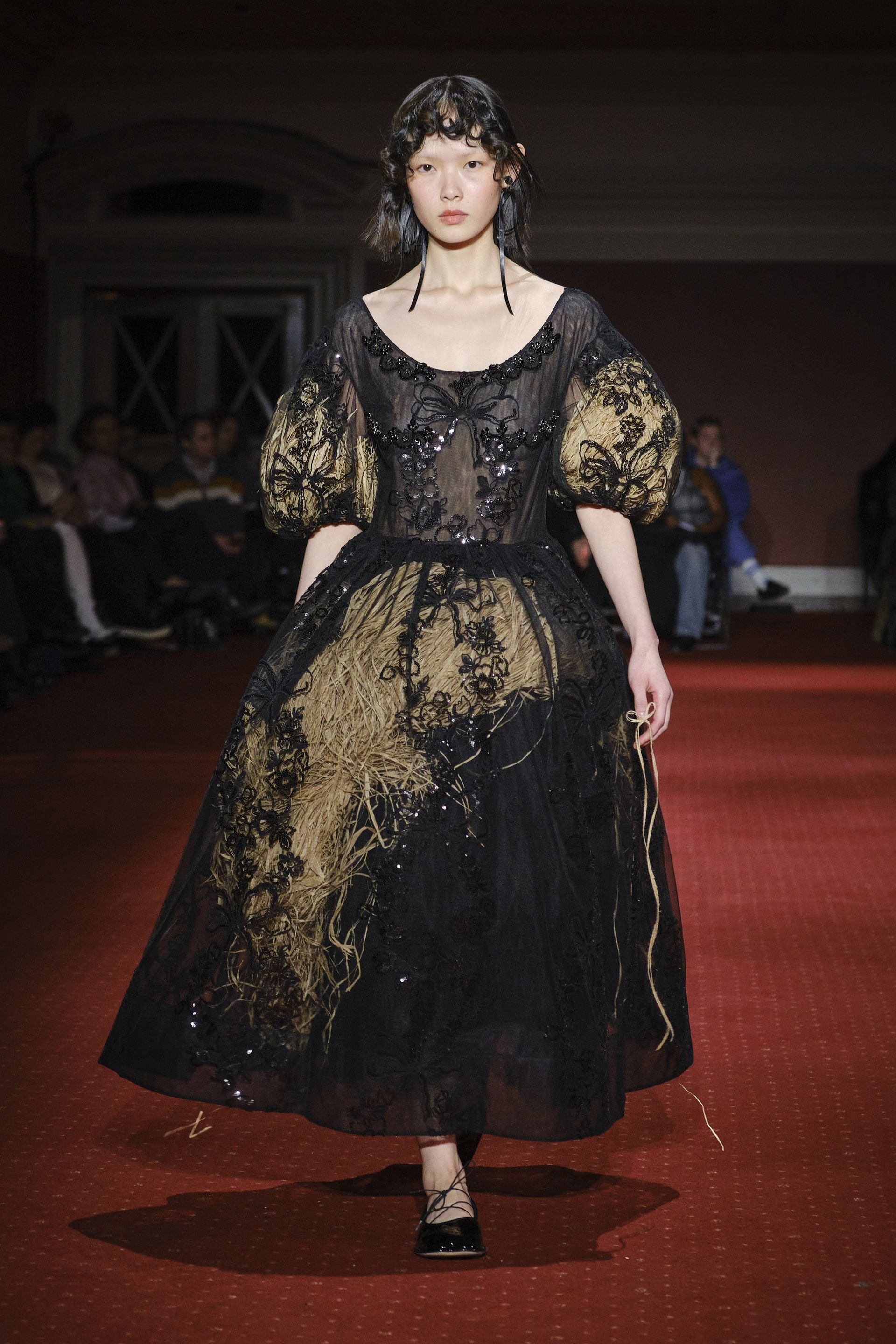 Simone Rocha has often looked towards the traditional festivals and folklore of her native Ireland in her collections; this season, the designer's typically poetic show notes – comprising a sparse but evocative list of descriptors – noted inspiration from Lughnasadh, a traditional Gaelic holiday that celebrates the beginning of harvest. 'Peeling the apple in the mirror to reveal your future love… the blood daubed on children's foreheads for protection from otherworldly beings and bad luck,' they read, seeing Rocha inhabit a space between sweet and subversive in the collection – a juxtaposition which has provided much of the impetus behind her work. A use of raffia recalled the Lughnasadh tradition of weaving hay and wheat into ceremonial shapes – here imagined in intricately braided dresses or handfuls of raffia trapped under tulle to give gowns their shape – while delicate red ribbon, adorning dresses or hanging from beneath the model's eyes like tears, referenced the festival's link with blood (the god Lugh was believed to have poured his own onto the fields in order for the harvest to thrive). Other Rocha signatures were revisited this season, whether delicate sequin and crystal embroidery or the expansive, ultra-feminine silhouettes, as was menswear, which debuted last September. 'There is a crossover of ideas and emotion, and influences of fabrications and silhouettes – they are coming from one place but each is their own individual character that responds and reacts to [the other],' she recently told Wallpaper* of the addition. 
Roksanda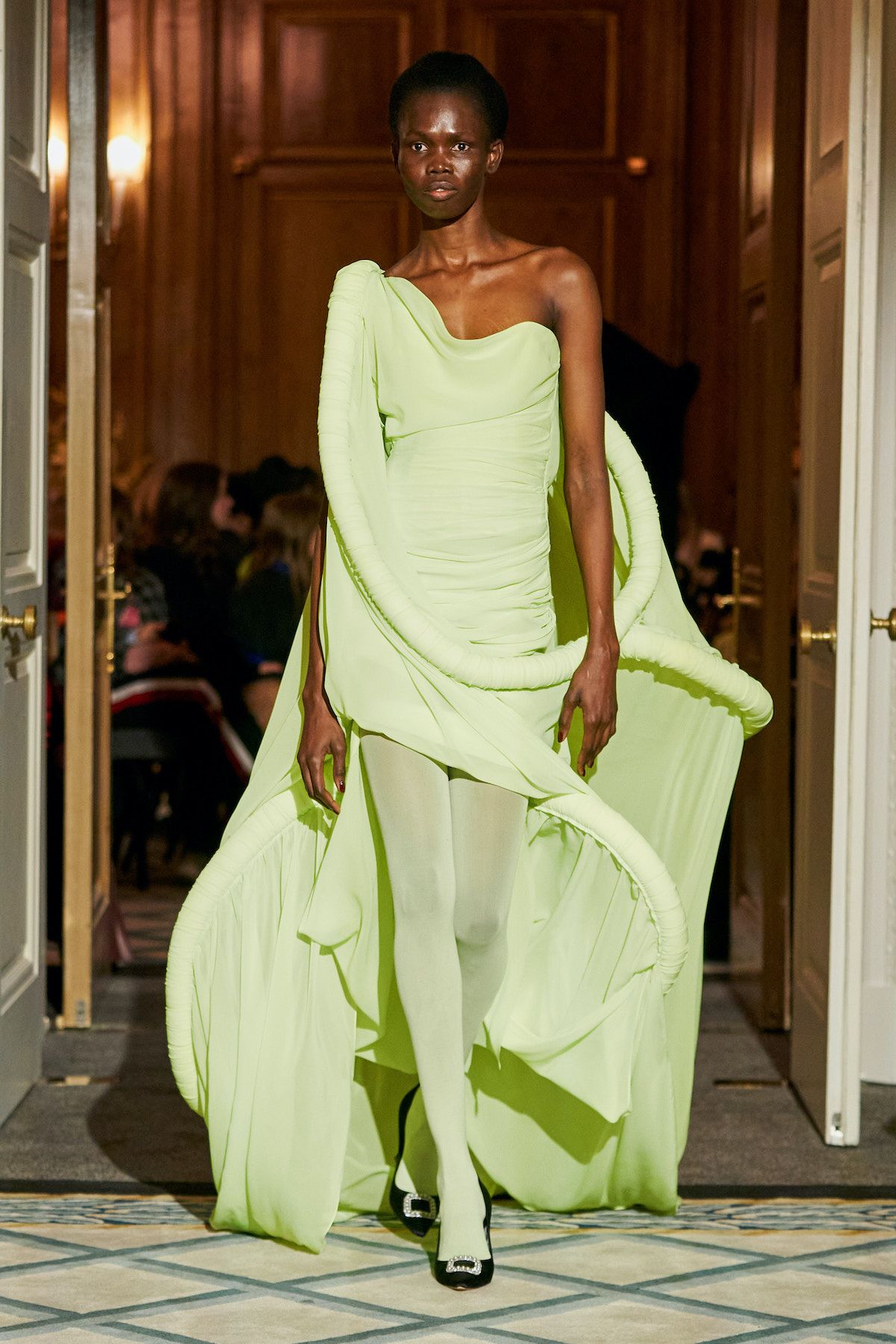 Roksanda Ilinčić chose the opulent art deco surroundings of the French drawing room in Claridge's Hotel to host an intimate salon-style presentation of her eponymous A/W 2023 collection (befitting the mood, a single rose was left on each attendee's seat, tied with a Roksanda-branded ribbon). An ode to 'art, design and community' as Ilinčić described, the collection drew inspiration from Japanese visual artist Atsuko Tanaka; in particular, her involvement in the mid-century Gutai movement, which often involved a harmony between the human body and artwork (one of the group's leading forces Kazuo Shiraga would create paintings with his feet, for example, or roll in mud, rocks, and clay as performance). One particular work which Ilinčić looked towards was Tanaka's 'Electric Dress', comprising hanging cylindrical lightbulbs in various bold colours in a structure that could be worn, here recalled in expansive jewel-toned gowns which took their sculptural forms from twisting foam loops. 'The unexpected forms and notions of the collection invites a deeper connection between the creation of the body and craft, beauty and technology,' said the designer, who said the collection was one of 'unapologetic femininity'. 
Molly Goddard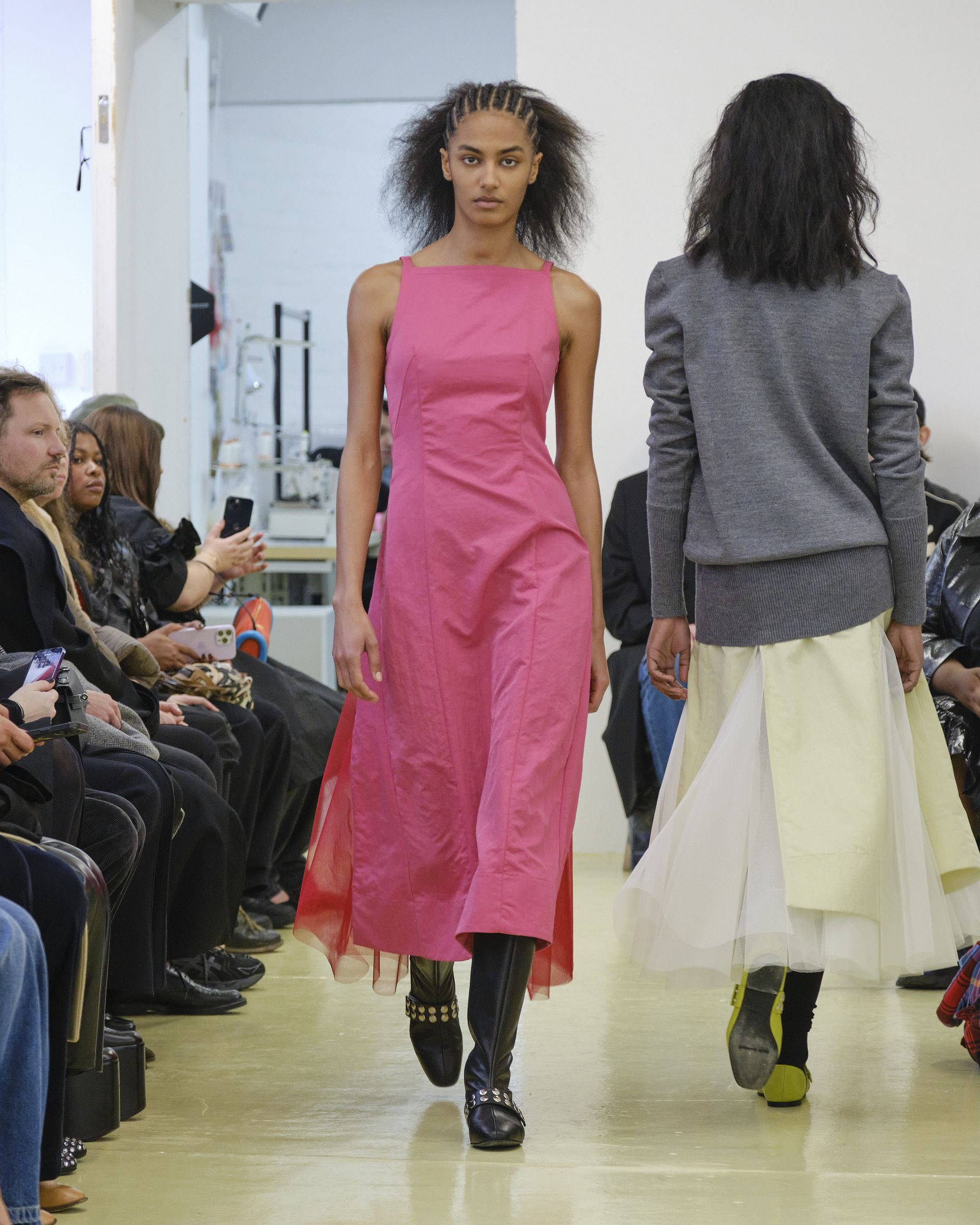 Molly Goddard opened up her studio in east London's Bethnal Green for a close-knit presentation of her A/W 2023 collection, which the designer said was an attempt to capture the feelings she had when starting her brand in 2012. 'It was a time when working in fashion, to me, involved making clothes on my own and trying to get stockists,' she elucidated. 'Now, working in fashion involves many things I wasn't expecting – events, award ceremonies, promotion, social media – it was nice to think about the simplicity of when I started and the passion that spurred on the work at the beginning.' As such, Goddard had scoured old magazines with her sister and stylist Alice Goddard at the Central Saint Martins library, remembering how they would have worn the pieces she coveted at the time, and the clothing they had owned as teenagers growing up in London. 'Leopard-print jeans we'd bought at Gap Kids in Whiteleys [shopping centre], screen-print sporty knitwear from Portobello [market], an exposed popper belt we shared from Claire's Accessories,' all of which appeared in various iterations throughout the collection, albeit in Goddard's vivid style. A streamlining of her signature expansive silhouette (the designer is known for using yards of tulle in a single dress), made for some of the collection's most arresting moments, like a cerise-pink dress with knife-sharp slits, out of which delicate panels of red tulle emerged. 
Conner Ives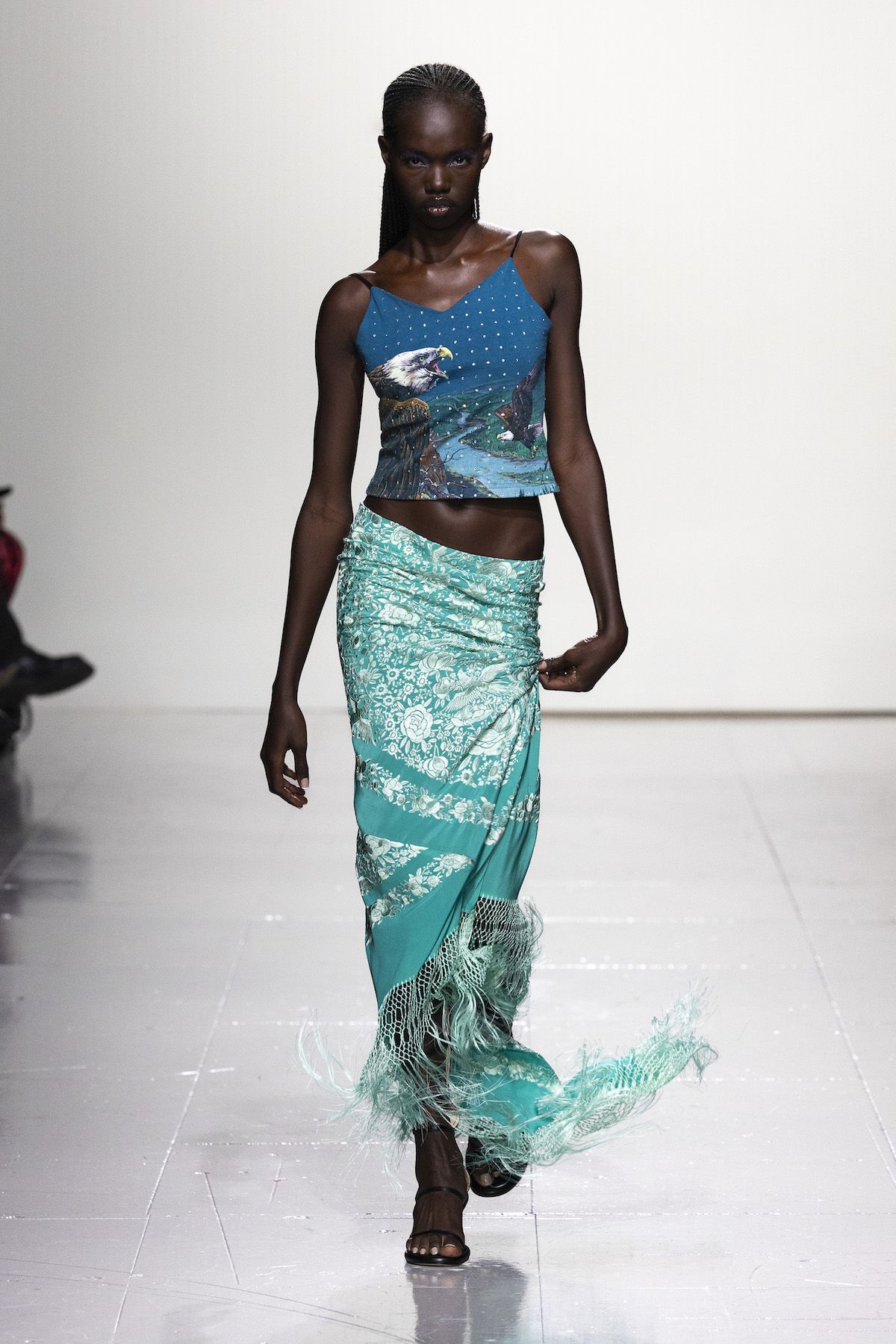 Conner Ives wants to make people fall in love with fashion again, the designer told Wallpaper* in the run-up to his A/W 2023 collection, noting particular inspiration this season from the 1999 Paul Thomas Anderson movie Magnolia.  'What I love about that movie is that it really depicts incredible facets of humanity… I think working with the idea of a cast of archetypes that represent different ideas is the Conner Ives niche that I don't want to lose,' he told Hannah Tindle. As such, the collection itself – shown in London's Old Selfridges Hotel – saw Ives imagine an array of archetypal figures, conjured on the runway in the New York-born, London-based designer's playful, 1990s and 2000s-tinged style (he is also known for a commitment to sustainability, with around 70 per cent of this season's collection made from repurposed second-hand vintage). There was 'The Glasto Girl' (an ode to Kate Moss' mud-stained 2000s looks at the festival), 'The Shiny Set: Nan Kempner' (referencing Nicolas Coleridge's description of the shiny set in his book The Fashion Conspiracy), and 'The Showgirl, Nomi Malone' ('it's not Versayce, it's Conner Ives!' read the collection notes). It made for an emphatic offering from the young designer, whose irreverent approach feels like it's capturing the zeitgeist. 'Fashion nowadays feels more like a business, it's no longer the escape it once was,' Ives said. 'It moved me to pursue a certain gravitas this season. I wanted to feel [what I felt as a teenager], I wanted fashion mania.'
Fashion East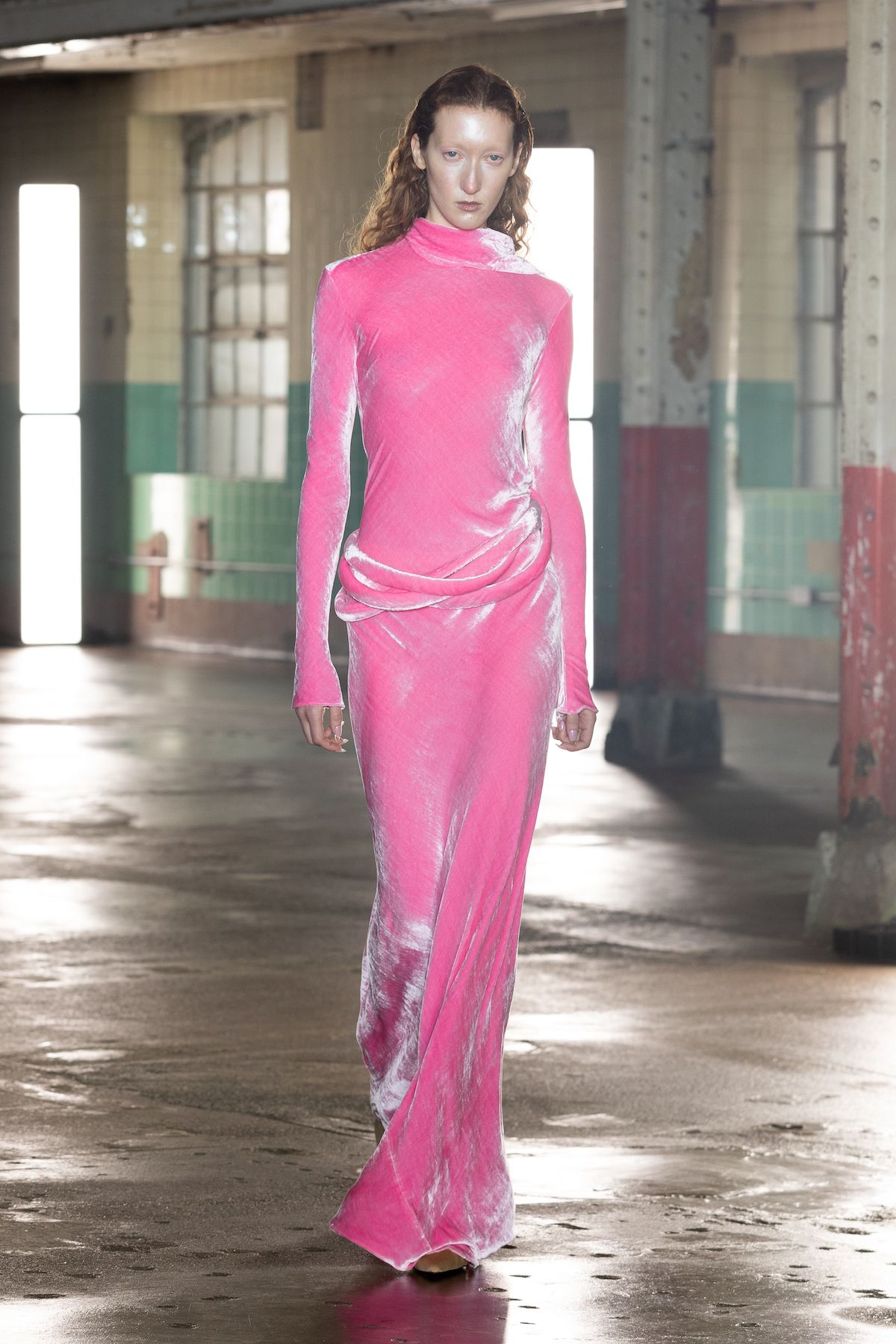 Michael Stewart's Standing Ground provided the opening act of this season's Fashion East with an impeccably crafted collection that evolved his signature sculptural eveningwear which debuted last season at the talent incubator. A focus on silhouette and form remained at the heart of the offering – 'histories of figuration, whether ancient or ancestral, are abstracted and animated in work that fortifies presence,' read the collection notes – whereby vivid tones of velvet and satin were crafted into elongated gowns, often with twisting padded detailing around the waist. The introduction of a series of Donegal wool overcoats, wide at the hips, showed Stewart is adding new depth to his offering, while tops, skirts and jumpsuits were also introduced this season. The way that the Irish designer weaves his expansive view of history – inspiration, he said, might come from Paleolithic figurines or silhouettes from the 1500s or 1950s – into these distinctly contemporary pieces, shows maturity and purpose. He's one to watch.
Elsewhere, this season marked the debut of Estonia-born designer Johanna Parv, who was nominated for the 2023 LVMH Prize last week. A focus on sportswear provided the impetus for the collection, which combined moments of utility – drawstrings, stirrup leggings, cyclewear-inspired second-skin tops – with crisp, defined silhouettes and moments of femininity (the designer says her approach is a riposte to traditional sportswear design which largely was evolved on men's bodies). Karoline Vitto, meanwhile, continued her own sensual exploration of the female form with garments that hung seductively on the body, often with sculptural metal fastenings evocative of contemporary jewellery. This season, the introduction of tailoring – albeit in the designer's distinct asymmetric style – added new depth to her oeuvre. 
Harris Reed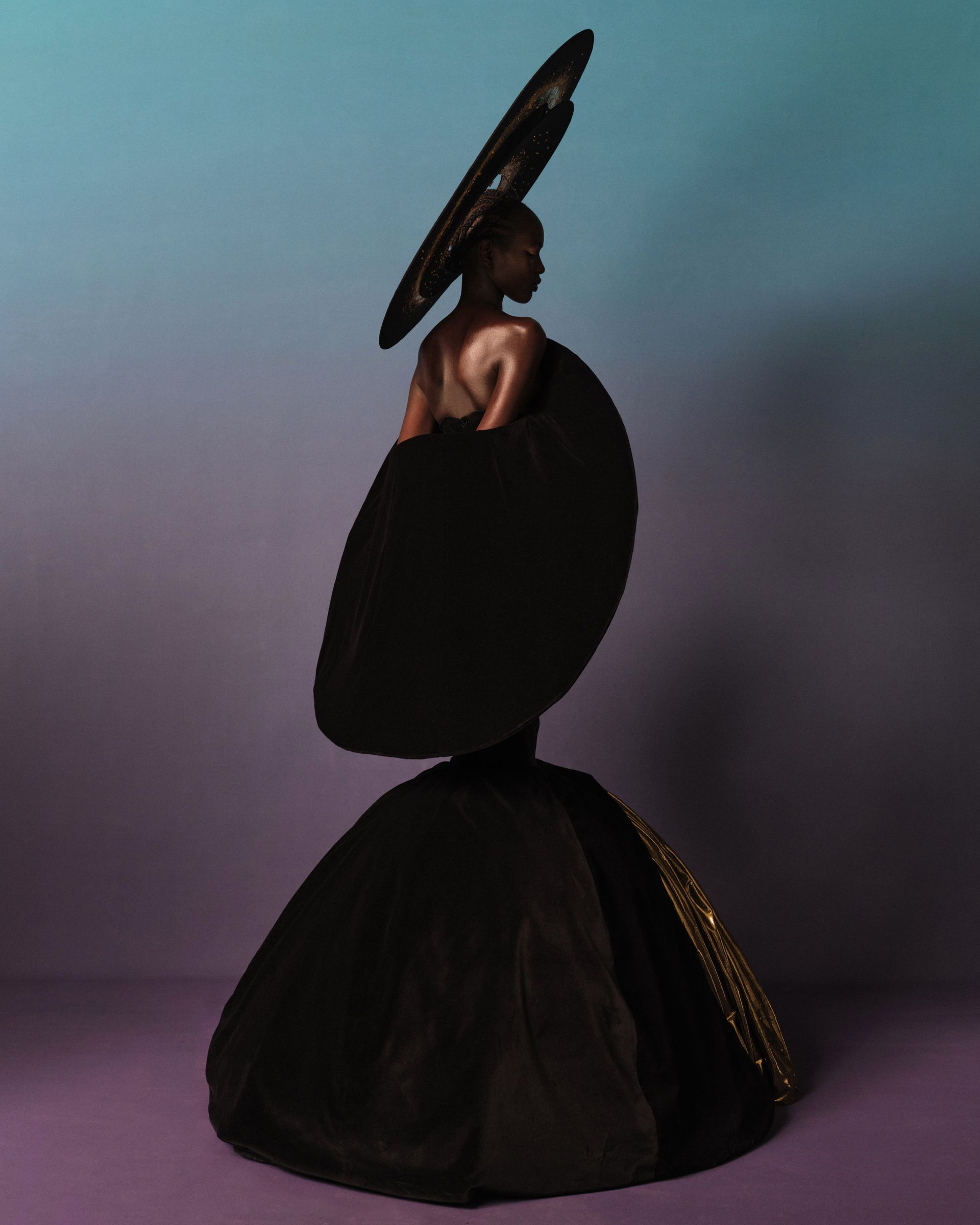 The transformative power of dressing – a continuing theme of American designer Harris Reed's work – provided the starting point of his A/W 2023 collection, as elucidated by actress Florence Pugh in a monologue that opened the show at London's Tate Modern. 'Clothing has a transformative power, whether for an actor, or simply a performer on the stage of life… the art of dressing up allows us to express who we truly are,' she said, introducing a collection titled 'All the World's a Stage'. Typically dramatic silhouettes – including vast orb-shaped millinery, pannier-style swathes of fabric at the waist, and an 'upside down' fishtail skirt – defined the theatrical collection, this season gilded in shimmering gold sequins and metallic lamé with rich black velvet providing a sleek contrast. 
AV Vattev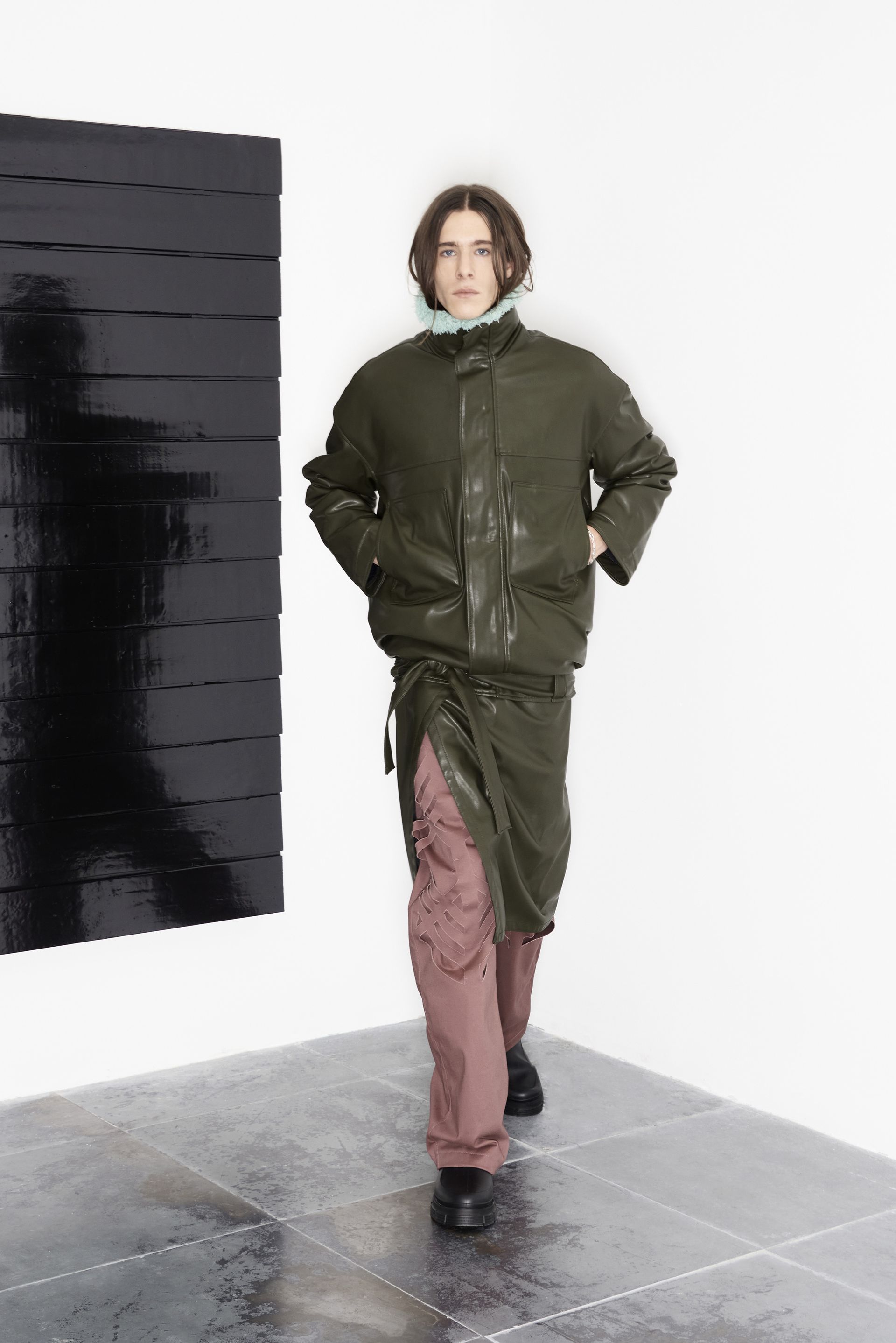 Bulgaria-born designer Antonio Vattev – who founded the eponymous London-based label Av Vattev after stints at Saint Laurent and Lanvin – titled his A/W 2023 collection 'The Privilege of Observation'. It referred, in part, to the idea that Vattev was looking outwards this season, drawing inspiration from his longtime admiration of artists Georgia O'Keeffe and Christo. '[It] is a reflection of Antonio's vision and lifestyle that goes with it,' read the collection notes, which accompanied a campaign starring several high-profile fans of Vattev's work, from British artist duo Corbin Shaw and Flora Miles to Grammy Award-winning musician Scribz Riley. The clothing itself recalled the visual immediacy of O'Keeffe and Christo's work, here figured in graphic silhouettes and colorful undulating motifs which stretched across the shoulder of a garment like an O'Keeffe petal (Christo was referenced in pleated nylon raincoats, which recalled his dramatic wrapped forms). Cut-outs, something of a Vattev signature, also featured, as did a nod to his Bulgarian roots with traditional embroidery from the country reappearing throughout.
Stay tuned for more from London Fashion Week A/W 2023.