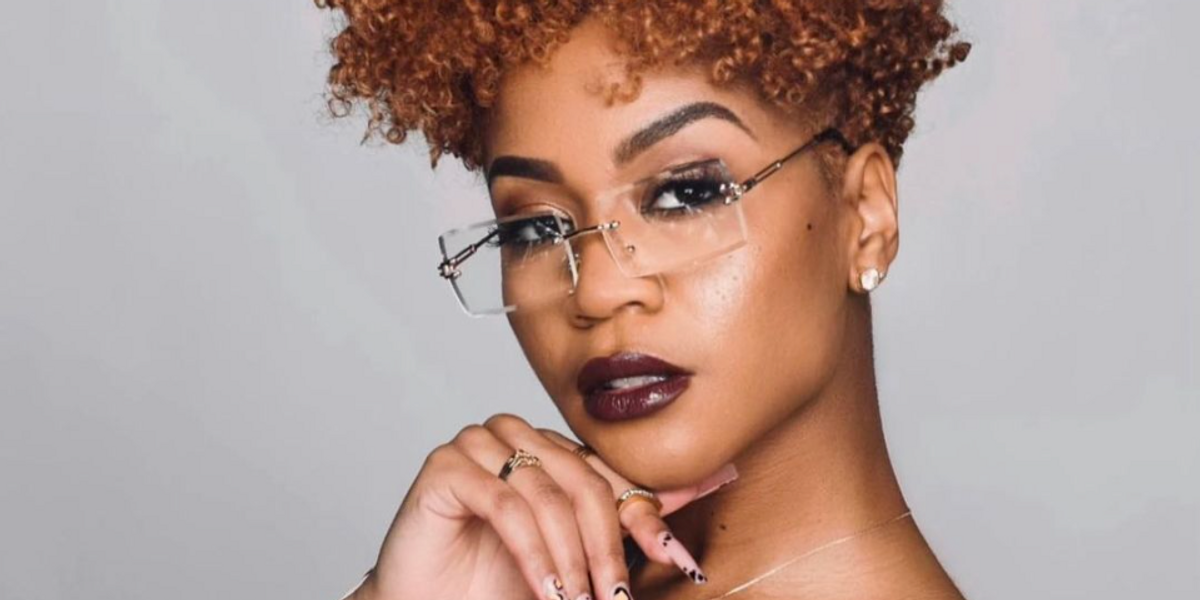 Six Beauty Influencers On Embracing The Soft Life
Through self-mothering, we have the unique ability to fill our cups in a way that only we can. It is an intentional, selfless act that is rooted in nurturing and advocating for our needs. The route we take may differ from those around us and may look different depending on the season we're in. But at its core, mothering ourselves is a radical act of self-love that we're all deserving of.
The women in this feature explore their journey to self-mothering and share the lessons they've learned (or had to unlearn) along the way.
*Some responses have been edited for clarity.
Writer, Speaker, Editor
Courtesy of L'Oreal Thompson Payton
Self-mothering is about showing yourself the love you need, want, and deserve, even if–especially if–you may not have experienced how you would like to be loved by the mother figure(s) in your life. I observed my mom lean hard into that Strong Black Woman trope and I certainly adopted some of that behavior. But as I've gotten older I've decided that's not for me and that's not the legacy I want to pass down to my own daughter. I am all about embracing softness and courageous vulnerability. I allow myself to cry. I apologize when I hurt people. I'm no longer interested in appearing as if I have it all together. There are no gold medals for pretending to be perfect.
Physically I'm very much into working out, which fills my mental, emotional and spiritual needs–especially Chelsea Jackson Roberts' gospel flows, slow flows, and restorative yoga classes on Peloton. It's interesting because I'll say I don't believe in 'snapback culture,' etc., and yet I judge my body for not being the same as it was before birth. I'm having a hard time accepting my postpartum body. Of course, I love that it birthed a healthy, happy baby girl. But I don't love not physically feeling and looking like the old me. So I'm working on that and I remind myself that my daughter literally does not care and that an extra 10-15 pounds don't make me a different person. I'm still the same LT.
I'm also an avid journaler and I like to meditate when I get the chance. I used the Expectful app when I was pregnant and postpartum. I also love Insight Timer. I have to pour into myself and fill my cup first and foremost so I'm able to pour into others. Nurturing myself has gotten easier with time. I find self-care activities easier to do than the 'real work,' i.e. setting boundaries, saying "no" without explanation or apology, and putting my needs ahead of others as a recovering people-pleaser. I'm working on it in therapy and my husband and sister are constantly reminding me to do less and stop bending over backward for others.
To other women beginning your self-mothering journey, be gentle with yourself. Social media will have you believe you have to complete your journey overnight and that the path is linear. Healing is not linear. There will be relapses. There will be stumbles along the way. What's important is that you pick yourself up each time. It's about replacing the negative inner critic with a voice that's going to encourage you along the way.
Founder + Editor-in-Chief of Resolute Magazine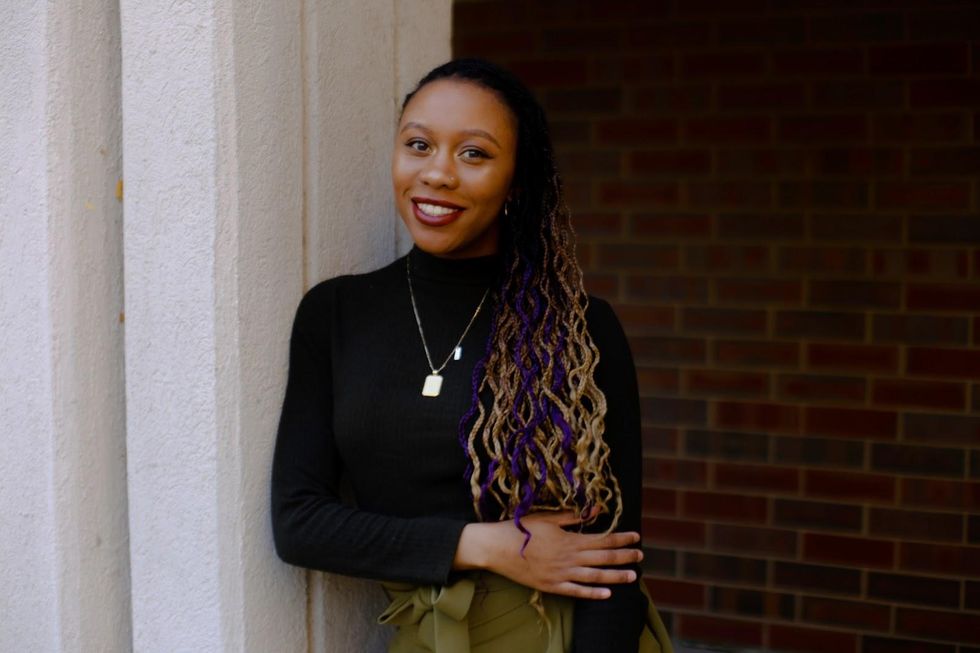 Courtesy of Danielle Celaya
Self-mothering is taking the time to realize that I have needs, those needs deserve to be met, and that I don't have to deal with anyone who undermines or minimizes those needs. Self-mothering looks like showing up for myself in all the ways my mother couldn't. Not because she did not want to, but because she likely (as I've learned being an adult) did not know how. My mother had to, unfortunately, grow up fast. That leaves a massive learning curve when you have children of your own but did not have much of or a safe childhood yourself.
Growing up, she provided space for my aunts and other women in her life that she trusted to be there in ways that she couldn't. I've learned it isn't uncommon in the Black community for Black women to be there for everyone and people rarely if ever, show up for us. I've seen that with my mom, my aunts, and my grandmother figures. And they still give and show up with love, but it's not for the people who continuously hurt and harm them. So self-mothering can be walking away, but also having uncomfortable conversations because not every situation is cause for just walking away.
Self-mothering is also making space for the things you enjoy. When I was 16, my brothers gave me my first journal. I started taking journaling seriously when I was a 20-year-old intern in Washington, D.C. From there, I've stayed fairly consistent. Journaling has always provided a way for me to fully get my feelings out of my head, and sometimes, my heart. Through therapy, and learning from Nedra Tawwab, Dr. Thema Bryant-Davis, Tricia of The Nap Ministry, and Dr. Mariel Buque, I've learned to just feel my feelings. For a time I would "save them for later" or repress them. I've done a lot of work to not do that.
Another thing I do to meet my needs is read. I read books I want to enjoy and if I don't enjoy the book I'm reading, I don't finish it. I spend time with people who I can be myself around and speak candidly with. I visit places and do activities I want to do even if a friend can't go with me. When I need to sit down or just sleep, I let myself, and I don't judge myself for it. I always have candles around because it's a simple way to care for myself during busier weeks.
Nurturing myself has become easier with time. I had to realize regardless of anyone else, I had to show up for myself. When I catch myself going through a rough patch and not caring for myself, I pause to make sure I do. I've canceled plans with people just because I noticed I hadn't shown up for myself in a while. The ones that care, understand. The ones that don't, I no longer speak to.
I would encourage another woman who is beginning her self-mothering journey to give herself grace. Deprogramming from all the ways that we, especially Black women, are expected to show up in this world takes so much time. Give yourself grace, and be compassionate toward yourself.
PA-C, Mom & Lifestyle Blogger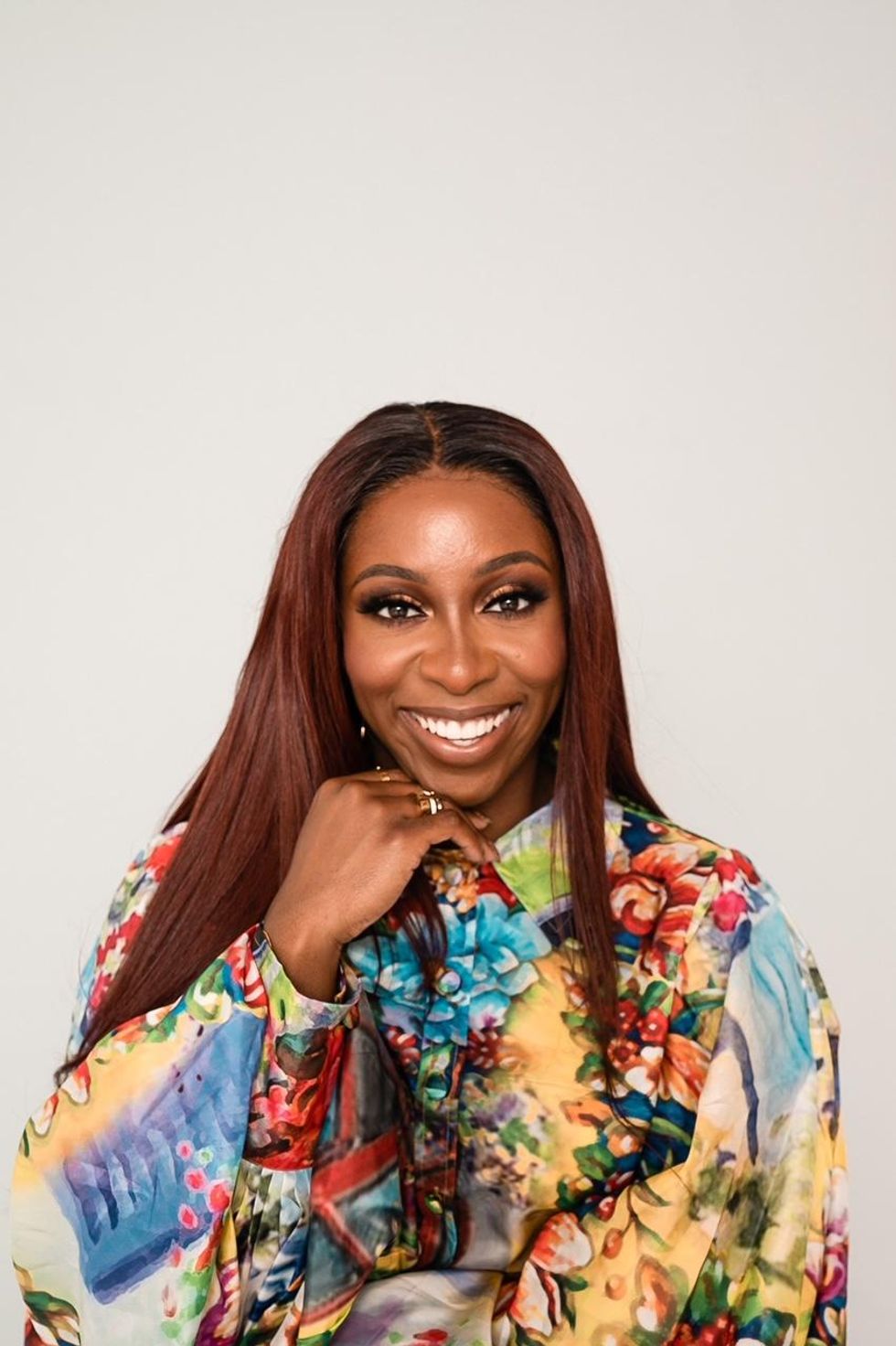 Courtesy of Onyi Azih
I see self-mothering as nurturing yourself with compassion and kindness through whatever healing looks like to you. To bring calm to what may have once been a chaotic spirit. Self-mothering reminds us that we are worthy of love, care, and respect. Initially, I struggled with not seeing culturally-acceptable examples of self-nurturing. Then came mom guilt which felt like a cloud I couldn't get away from.
Something as simple as spending alone time away from my kids would bring on the guilt. But now, I recognize I can nurture myself in whatever way feels right to me. I know that mom guilt is a liar. Trying my best makes me a good mother. It took therapy, reaching out to my village for help with the kids, remembering how much I wanted my mom to be happy, and knowing my kids want the same for me. Self-mothering isn't selfish. In order to fully give your kids permission to love themselves, you have to show them how.
"Self-mothering isn't selfish. In order to fully give your kids permission to love themselves, you have to show them how."
I had a strained relationship with my mother in my younger years. I remember my most persistent struggles were with anxiety and anger. These were feelings I could have processed sooner if I had examples of how to nurture myself, or how to set and uphold boundaries. More often than not, I grew up witnessing my mom caring for others more than herself. I watched her struggle to set boundaries for herself that would have allowed her to self-advocate. Though, of course, that's what we were taught motherhood is all about, right?
It doesn't come as a surprise considering that she was the eldest daughter and an immigrant raising five children in a foreign country. She did the best with what she knew, but what she may have missed out on was teaching me how to nurture myself. Since it's easy to experience burnout with everything that adulthood piles on my plate, I started getting very serious about my first love, yoga, for my self-care needs. I practice it weekly, along with talking to a therapist when I reach those valleys that life inevitably brings us through. I'm also quick to speak positively about myself because there is so much life in the tongue.
Owner of Vinti Trunk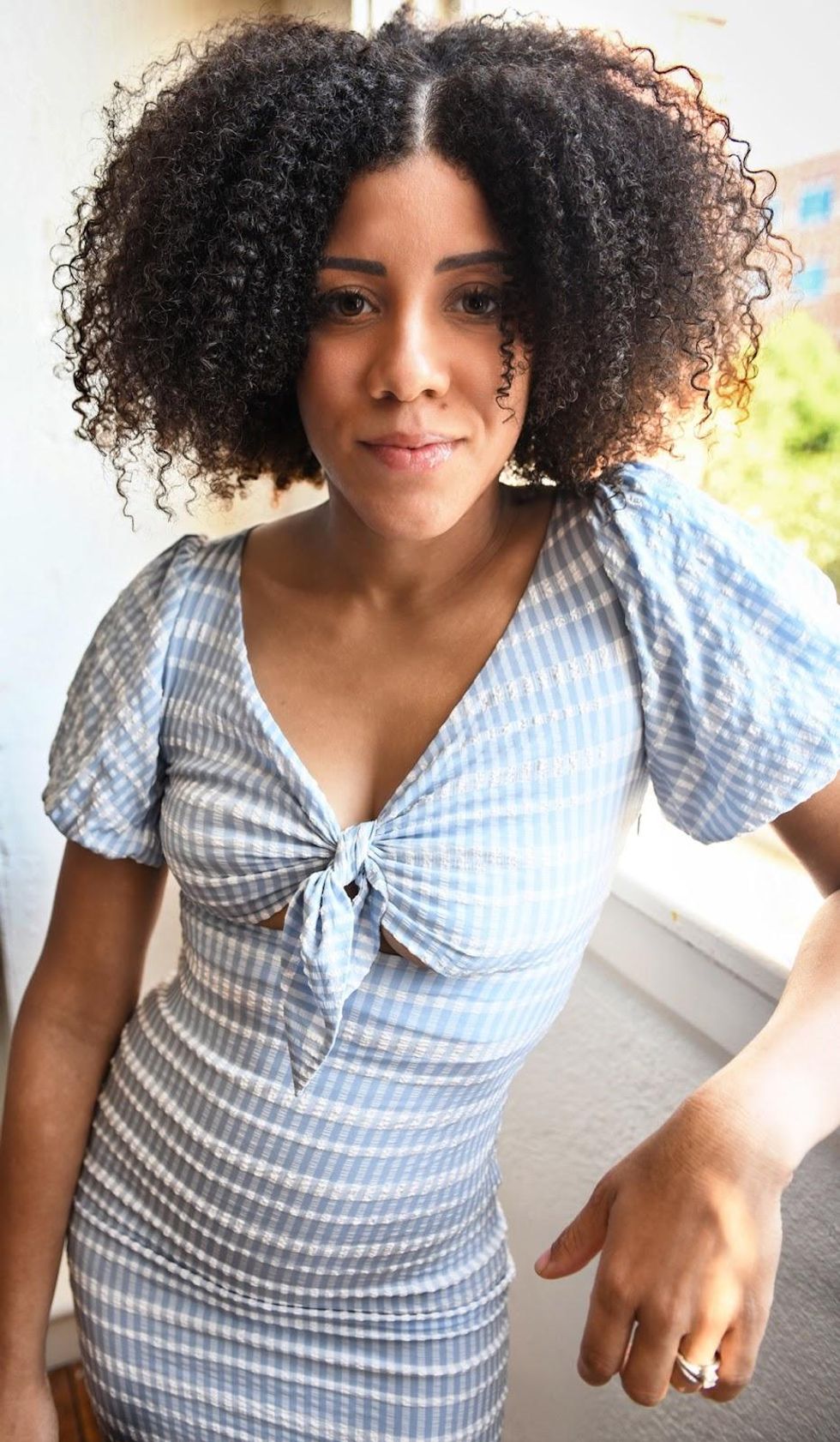 Courtesy of Anita Akinyemi
To me, self-mothering is how you choose to perform motherly actions for yourself. It's making sure that I'm taking care of myself mentally, physically, and emotionally. The relationship I have with my mother has greatly impacted my life and shaped the way I care for myself. She's always been there for me pushing me to do my best. In my younger years, I didn't always like to hear her opinion if it wasn't parallel to mine. However, I've grown up to learn that those opinions came out of concern and experience. My mother lost her mother as a teenager so seeing her as a motherless mother makes me grateful that I have her in my life to share her wisdom with me. In turn, I can share that wisdom with my own daughter.
Fulfilling my needs can be incredibly difficult because sometimes I feel there isn't enough time in the day. My time set aside for rest dwindled significantly after becoming a mother so sometimes resting is the most simple action I take to care for myself. As for my emotional needs, I took the time to see a therapist and that was incredibly beneficial. I go to church weekly but I feel that my alone time with God, when I'm praying and listening to gospel music, really fulfills a lot of my spiritual needs.
Nurturing myself is not an easy task because I tend to put my needs last. Thankfully, I have a very supportive spouse that reminds me to take time for myself. I recently started working out again to give myself "me time" outside of doing things related to my business and household duties. When I schedule time for myself in my day it's a lot easier for me to mother myself!
To another woman beginning this journey, I would simply say: don't forget about yourself. Remember what makes you happy and try to set a schedule to make time for those things. That way you can continue to blossom.
Podcaster, Writer, Speaker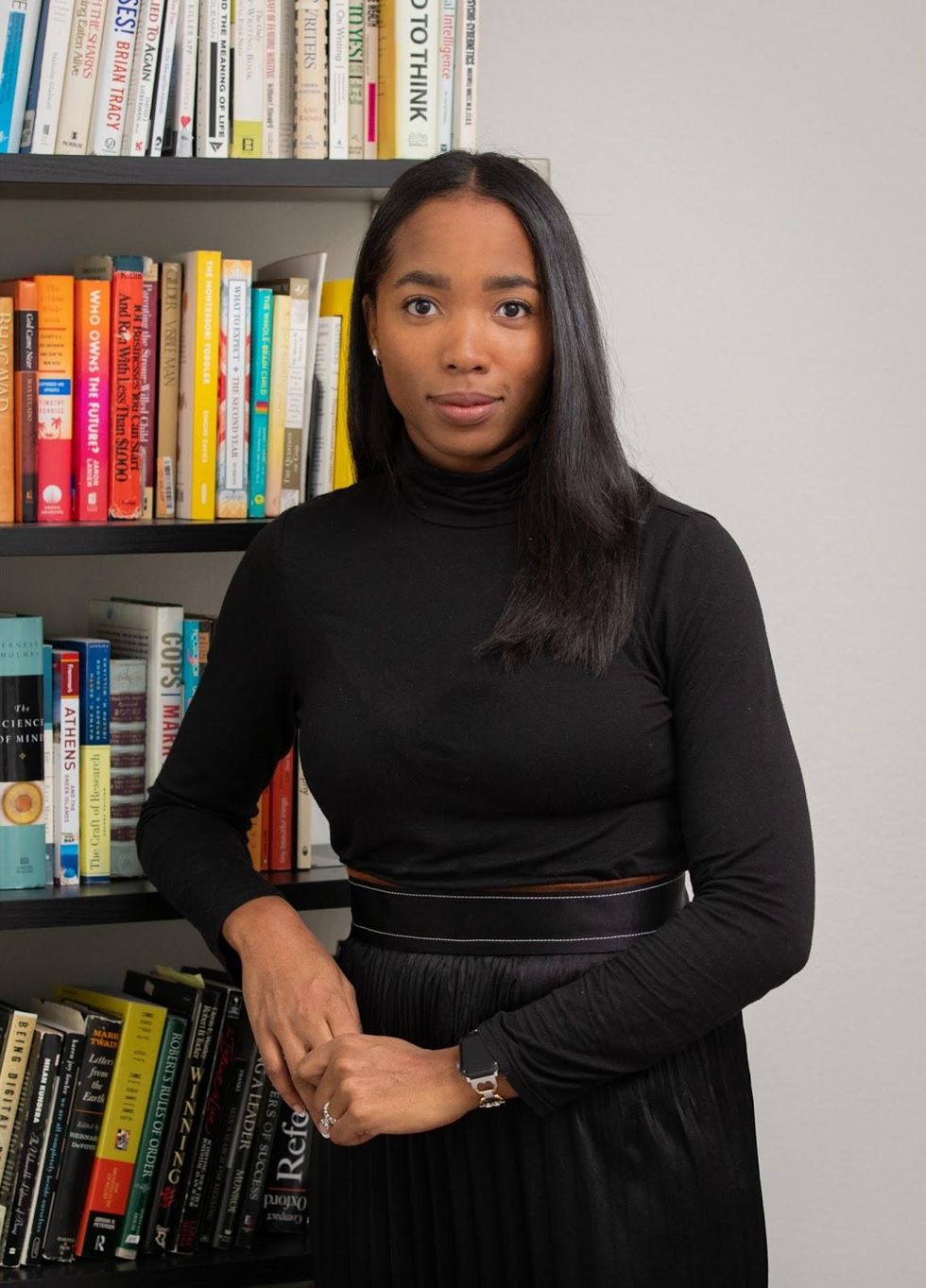 Courtesy of Earlina Green Hamilton
Self-mothering, to me, means to care for yourself like the woman who birthed you would. It is to put yourself first, nurture yourself, look after yourself, fight for yourself and make sure you want the best for yourself.
My mother was a single parent to triplets and two others. She did what she could to provide and establish routines. As a former police detective, she preached safety. "Always look around," "be aware of your surroundings," and "lock your doors immediately after getting in the car," were just a few of her constant sayings. In her later years, she developed diabetes. I saw the toll it took on her body and spirit. Her diagnosis forced me to be aware of my body as I age and not take the gift of health for granted.
For self-care, I work out for my physical needs, journal for my emotional needs, and pray for my spiritual needs. I also don't allow people to drain or take advantage of me. That's a big one. Self-nurturing is a necessity so I don't make excuses when scheduling time for myself. Whether I need a massage, Ayurvedic bodywork, lip wax, or some time at the gym, my husband and I get on the same page and schedule it. I believe that how I care for myself directly reflects how the world cares for me.
I would tell another woman who is beginning her self-mothering journey that she is responsible for herself. It's no one else's job to ensure you are adequately adjusted to our ever-changing and chaotic world. Be kind to yourself and look after yourself. Invest in books, people, and resources that constantly inspire you to think outside of your current circumstance. Always have goals for your body, mind, and spirit, and work daily to achieve them.
Owner of Grazing Boards By Chipo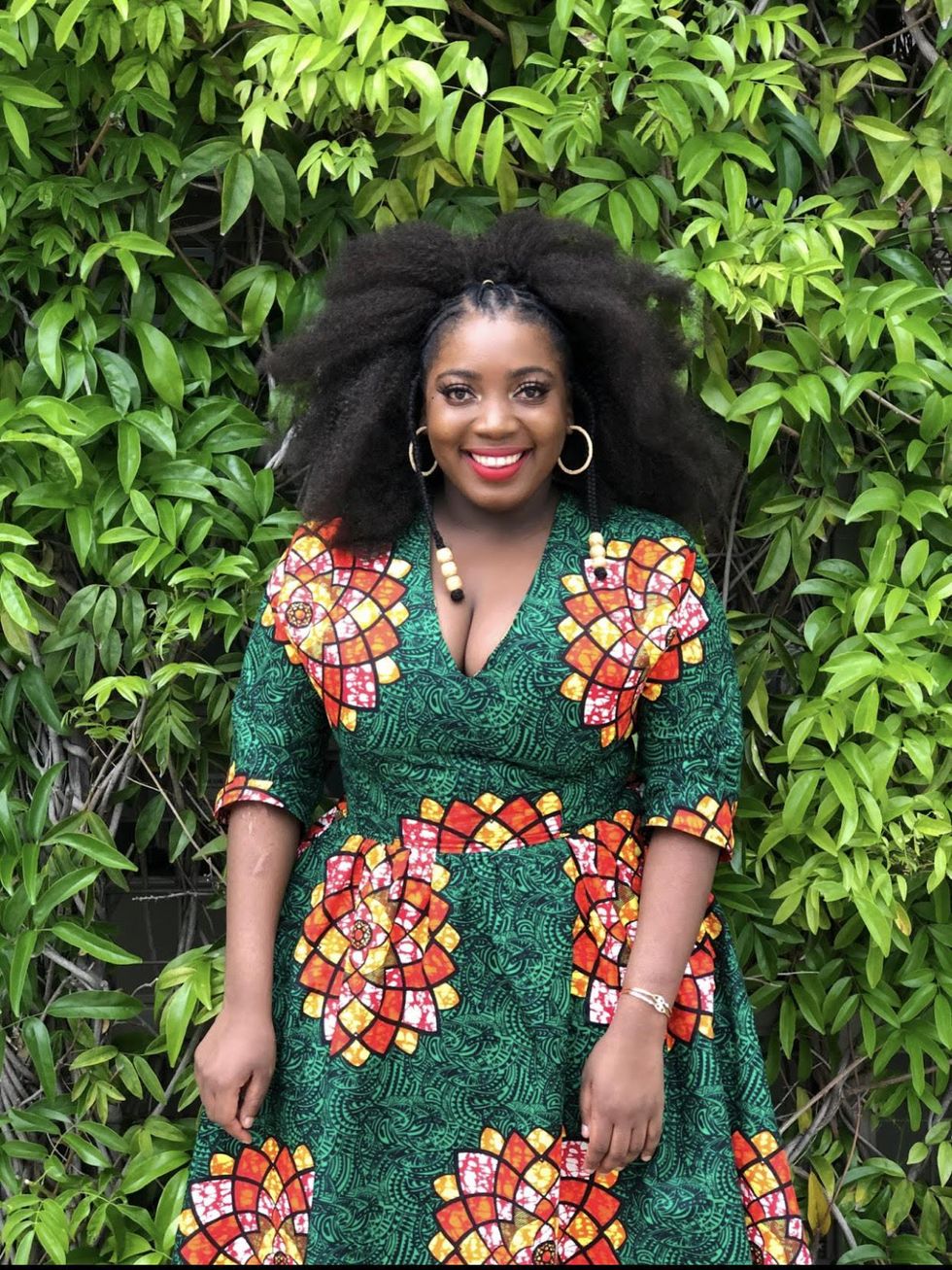 Courtesy of Chipo Size
Self-mothering is the extra care I give myself to replenish my spirit and my soul as I journey through life. I mother myself in ways similar to how my mom raised me, but in different ways too. When I was growing up I used to think my mom was imperfect, I used to fight with her about countless things because she would force me to do things that I didn't want to do. Now that I'm older, I'm in awe of her because not only do I realize she's not perfect, she's human.
She was always present as a mom. She was at every sports event I could remember. Always listened to what her children wanted and was a mediator while raising six girls under one roof. I only ever saw my mom relax on vacation. But at over 30 years old, I give myself so much grace. I carve out time for myself weekly or daily to decompress from the day. It could be in the form of drinking a glass of wine or going for a walk while listening to an audiobook or podcast. This is what I wish I saw my mom do more, but I'm glad I do it for myself.
I'm also truthful with myself and others about my struggles because I was always taught to be strong. I've struggled to find the softness. But as I mother myself, I'm learning that letting my guard down in the right presence is healthy. That is true strength. Nurturing others is easy for me because that's what I've been taught to do and that's what I grew up seeing. Nurturing myself is something I started during the pandemic when I was losing control of my emotions and feeling depressed.
"I'm also truthful with myself and others about my struggles because I was always taught to be strong. I've struggled to find the softness. But as I mother myself, I'm learning that letting my guard down in the right presence is healthy. That is true strength."
It was the first time in my life I was most vulnerable to the greatest changes in my life. I was used to being on the go. I didn't take time to show up for myself and to rest. I started pouring into myself by doing things I wanted to do. I started playing tennis again and started saying no when I felt like I spread myself too thin. I started speaking kindly to myself and extending the same grace I so easily give others.
Our days can never be perfect–I think that's the dream we've been sold from inception. But we can learn to be content in the hard times, while we learn to love ourselves a little more. Self-mothering might feel foreign at first but it's one of the greatest and most beautiful journeys we will ever take.
Writer, Author, Mother, Creator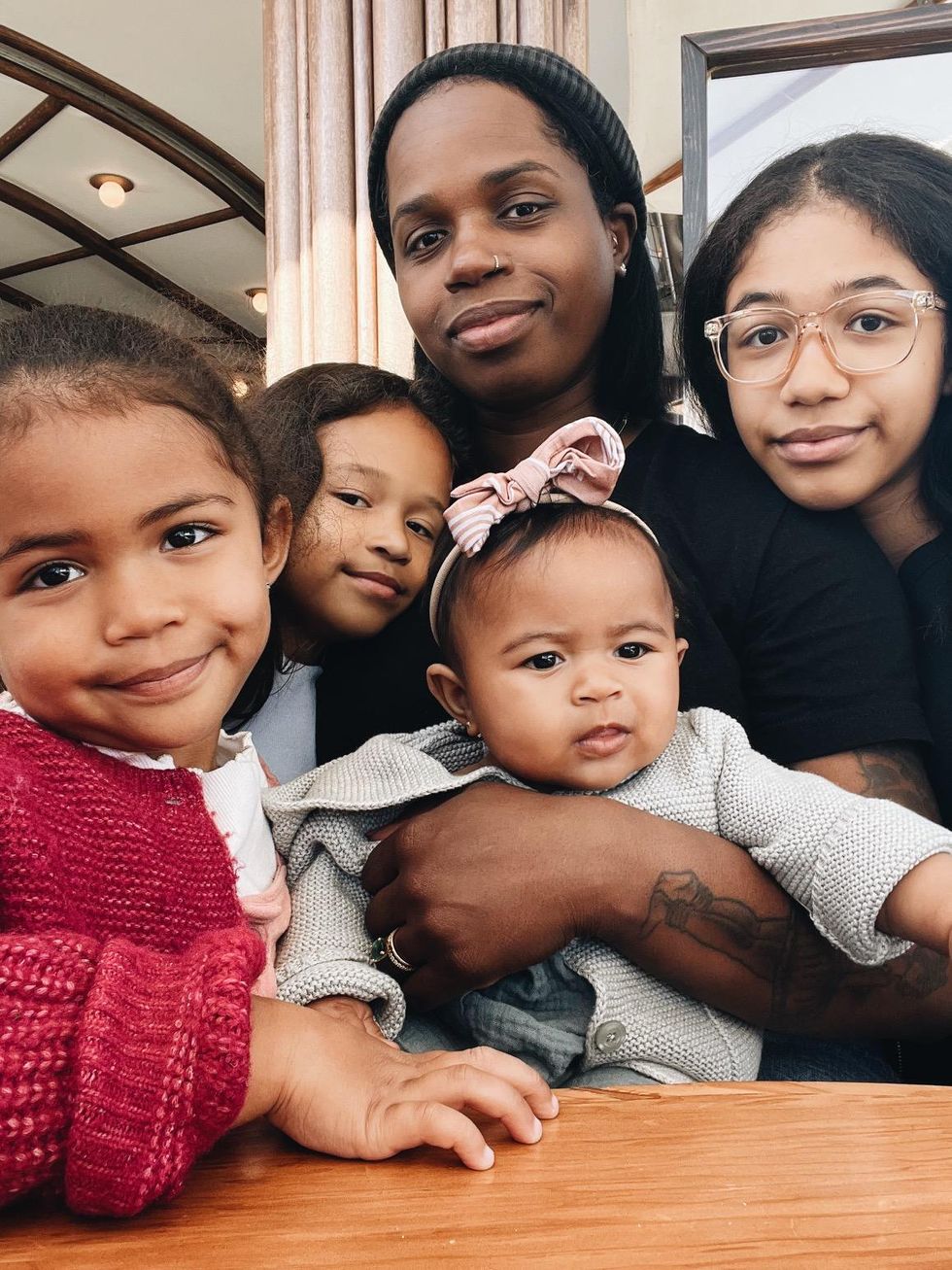 Courtesy of Ashley Chea
For me, self-mothering is healing, therapy, and self-reflection. Once that happens I feel like it becomes easier to create boundaries in all areas of life. You can honor your time, space, and emotional well-being without feeling guilty. Creating boundaries has always been my biggest barrier to nurturing myself. I feel so much better as an adult now that I'm not afraid to tell my mom and friends "no." And because I never wanted anyone to leave me, I wouldn't leave people or situations.
Therapy taught me that leaving is a form of self-care. It's also a form of protection. So nurturing myself looks like me not engaging or partaking in anything that's going to make me vibrate at a low frequency. Nurturing myself also includes working out for my mental and physical health. I have to work out and clear my mind–even if that's a 20-minute walk outside. I also get my nails done. The world could be burning down and I'm going to get a mani-pedi before we meet the Lord. There is something about looking down at my feet and if they are crusty, it will make my life feel worse!
My mom has always taken care of herself and she taught me to care for myself. We didn't have tons of money, so we never went to salons growing up. However, my mom always did our hair. She would sit us all on the porch and soak our feet and give us pedicures. She taught me that money didn't have to get in the way of creating your own care. She taught me that health is the real wealth.
Becoming a mother has taught me to give myself grace. I realize how innocent my girls are by watching them love and live. Teaching them to be gentle with themselves has taught me to be gentle with myself, as well. We all deserve a soft life, and it's never too late to make it happen for yourself. What I know for myself and what I want my girls to know is this: We can create the lives we want, and we don't have to wait for someone else.
To another woman who is beginning her self-mothering journey: Go to therapy and learn your triggers. Learn what you're holding on to from your past. Knowing why you do something helps you to learn what to let go of and what to hold on to. Also, don't be afraid to spoil yourself. You deserved a childhood of love and protection. If you didn't get it, now you can give it to yourself endlessly.
Featured image courtesy of Chipo Size
From Your Site Articles
Related Articles Around the Web
window.REBELMOUSE_ACTIVE_TASKS_QUEUE.push(function()
document.querySelector(".search-form__open").addEventListener('click',function()document.querySelector(".search-form").classList.toggle("show-search"));
);
window.REBELMOUSE_ACTIVE_TASKS_QUEUE.push(function(){
window.REBELMOUSE_STDLIB.loadExternalScript("https://cdn.jwplayer.com/libraries/oYemHb8o.js", function() {
var video_count=0; function upDateJwplayerIframe(){ document.querySelectorAll(".widget__video:not(.jwplayer-proc)").forEach(function(video){ video.classList.add('jwplayer-proc'); if(video.querySelector("iframe[data-runner-src*='content.jwplatform.com']") || video.querySelector("iframe[src*='content.jwplatform.com']")) let str = video.querySelector("iframe[data-runner-src*='content.jwplatform.com']")? video.querySelector("iframe[data-runner-src*='content.jwplatform.com']").getAttribute("data-runner-src"):video.querySelector("iframe[src*='content.jwplatform.com']").getAttribute("src"); console.log(str);
const regex = /players%2F.8/g; str = regex.exec(str); if (str !== null) let videoID = str[0].replace(/players%2F/g, ''); video.innerHTML = ""; video.style.backgroundImage = "url(https://cdn.jwplayer.com/v2/media/" + videoID + "/poster.jpg)"; video.parentNode.classList.add('video_media_' + videoID); var playerDiv = document.createElement('div') playerDiv.id = 'jwPlayer_' + videoID +"_"+ (video_count++) + '_loaded'; video.innerHTML = ""; video.appendChild(playerDiv); var playerInstance = jwplayer(playerDiv.id); console.log("https://cdn.jwplayer.com/v2/media/" + videoID); playerInstance.setup( //file: "//content.jwplatform.com/videos/"+videoID+"zpCh6x0y.mp4", //mediaid: videoID, playlist: "https://cdn.jwplayer.com/v2/media/" + videoID, autostart: "viewable", autoPause: viewability: true, pauseAds: true, image: 'https://cdn.jwplayer.com/v2/media/' + videoID + '/poster.jpg' ); blogherads.adq.push(function() blogherads.monetizeJWPlayer(jwplayer(playerDiv.id)); );
})
}
function upDateJwplayerInBody(){ document.querySelectorAll(".body div[id^='botr_']").forEach(function(video){
if(video.parentElement.getAttribute('data-media_id')) let str = video.parentElement.getAttribute('data-media_id')
if (str !== null) let videoID = str; video.innerHTML = ""; video.style.backgroundImage = "url(https://cdn.jwplayer.com/v2/media/" + videoID + "/poster.jpg)"; video.parentNode.classList.add('video_media_' + videoID); var playerDiv = document.createElement('div'); playerDiv.id = 'jwPlayer_' + videoID +"_"+ (video_count++) + '_loaded';
video.insertAdjacentElement("beforebegin",playerDiv); video.parentNode.removeChild(video) var playerInstance = jwplayer(playerDiv.id); console.log("https://cdn.jwplayer.com/v2/media/" + videoID); playerInstance.setup( //file: videoUrl, //mediaid: videoID, playlist: "https://cdn.jwplayer.com/v2/media/" + videoID, autostart: "viewable", autoPause: viewability: true, pauseAds: true, image: 'https://cdn.jwplayer.com/v2/media/' + videoID + '/poster.jpg' ); blogherads.adq.push(function() blogherads.monetizeJWPlayer(jwplayer(playerDiv.id)); );
})
}
REBELMOUSE_STDLIB.createElementChangeListener(".mb-2", (el) => upDateJwplayerIframe(); upDateJwplayerInBody();
console.log('run upDateJwplayerIframe & upDateJwplayerInBody'); );
});
});
window.REBELMOUSE_ACTIVE_TASKS_QUEUE.push(function()
function loadScript(src, callback) let script = document.createElement('script'); script.src = src; script.setAttribute('data-dojo-config', 'usePlainJson: true, isDebug: false'); script.onload = () => callback(script); document.head.append(script);
loadScript('https://downloads.mailchimp.com/js/signup-forms/popup/unique-methods/embed.js', script => console.log('MailChimp Script Loaded'); window.dojoRequire(["mojo/signup-forms/Loader"], function(L) L.start( "baseUrl":"mc.us7.list-manage.com", "uuid":"178da277e40242a3477742b0c", "lid":"99906f1a3f","uniqueMethods":true ) ) );
);
window.REBELMOUSE_ACTIVE_TASKS_QUEUE.push(function()
// Quantcast Tag function loadScript(callback) var _qevents = _qevents
loadScript( script => console.log('Quantcast Tag Loaded'); _qevents.push( qacct:"p-GS-HF4BKvzCmv" ); );
);
window.REBELMOUSE_ACTIVE_TASKS_QUEUE.push(function()
var vglnk = key: '135662ea7d51e79c1eb95280aac20b8b'; (function(d, t) var s = d.createElement(t); s.type="text/javascript"; s.async = true; s.src="https://cdn.viglink.com/api/vglnk.js"; var r = d.getElementsByTagName(t)[0]; r.parentNode.insertBefore(s, r); (document, 'script'));
);
window.REBELMOUSE_ACTIVE_TASKS_QUEUE.push(function()
!function(f,b,e,v,n,t,s) if(f.fbq)return;n=f.fbq=function()n.callMethod? n.callMethod.apply(n,arguments):n.queue.push(arguments); if(!f._fbq)f._fbq=n;n.push=n;n.loaded=!0;n.version='2.0'; n.queue=[];t=b.createElement(e);t.async=!0; t.src=v;s=b.getElementsByTagName(e)[0]; s.parentNode.insertBefore(t,s)(window, document,'script', 'https://connect.facebook.net/en_US/fbevents.js'); fbq('init', '318477121963716');
);
window.REBELMOUSE_ACTIVE_TASKS_QUEUE.push(function(){
REBELMOUSE_STDLIB.createElementChangeListener(".widget__show-more",function(item) REBELMOUSE_STDLIB.initClickHandler(item,function(event) setTimeout(function() // your code here for xonecole following code blogherads.adq.push(function() blogherads.reloadAds(); ); ,300)
) )
});
window.REBELMOUSE_ACTIVE_TASKS_QUEUE.push(function()
window.REBELMOUSE_STDLIB.loadExternalScript("https://cdn.whizzco.com/scripts/widget/widget_v3.js", function()
);
);