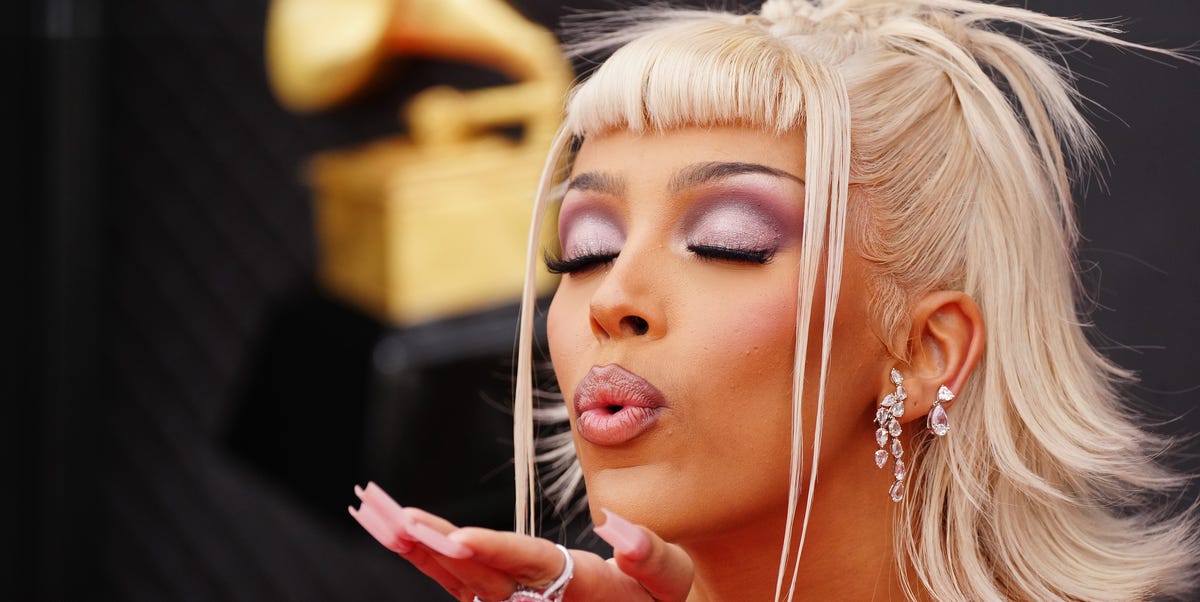 The 2022 Grammy Awards – Best Hair and Makeup Looks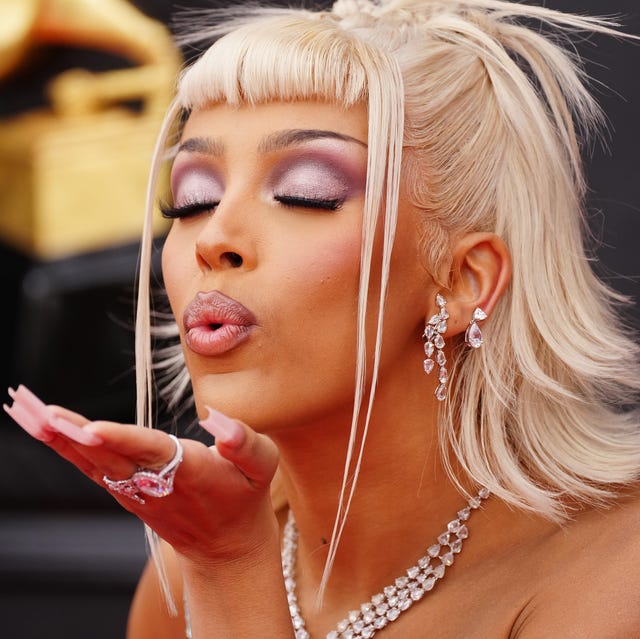 Jeff KravitzGetty Images
The 64th annual Grammy Awards event is currently underway, and the focus is usually on the night's nominees, awards (and snubs), and best outfits. But a little commotion for the beautiful looks of the night? Laverne Cox, Diplo, and Spice's candy-coated tresses provided a splash of color to the red carpet. If you're looking for your next Y2K-inspired hairdo, add Doja Cat and Billie Eilish's choppy bangs and flipped ends to your moodboard. From dyed buzzcuts to bangs and buns, here are the absolute best looks from music's biggest night.
1 of 18
Doja Cat
Taking a break from Planet Her to head back in time to the early aughts, Doja Cat transformed her hair with a half-up-half-down short 'do that fell into flipped ends. Short bangs drew attention to her perfectly sculpted brows, with spikes framing her face.
2 of 18
The Kid Laroi
The Kid Laroi is serving spring style with his pink curls on the red carpet.
3 of 18
Lil Nas X
Lil Nas X's inner eye accent shows that a little makeup can go a long way!
4 of 18
Paris Hilton
That's hot—Paris Hilton's hair, that is.
5 of 18
Dua Lipa
Dua Lipa accented her vintage Versace dress with straight platinum blonde hair, channeling Donatella Versace's signature look.
6 of 18
Megan Thee Stallion
Megan's makeup look is eye catching, literally! We are loving this sexy cat eye that compliments her leopard print ensemble perfectly.
7 of 18
Billie Eilish
For Billie Eilish's contribution to the night's 2000's trend, she opted for longer bangs and slightly pulled her hair up while leaving a few extra pieces hanging down.
8 of 18
Laverne Cox
From her hair to her lips, Laverne Cox's pretty-in-pink theme was carried through. Her fuchsia hair was styled in soft waves to complement her pink and purple ombre eyeshadow. A deep liner and pink lipstick completed the outfit.
9 of 18
Halsey
Halsey channeled Wicked, sans the green face. The singer kept the eyes simple with a winged liner, paired with a glossy sangria-hued lip.
10 of 18
Olivia Rodrigo
Soft with a bit of grunge edge, Olivia Rodrigo juxtaposed glitter lids with a sharp black winged liner.
11 of 18
Saweetie
Known for her colorful assortment of wigs, Saweetie stepped out in a short ice-blonde pixie. The icy queen's makeup was golden and glowy, with an eye-popping gold highlight sitting on her cheeks.
12 of 18
BTS
The BTS boys looked dapper in their muted suits with lightly tousled hair.
13 of 18
Diplo
Diplo's frosty blue hair was a wonderful accent to his slick all-black suit.
14 of 18
Michelle Zauner
Michelle Zauner was a walking ray of sunshine. Zauner wore a cheerful yellow liner and subdued nude lips to accent her yellow floral outfit. Her hair was done in buns with pearl touches all throughout.
15 of 18
Maren Morris
It's almost as if Maren Morris came off a sunny vacation and went straight to the Grammy's red carpet. Waves framed the singer's face, which looked bronzed to perfection with subtly flushed cheeks.
16 of 18
Spice
Spice added soft waves to her bright teal hair and pulled it up for a messy bun.
17 of 18
J Balvin
J Balvin added a bit of personality to his blue cut with a fire red heart painted on the back of his head.
18 of 18
Tiffany Haddish
Tiffany Haddish added waves to her platinum blonde pixie cut, leaving attention to her soft, understated makeup.
Advertisement – Continue Reading Below
This content is created and maintained by a third party, and imported onto this page to help users provide their email addresses. You may be able to find more information about this and similar content at piano.io