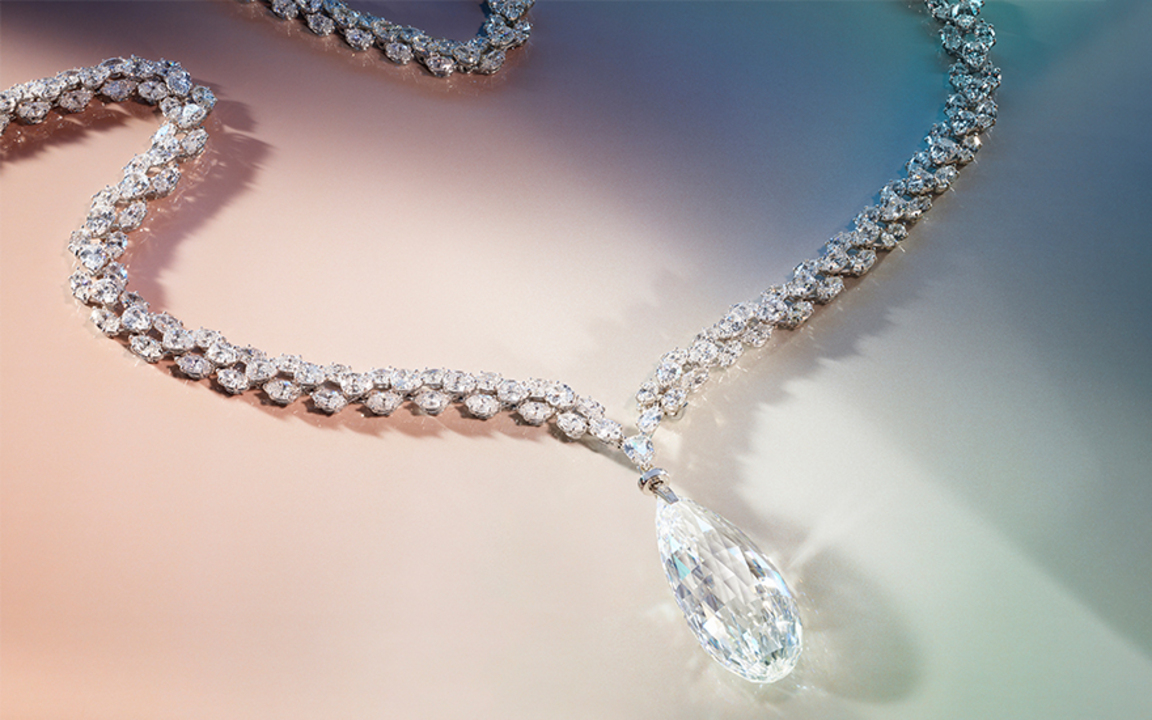 The World of Heidi Horten, an iconic jewellery collection
In May 2023, Christie's in Geneva will offer the largest and most valuable private collection of jewels ever to come to auction, led by a curated selection from top 20th-century designers including Bulgari, Cartier, Harry Winston and Van Cleef & Arpels
Heidi Horten (1941-2022) was one of the most important figures in the history of jewellery collecting. Fine and decorative arts were among the many interests she pursued over the course of her lifetime, but it was her unparalleled private collection of jewels that set her apart.
From May 2023, Christie's will offer 700 lots from Horten's collection across a series of auctions during Luxury Week in Geneva, with a two-part live sale taking place on 10 and 12 May, alongside an online sale from 3 to 15 May.
The sales will showcase unique and exceptional pieces from 20th-century designers including Cartier, Harry Winston, Boivin and Van Cleef & Arpels. They will include vintage and modern designs as well as an important selection of pearls, jade pieces and Bulgari creations from the 1970s, 1980s and 1990s.
'Heidi was a sensitive and passionate collector with a deep appreciation for jewellery,' says Max Fawcett, head of Jewellery at Christie's in Geneva. 'She had a discerning eye and curated a sophisticated collection featuring some of the finest jewels ever to come to market.'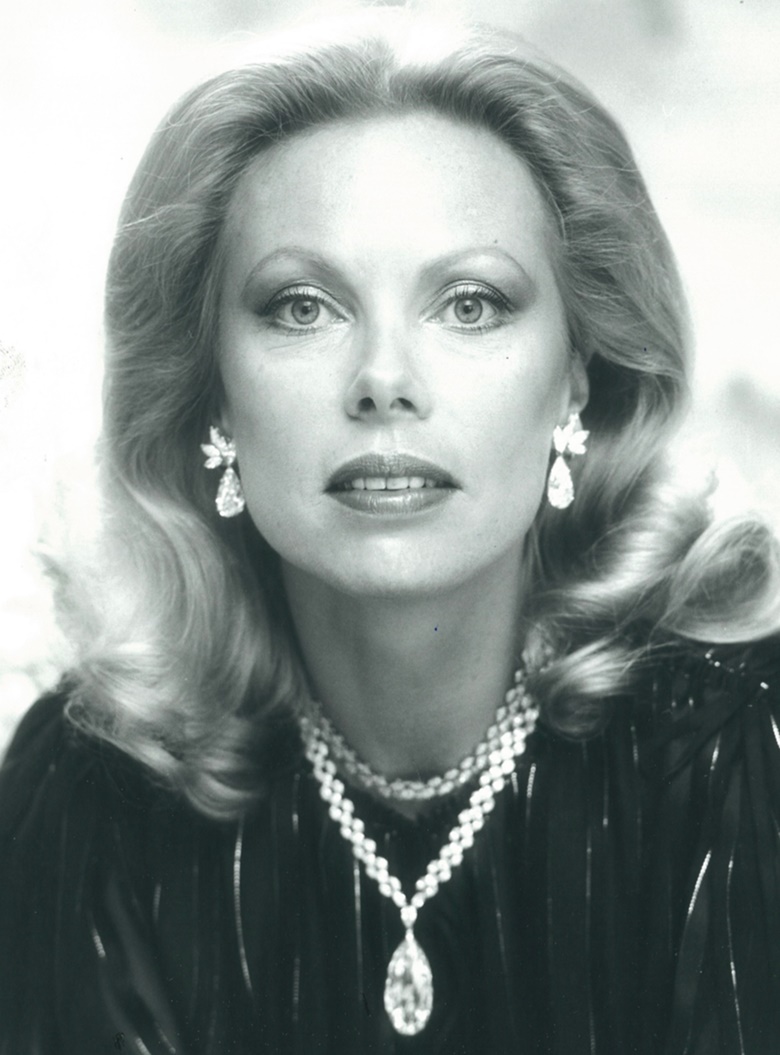 With a pre-sale estimate of more than $150 million, this is the largest and most valuable jewellery collection ever to be offered at auction. Furthermore, in the wake of the record-breaking sales of The Elizabeth Taylor Collection in 2011 and the Maharajas & Mughal Magnificence auction in 2019, it is poised to become only the third jewellery collection in history to realise more than $100 million.
'What makes this collection particularly remarkable is the breadth and quality of the gemstones represented,' says Fawcett. 'You'll find everything from costume jewellery and one-of-a-kind haute joaillerie  pieces to historic jewels with exceptional provenance.'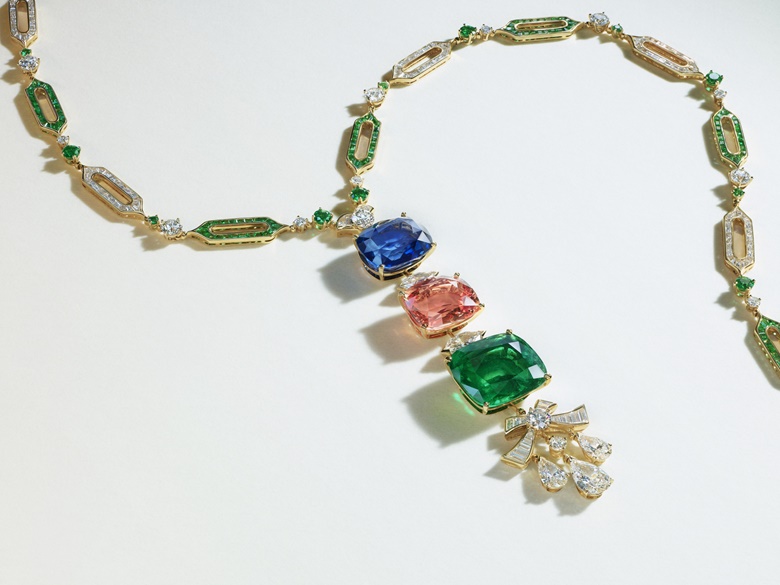 Ahead of the landmark sales in Geneva, highlights from the collection will tour Christie's showrooms across Asia, as well as in Dubai, New York, Vienna and London. With prices ranging from tens of thousands to tens of millions, Fawcett expects the collection to draw bidders from all over the world. 'There's something here for everyone,' he says. 'It promises to be a spirited couple of nights in the saleroom.'
As per Mrs Horten's wishes, all of the sale proceeds will benefit the Heidi Horten Foundation, established in 2020 to support the Heidi Horten Collection in Vienna — a private museum that is now home to her remarkable modern and contemporary art acquisitions — in addition to her medical research and other philanthropic activities, which she has supported for many decades.
'From a small personal memory piece to the Briolette of India, this is a collector's dream,' says Rahul Kadakia, Christie's International Head of Jewellery. 'Mrs Horten eloquently combined vintage and modern designs from the world's leading jewellery houses that today represent some of the finest examples ever to come to market.'
The world of Heidi Horten
Born in Vienna in 1941, Heidi Horten (née Jelinek) was immersed in the arts from a young age. Weeknights were often spent ice-skating or practising the piano, while weekends were enjoyed at the opera or exploring the collections of the Kunsthistoriches Museum and the Austrian Gallery at the Belvedere Palace.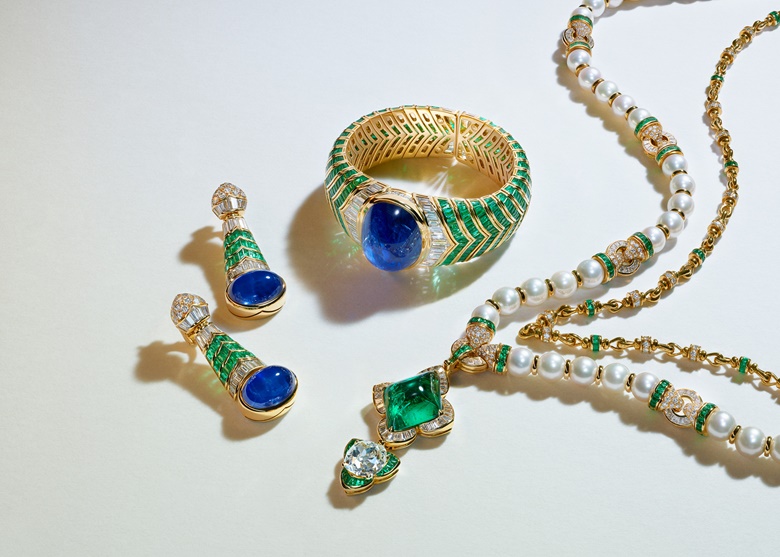 Her father, a technical draughtsman by profession, was also a talented artist. He enjoyed painting landscapes and portraits of his daughter, some of which are now in the Heidi Horten Collection.
She met her future husband, Helmut Horten, in 1958 while on holiday with her parents in the Austrian lake town of Krumpendorf. He shared her interest in the arts, and after marrying in 1966 the couple set about filling their homes with paintings. They acquired key works by German Expressionists including Emil Nolde and Erich Heckel, as well as pieces by Picasso and Marc Chagall.



'Heidi was genuinely passionate about her jewellery and bought for pleasure rather than investment. She looked for pieces that she wanted to wear' — specialist Max Fawcett



It was their intention not only to collect art but to learn about it, too. They honed their interest and developed their eye by visiting artists' studios and travelling widely in search of new discoveries, often returning from such trips with an eclectic mix of paintings, drawings and objets d'art.
They also collected jewels of exceptional quality and rarity. For their wedding, Helmut presented his wife with the 'Wittelsbach Blue', a natural greyish-blue diamond of 35.56 carats that had formerly been part of both the Austrian and Bavarian crown jewels.
After her husband died in 1987, Heidi Horten continued to build her art collection and to acquire exceptional vintage and contemporary jewels from the most prestigious houses. She was also passionately involved in activities and causes close to her heart, including winter sports, animal welfare and medical research.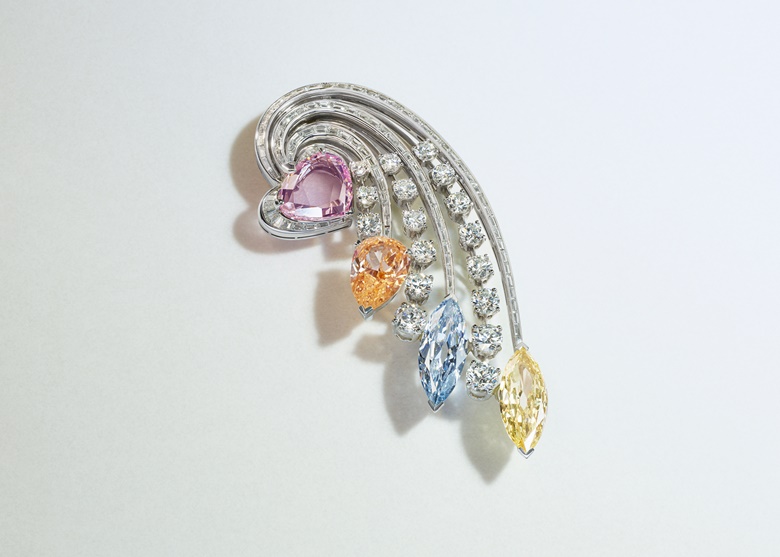 'Heidi was genuinely passionate about her jewellery and bought for pleasure rather than investment purposes,' says Fawcett, adding that each piece in the collection was meticulously documented and carefully stowed in a monogrammed 'HH' box. 'She looked for beautiful and exquisitely crafted pieces that she wanted to wear.'
According to Fawcett, Horten's Bulgari collection alone ranks as one of the top five Bulgari collections ever assembled. 'The pieces she collected in the 1970s, 1980s and 1990s are typical of Bulgari's style of the period,' he observes. 'There's a lot of yellow gold, bold colour combinations and cabochon cuts of sapphires, emeralds and rubies.'
Such Bulgari designs are today keenly competed for at auction. 'They encapsulate the glamour and hedonism of la dolce vita,' the specialist explains, adding that Sophia Loren, Princess Salimah Aga Khan and Elizabeth Taylor were among other regular Bulgari clients. 'Collectors are looking for vintage pieces in excellent condition that epitomise the style of the era, and these are the best of the best.'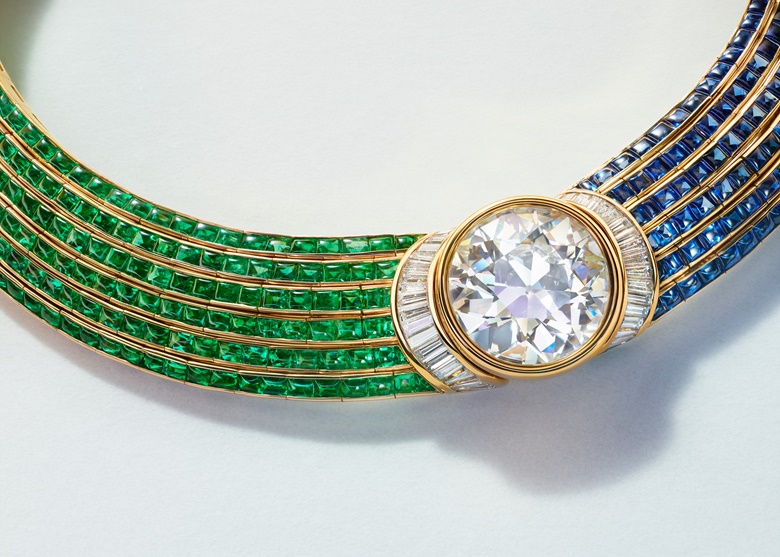 Among the star Bulgari pieces coming to auction is a diamond, sapphire and emerald necklace, set with a 46.56-carat round brilliant-cut diamond at its centre (lot 76, above). Originally sold by Cartier in 1975 when it was set in a ring, the diamond was later acquired by Harry Winston and subsequently refashioned into a necklace by Bulgari, from whom Horten acquired it in 1994.
'The explosion of colour makes it a real "wow" piece,' says Fawcett. 'The geometric design, featuring baguette-cut diamonds and cabochon-cut sapphires and emeralds, is instantly recognisable as Bulgari.'
Horten's acquisition of only the very best pieces reflected her appreciation of exquisite craftsmanship, innovative design and vibrant colour, notably shades of green. In addition to her outstanding collection of emeralds, which includes the 'Great Mughal' 362.45-carat carved emerald and diamond necklace by Harry Winston (lot 253, below), Horten assembled an impressive collection of jade necklaces, rings, earrings, bracelets and brooches.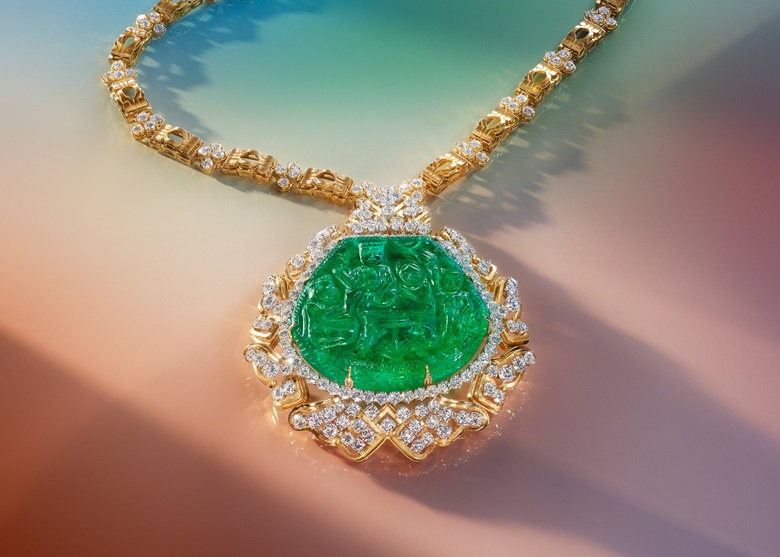 'To find a collection in Europe with such important jade is extremely rare,' says Fawcett, explaining that jade is usually favoured by Asian collectors for its associations with luck and prosperity. 'Heidi collected jade over a long period, so it was clearly something she was very passionate about.' 
Among many striking pieces is a jade necklace with a jade and diamond clasp (lot 21), acquired by Horten in 2009. According to Fawcett, the size, colour and translucency of the 25 beads make it one of the most important jade necklaces ever offered at auction. 
Horten enjoyed living with her art and jewels until the end of her life. In 2018, she presented a selection of 175 artworks from her collection to the public for the first time. Curated by Agnes Husslein-Arco, WOW! The Heidi Horten Collection  at the Leopold Museum in Vienna became that institution's most-visited show. 
Moved by its tremendous success, Horten was inspired to establish a permanent home for her art, fulfilling her long-cherished wish to share her collection with a wider audience. The Heidi Horten Collection, situated between the State Opera and the Burggarten in Vienna, opened to the public on 2 June 2022, just 10 days before she passed away. 
'We are honoured to offer Heidi's singular jewellery collection and delighted that her philanthropic legacy will carry on through the results of these sales,' says Fawcett.
Highlights from Heidi Horten's jewellery collection
Leading the collection is a superb and extremely rare ruby and diamond ring by Cartier (lot 96, below). The cushion-cut stone, known as 'The Sunrise Ruby', weighs 25.59 carats and has a saturated pigeon-blood red colour and fine purity. 'Natural rubies of such quality and size are extremely rare,' says Fawcett. 'The depth of colour, high clarity and brilliance make it one of the most sought-after rubies on Earth.'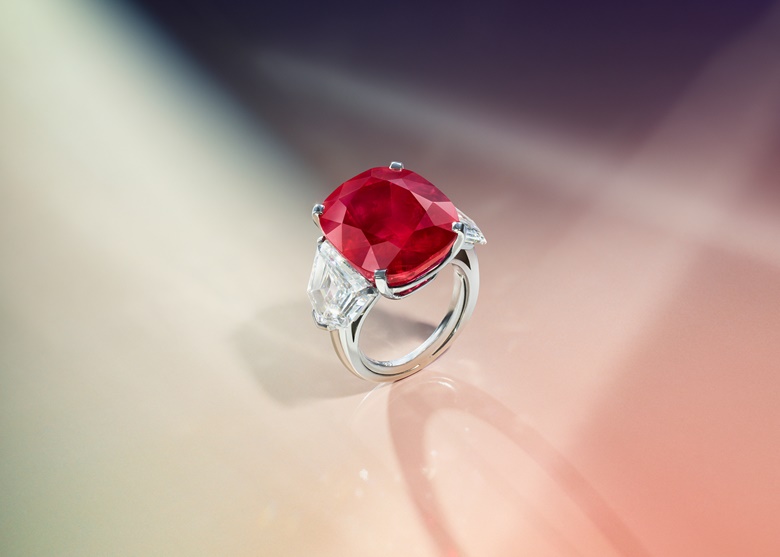 Another extraordinary piece is the magnificent 90.38-carat 'Briolette of India' diamond necklace (lot 46, main image, top) by Harry Winston. According to jewellery historian Hans Nadelhoffer, the stone was cut into its distinctive shape in Paris and sold to Cartier in the early 20th century.
In 1911 Cartier sold it, set in a brooch, to American financier George Blumenthal. The diamond was acquired in 1950 by Harry Winston, who made it the centrepiece of a marquise and pear-shaped diamond necklace, which he subsequently sold to Horten in 1971.
Also by Winston is a three-strand necklace incorporating 175 natural saltwater pearls (lot 45, below), embellished with a cushion-cut fancy light pink diamond clasp of 11.15 carats. 'The pearls are incredibly large and have a lovely pink colour and an amazing lustre,' says Fawcett. 'It really is one of the best pearl necklaces we have ever offered at Christie's.'
Another exceptional piece is a rare diamond, ruby, emerald and onyx Van Cleef & Arpels Egyptian Revival sautoir from 1924 (lot 68, below), which Horten acquired from Christie's in Geneva in 2018.
Jewellery production in the first quarter of the 20th century, particularly in the years after the discovery of Tutankhamun's tomb, was marked by a fashion for 'Egyptomania'. Van Cleef & Arpels and Cartier, notes Fawcett, were pioneers of the style.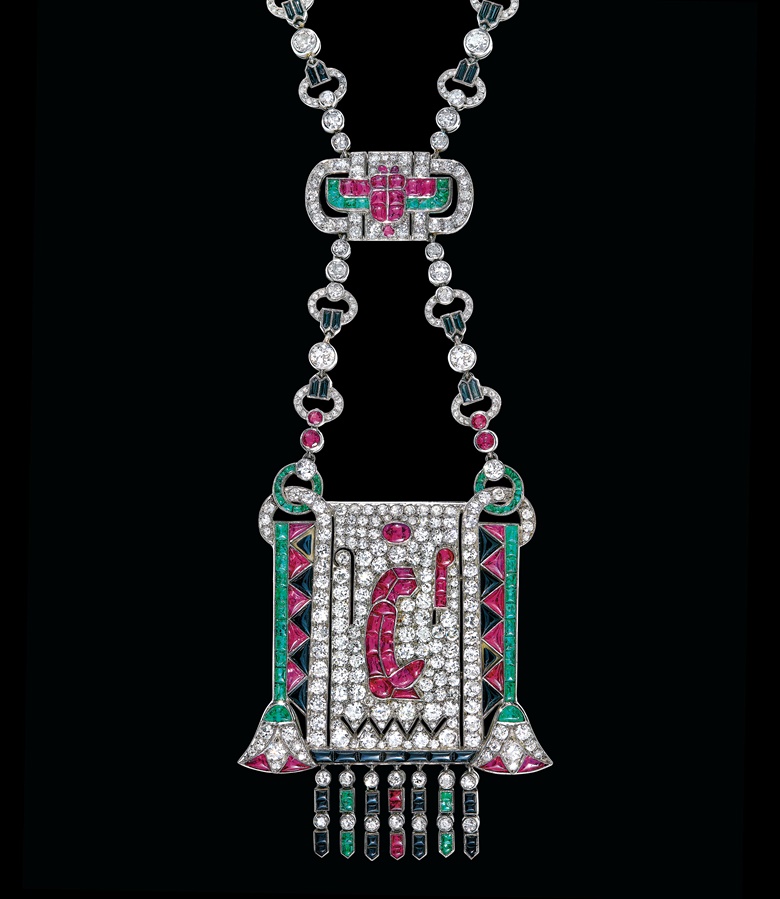 'It's so rare to find Egyptian Revival jewels, and this one — depicting a winged scarab with, below it, the goddess Maat, representing truth and harmony — is of museum quality,' he says. Only two necklaces of this design are known to have been made, and the whereabouts of the other example are unknown.
'Although it's not the most valuable lot in the sale, jewellery collectors say that it's one of their favourite pieces thanks to its rarity, condition and quality,' notes the specialist.




Sign up today

Christie's Online Magazine delivers our best features, videos, and auction news to your inbox every week

Subscribe





Additional outstanding lots include a 47.58-carat diamond ring (lot 254); a Bulgari coloured diamond and diamond brooch in the shape of a comet (lot 88, above); and a diamond bracelet by Harry Winston that can also be worn as a tiara (lot 95).