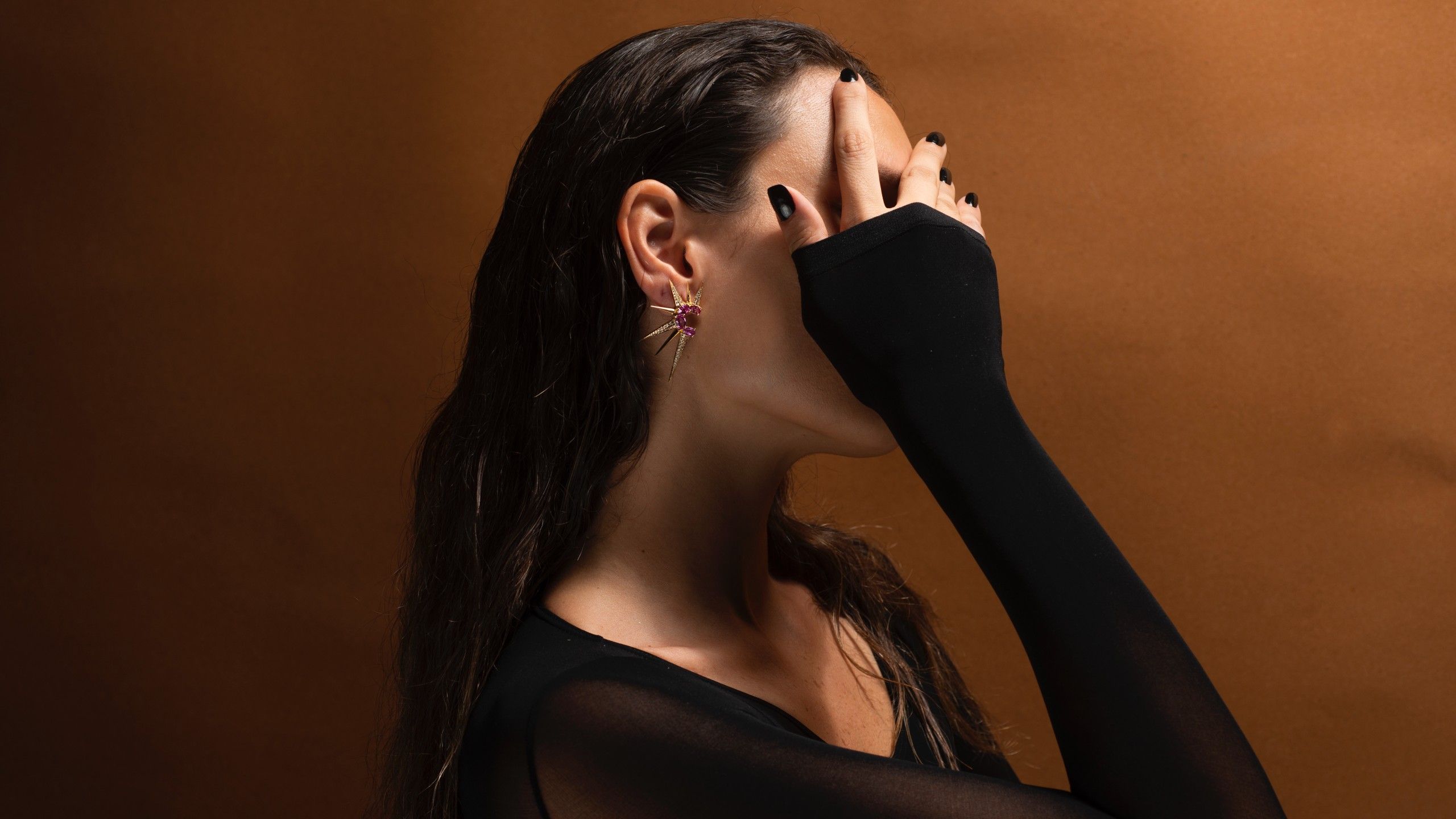 Wear Your Art with These 10 Art-Inspired Jewellery Pieces
Since art is among the best sources for another art, many jewellery designers usually scout the museums for some fresh ideas. Here are some of the impressive art-inspired jewellery pieces.
Art and art movements have long served as inspiration for creative individuals whatever their discipline. In conversation with jewellery expert and historian Josephine Odet, she checks off some eras and styles popular during the last 200 years.
"Holbeinesque-style jewels from the mid-19th century – a vertical oval pendant with a cabochon or gem-set motif at the centre – were inspired by the designs of the German artist Hans Holbein the Younger [1497-1543 CE]," she says. "Sculptors played a major role in the design of jewellery in 19th-century France – notably the sculptural-style romantic jewels of François-Désiré Froment-Meurice. The Art Deco movement, following the Exposition Internationale des Arts Décoratifs et Industriels Modernes Exposition that was held in Paris in 1925, defined the jewels of Cartier and the Bijoutiers-artistes during the 1920s."
Art still strongly inspires jewellery today. As an example, Odet points to Bvlgari's Wild Pop high-jewellery collection, which celebrates '80s Pop-art culture and is heavily influenced by the works of Andy Warhol. Russian jeweller Ilgiz F's Iris rings are inspired by flowers in Monet's paintings, while Tiffany & Co's Seurat Bracelet pays homage to the French post-Impressionist painter and founder of pointillism.
And it's not just the big jewellery houses. According to Odet, contemporary designers are imparting a "cool" factor to jewellery inspired by art. Below, we explore some of our favourite designers and their art-inspired creations.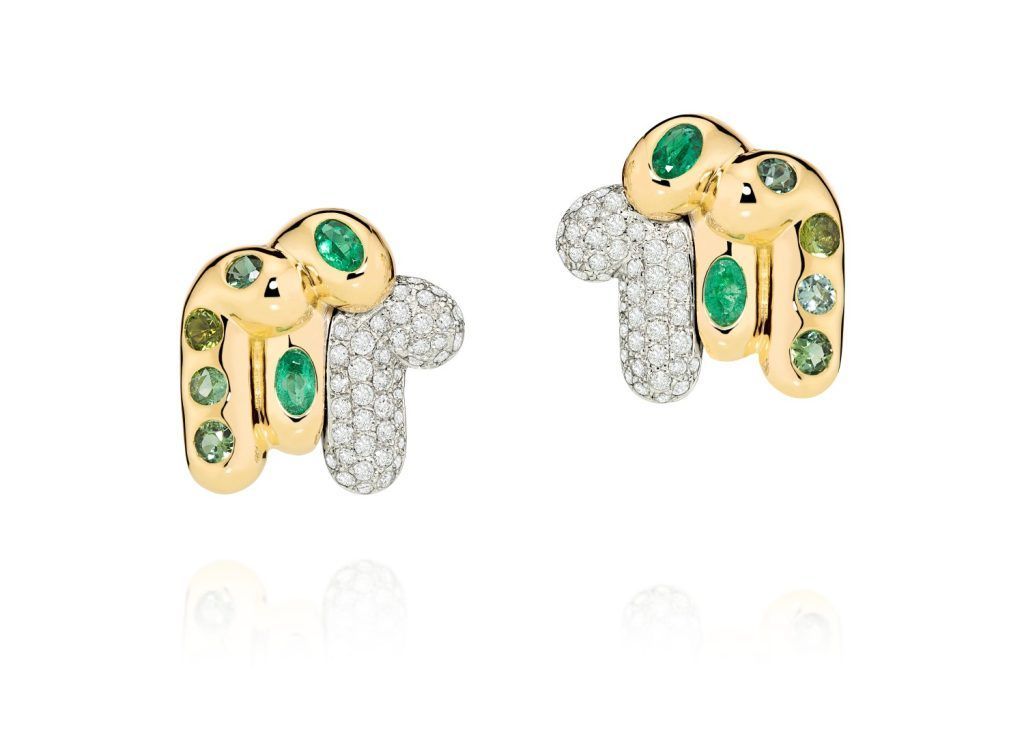 The Brazilian jeweller Sauer's creative manifest includes a collection, unveiled last April, that celebrates the country's pluralistic culture and pays tribute to the works of the artist and muse of Brazilian modernism Tarsila do Amaral. "We'd always dreamed of a collection inspired by her," says Sauer creative director Stephanie Wenk, "and the development of this partnership was also a celebratory one as it honoured the 100-year anniversary of the Modern Art Week, an avant-garde moment in 1922 that marked a significant turning point in Brazilian culture." Tarsila's family sought out Sauer to develop the collection, which interprets the painter's aesthetic in a modern style.
Wenk's team focuses on designing jewellery with a strong narrative, instilled with meaning and a sense of humour.
"Our creative process is fuelled by curiosity, history, spirituality and imagination. Combining the extraordinary with the 'ordinary' is an exercise that fascinates me, and I'm constantly inspired by the push and pull between classic and contemporary," she says.
Sauer's reinterpretation of Tarsila do Amaral's work is brought to life through contemporary renditions with a subtle twist by incorporating different cuts, combinations and shapes. "It's a three-dimensional journey to Tarsila's Brazil," Wenk says, "with gemstones in the bright hues the artist vehemently defended, like a mineral watercolour of pieces that revisit the artist's work in its three most significant phases." Stones such as jasper, ivory quartz, lapis lazuli, citrine, howlite, pink opal, chrysoprase, blue chalcedony and diamonds on yellow gold enable the inspiration to leap from canvas to body, earrings, necklaces, bracelets, pendants and rings. They echo Tarsila's memorable style and integrate elements of Brazilian culture across the 29 jewellery pieces. "Tarsila was a pioneer and is such an important component of the quintessential Brazilian identity – and her revolutionary work epitomises the importance of women in Latin American art movements," Wenk adds.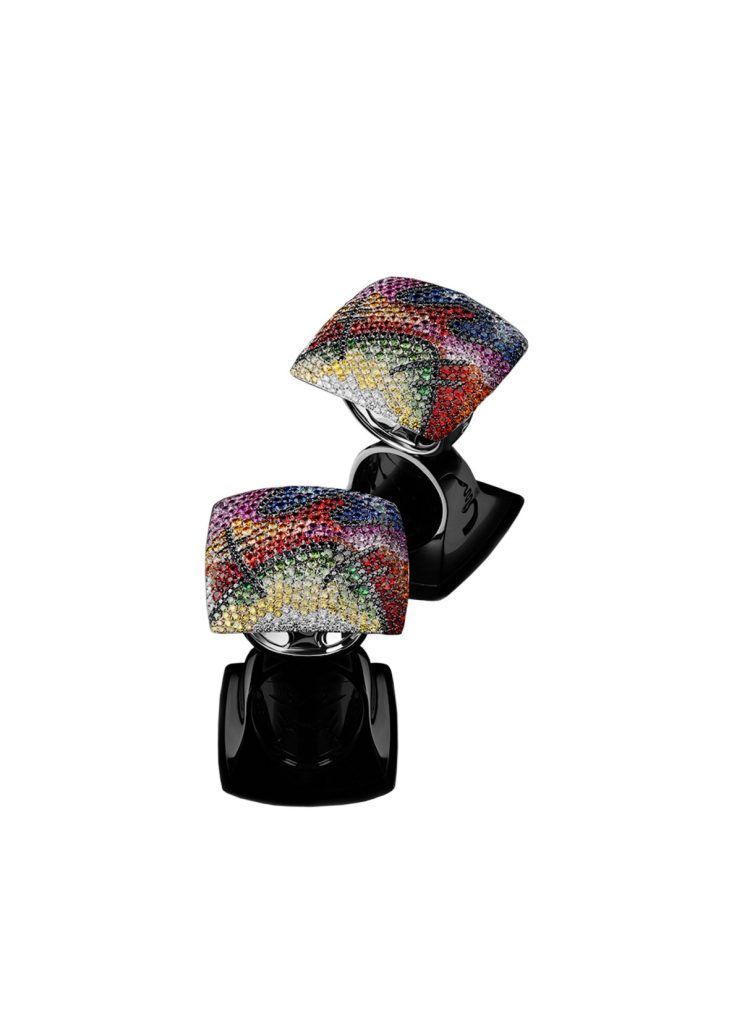 Growing up in the '60s in the small northern Italian town of Valenza, Carlo Palmeiro was deeply influenced by the goldsmithing tradition of the area. He channelled his love for the craft by launching Palmiero Gioielli in 1979 and has since sought to defy the codes of traditional design by experimenting with volume and shape. At a time when few jewellers thought of paying homage to artists such as Kandinsky, Gauguin and Mondrian, Palmeiro dreamed up entire series of jewels and bejewelled timepieces in tribute to them.
"My travels around the world and being in love with art inspired me to 'paint' using precious stones; I chose to use them on gold," the designer says of his Art Collection, which is rendered in a riot of colour. "Picasso, Munch, Van Gogh … I love the artists and their art movement, so I started making pieces inspired by art in 2002. The first one referenced The Scream by Munch, and every year since I've designed jewels as a tribute to artists." It's important to Palmiero that he offers art lovers the possibility of not merely collecting their favourite works of art, but also wearing them as jewellery or perhaps a tiny watch. He employs pavé gem-setting, which allows him to place the stones very close to each other, thereby creating a unique surface. Kandinsky's work has also found its way into Palmiero's jewellery and gem-encrusted watches. "I used the same colour degradation I found in his abstract art and divided it up with black lines; I also reimagined it in white lines," he says.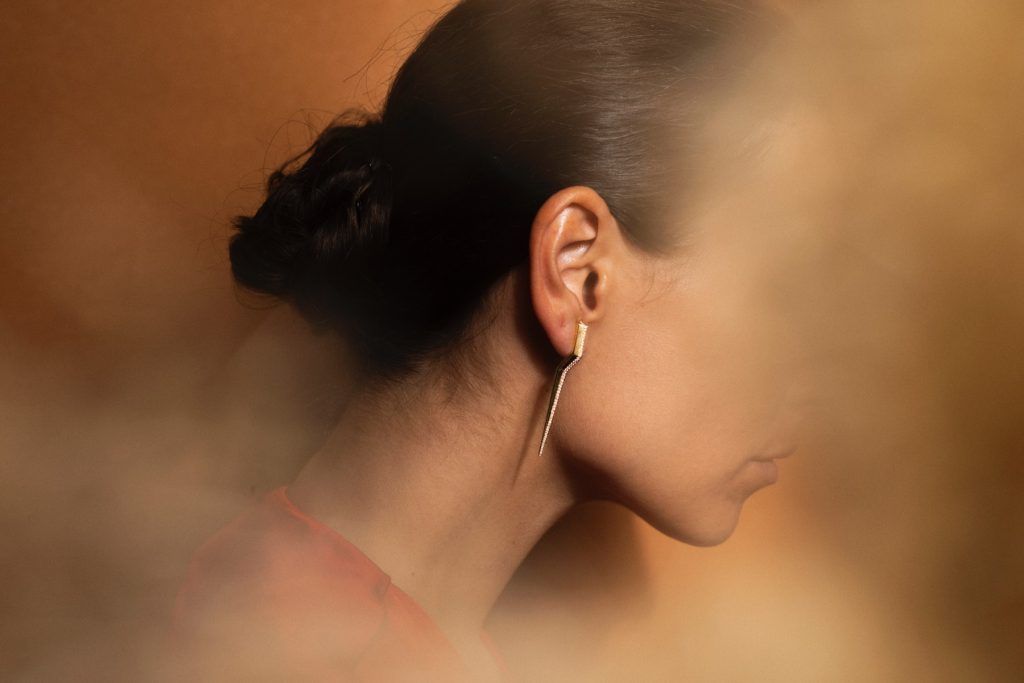 Besides Palmiero, several other designers have found inspiration in Kandinsky. Fascinated by his work and his belief in the development of abstract art into a spiritual vision, Lebanese jeweller Gaelle Khouri began creating jewellery in 2020 in colourful, abstract geometric shapes. "Kandinsky was influenced by the work of the philosopher Rudolph Steiner, who connected mathematics to spiritual experiences and led Kandinsky to believe in the spiritual properties of abstraction," says Khouri. "And this is how his colourful abstract geometric artworks were born." Her approach delves into three-dimensional design and she consequently chose to play with colours and lines through orientation to explore a similar sensory path. Blue sapphires and blue topaz inform the Forme Particulière N1 ring, marking her attempt to capture the feeling of warmth that Kandinsky imbued the colour with. Meanwhile, her Hiatus earrings probe vertical orientation through yellow gold pieces that host blue sapphires, pink sapphires, rubies and emeralds, alongside baguette-cut diamonds that amplify the geometric aesthetic.
The first pearl collection by Jamaican-born Matthew (Mateo) Harris was inspired by two of his favourite artists — Calder and Kandinsky. One Sunday, Harris went to New York's Whitney Museum and spotted the Calder installation Blizzard, which he then reimagined in his pair of freshwater-pearl Blizzard Mobile Earrings. "Jewellery is wearable art," says the Houston-based designer, "so it's important for me to look for inspiration from the greats." A newer addition, The Surreal Evil Eye Necklace, is inspired by Salvador Dalí's The Eye (1945). "It's a great piece of art that summarises how we perceive our reality and amazingly embodies our experience," says Harris, who reimagined the artwork into a gold necklace handset with diamonds, featuring a realistic pupil made of black onyx with a mother-of-pearl iris.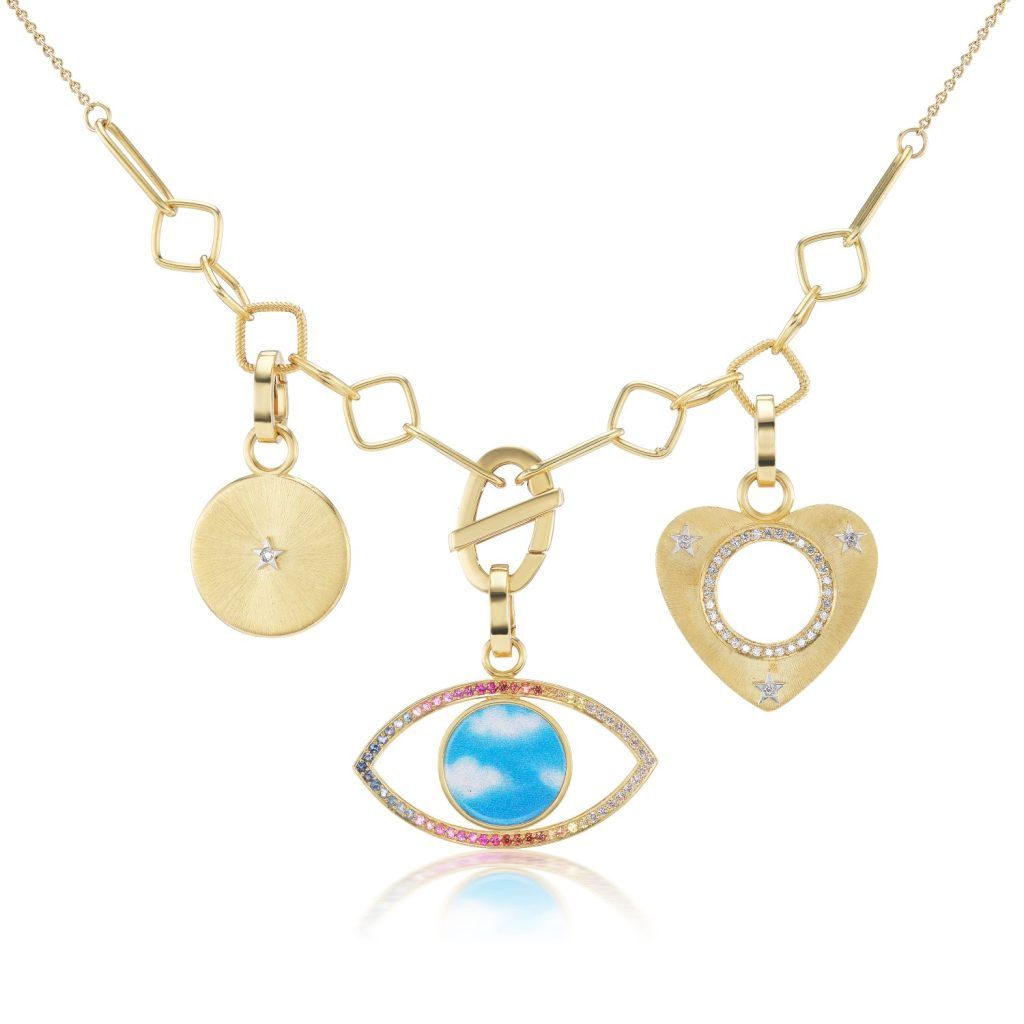 Anna Maccieri Rossi, who grew up in Reggio Emilia, northern Italy, is a watch designer- turned-jeweller who's inspired by "the theme of the time". Her talismanic pendant, designed last year for the Couture jewellery show, mirrors her fascination with surrealism, magic and the mystery entrapped in Belgian painter René Magritte's work, as evidenced in The False Mirror. "His creations bring me into another world – they remind me to look at things through different perspectives," says Rossi, who melds art with poetry in her Heart Dreamy Eye pendant. Fluffy white clouds are hand-painted in multiple layers onto mother-of-pearl with translucent lacquer applied on the top. "The eye is a very powerful symbol of protection, vision and imagination. Everything is possible if you have eyes that can see beyond," she says. The message behind the charm outlined in rainbow sapphires is: "Things aren't always as they appear. Everything depends on the perspective that you perceive."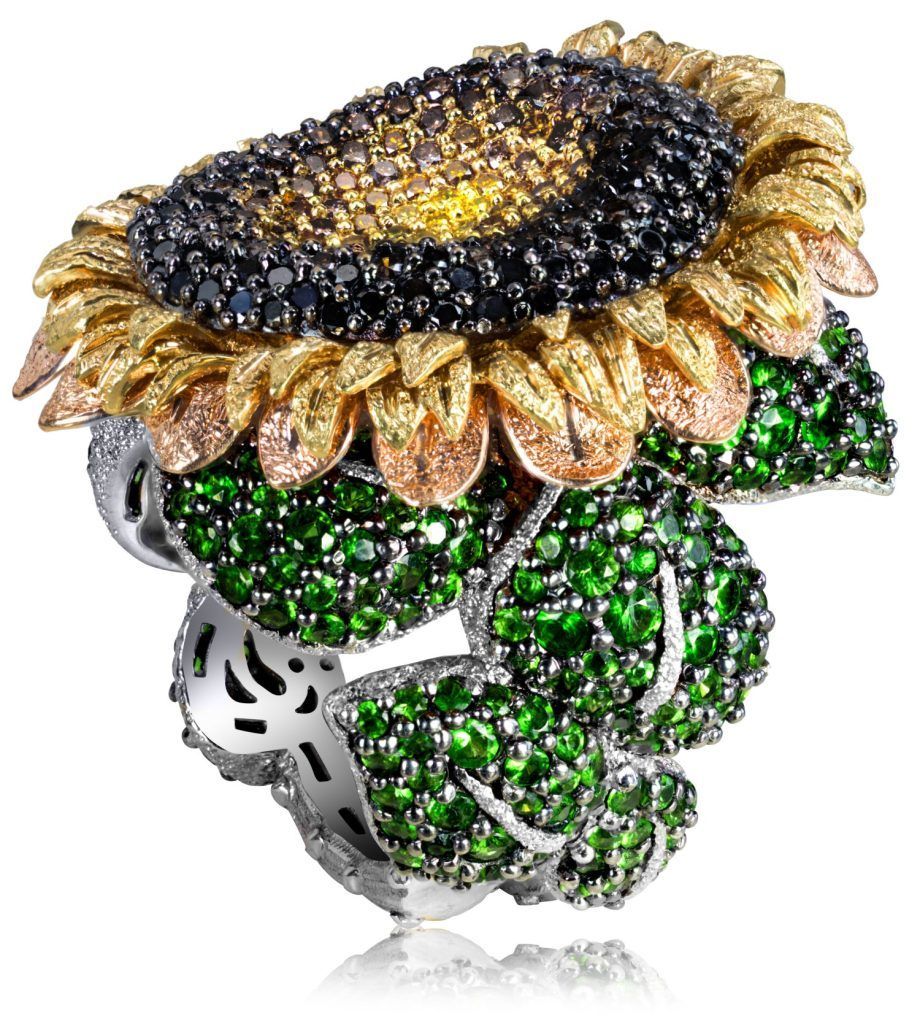 New York-based Alex Soldier has declared his love for Vincent Van Gogh's Sunflowers series through a sculpted sunflower ring. Van Gogh's brushwork and dynamic expression served as muses for the ring, which comprises 22 components bearing his signature metalwork and are individually textured by hand. "It took me a few months to conceptualise my first Sunflower ring," he says. The striking colours express the bright yellows of the full bloom and the dark browns of ripeness, with intense yellow diamonds, champagne, cognac, brown and black diamonds, along with chrome diopside, all bringing the flower to life. "The sunflower represents life's vibrant movement, from joyous youth to the ageless wisdom of maturity," says Soldier. "It's dedicated to every person who lives life to the fullest." Being a New Yorker has its advantages, says the jeweller: "It gives me access to experience extraordinary art on a daily basis. I enjoy visiting different museums and exhibitions."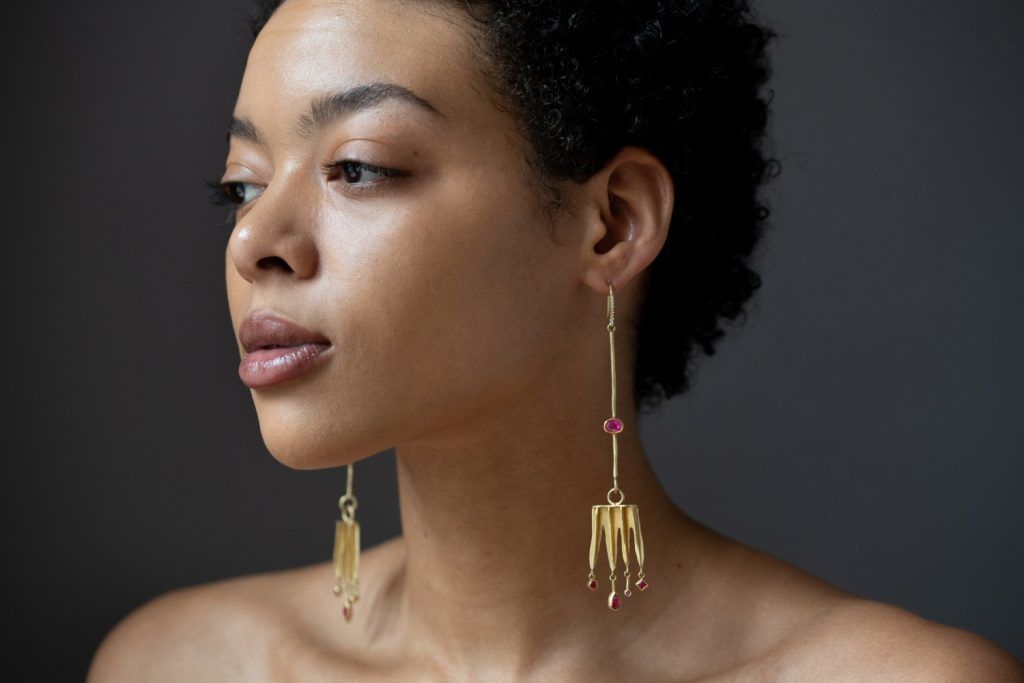 Margery Hirschey says she wasn't much of a fan of Joan Miró until she visited Barcelona in 2018. "Seeing all the pieces together at the Miro Museum made quite an impact," she says. "What I love about his work is that it seems almost poetic to me in a sense, ethereal and, on another level, beautiful – not just visually." She interprets this into the design for her Barcelona Collection, which comprises four unique gold earrings and pendants set with semi-rose-cut Gemfields rubies. "Miro used a lot of celestial images in his work, which inspired me to create the star earrings," the designer says. "The other element was the crown used in a sculpture. I saw the sculpture in a book on Miro after visiting the museum; and I fell in love with its bold shape." Hirschey trained as an artist and has a penchant for incorporating ancient styles and goldsmithing techniques into her wearables. "A lot of people felt my earlier pieces were Calder-inspired," she says, "and they were in the sense that I thought of them as wearable mobiles." Although she'd seen Calder's work many times, these specific arched pieces weren't expressly designed
to reference his sculptures. "I think it's the amorphic shapes, asymmetry and the movement of the pieces that remind people of Calder's work," she explains. Hirschey's Orpheus Collection was roughly inspired by the Bauhaus movement and Kandinsky. "I'd seen a Kandinsky retrospective at the Guggenheim when I was about 12 and the images stayed with me. I hadn't really looked at his work before I started on the collection, but after the pieces were finished I saw similarities in the symbols and certain images."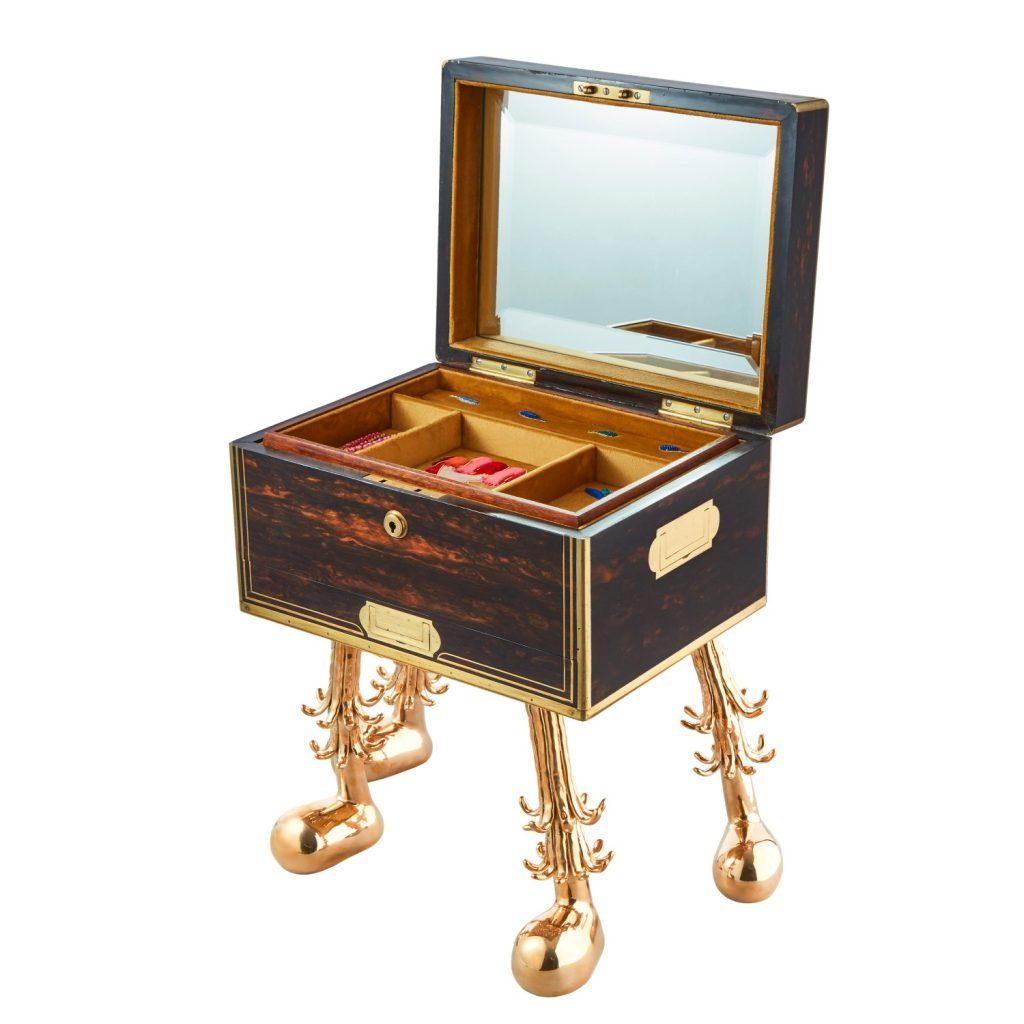 Jessica McCormack explored the creative world of the Haas Brothers, the LA-based artist twins noted for colourful, witty and often biomorphic sculptures and furniture. Their quirky creations are re-imagined by the London designer as diamond jewellery, bejewelled sculptures and a unique jewellery box. Inspired by the brothers' famous bath, which is designed to resemble a giant water drop caught mid-splash, McCormack's jewellery features an assortment of rings, mismatched earrings, pendants and a showstopping cuff bracelet. Three limited-edition Fairy Berry sculptures by the Haas Brothers are also set with diamonds, while one of McCormack's refurbished vintage jewellery boxes is embroidered with fantastical scenes inspired by the artists' vision.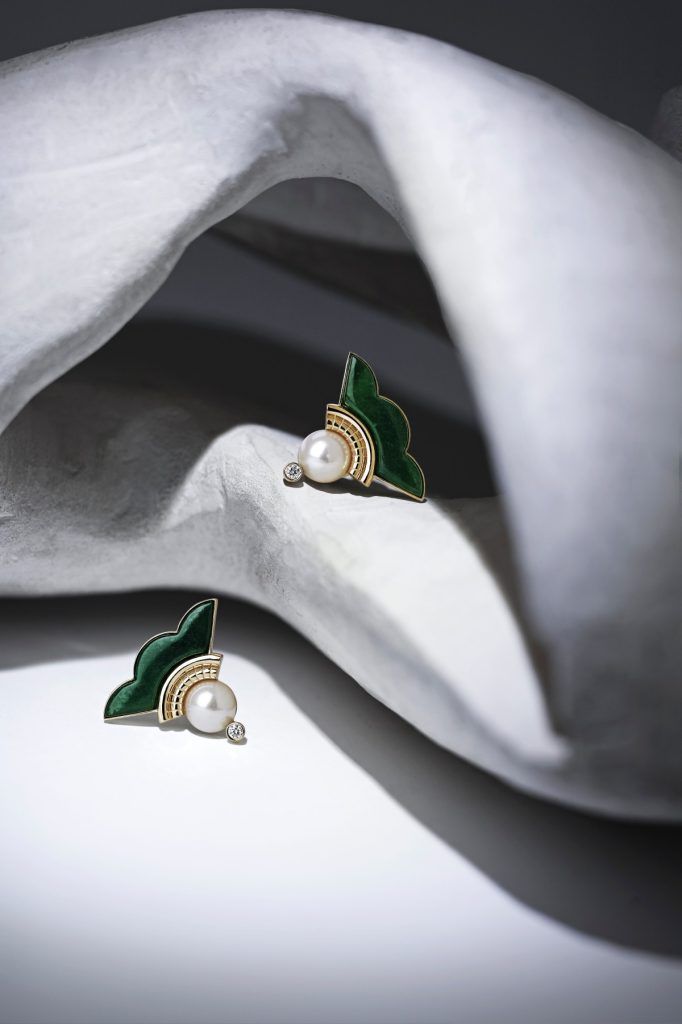 Greek designer Ioanna Souflia has been fascinated by the Romanian sculptor and painter Constantin Brâncuși since the time when she lived in Paris, when she often visited his atelier and found his vision and work awe-inspiring. "I took a deep dive researching his work and Timidity was one of the sculptures that stayed with me," she says. "I also came across Young Bird when I visited MOMA in New York. In both works, I recognised a feminine shape, the repetitive sculpted curves, that are given a stoic, rigid character with abruptly flat surfaces. There's a balance between the flirtatious and the demure, a hint of duality and contrast, elements that fascinated me and which
I wanted to explore in my Atelier collection," she says in explanation of the sculpted forms and graphic lines she makes in 14k yellow gold. Souflia sets the metal with brilliant diamonds and pearls, referencing the use of bronze and plaster in Brancusi's sculptures and introducing three custom-cut stones – chrysoprase, chrome chalcedony and peach moonstone – as a way of highlighting the sculptural forms and the contrast of the design elements, playing with hue, colour and saturation. "Beyond the design of each individual piece, I aimed to present pieces that can be worn in various ways and combinations, thus being able to be re-examined and tell different stories
each time."
Brent Neale Winston's Reflections collection dips into the palette of American artist Frank Stella and pontificates on his minimalism and abstraction. Winston's rainbow-motif line is at once commercial and artistic, resulting in jewellery that's wearable yet infinitely creative. The New York designer recalls how the colour and simplicity in Stella's pieces sparked a desire to explore both through the medium of jewellery, after a visit to the Glass House in Connecticut. "Philip Johnson and David Whitney were early collectors of Stella and have the most amazing collection of Stella I'd ever seen," she says. "When I walked into the room housing the pieces, I gasped." Rainbows, a favourite motif of Stella and Winston, are a centrepiece of the collection. The line evolves through a mix of hard stones and semi-precious gems – chalcedony, carnelian, rhodochrosite, pink opal, Brazilian opal, amethyst, malachite, lapis, reconstituted coral, turquoise, chrysoprase, lapis, moonstone and diamonds – used to accent the white-, rose- and yellow gold jewellery. Steering clear of a literal interpretation, Winston ensured her 60s revival jewels were three-dimensional. The stones, custom-cut into tubes, feature soft curves combined with bezel-set diamonds. "This, I think, is very identifiable to us," says the designer, whose own collection includes works by Damien Hirst, Hunt Slonem, Larry Zox, Donald Baechler and Jason Bereswill.
(Header image: Gaelle Khouri's La Réfraction earrings from her collection Homage to Kandinsky and Steiner)