Factors, Segments, Demands & Impacts- Detailed Case Study
Sports market: An overview
The clothes that we wear for sport or physical activity are referred to as sportswear or activewear. The majority of sports and physical activities require sport-specific clothing for safety, comfort, and practical reasons. Sales of sportswear have continued to grow during the pandemic, driven by an increasing appetite for fitness in the country, embracing sports fashion. Examples of typical sportswear include polo shirts, shorts, T-shirts, and tracksuits. Examples of specialized clothing (for gymnastics) include swimsuits (for swimming), wetsuits (for diving or surfing), ski suits (for skiing), and leotards. Examples of sports footwear include ice skates, football boots, riding boots, and trainers. 
At times, sportswear is also worn as casual clothing. The market for sportswear in India has been around for a long time. As the economy and money grow, people are looking for the best selection among the many brands that are available. As a result, the athletic goods industry is constantly expanding to meet demand. Overall, the sportswear industry in India has a lot of business potential, especially in the areas of marketing, management, sponsorship, and selling and exporting sportswear.
Surging demand & growth of the sportswear market
India's market for sports apparel was worth USD498.68 million in FY2020 and is expected to grow by 16.06 percent over the forecast period. The market is supposed to develop because of expanding well-being concerns and extra cash among the populace. In addition, the advantages of sporting apparel, such as extended durability, increased range of motion, material breathability, and superior comfort, are some of the primary factors driving the expansion of the sports apparel market in India. 
Sportswear is clothing designed specifically for a particular sport that is frequently worn by men and women who engage in physical activities. Additionally, the Indian sports apparel market will expand during the forecast period due to Indian icons frequently promoting their own sports brands. Modern organized retail takes a planned approach to distribution and logistics management that focuses on both the urban and rural populations and helps the market growth in the future. 
---
Read | Why is 70% of world football made in Pakistan?
---
Factors contributing to the growth of the sports apparel market
The growing interest in fitness and fashion among women are two factors that are contributing to the significant increase in demand for women's sportswear in the Indian market for sportswear. Because of this, almost every brand of sportswear has recently introduced new lines of clothing aimed specifically at female customers. In addition, the momentum has grown to the point where street retailers are beginning to offer women-only sports apparel sections.
Moreover, the rising popularity of social media among Indian consumers and the rising number of health conditions have made them increasingly concerned about fitness and health, which has resulted in a significant increase in the demand for sports apparel in India. Additionally, due to their dependence on desk jobs for the majority of the day, the growing working-class population is more likely to lead sedentary lifestyles. They rely solely on their daily workouts as their only source of activity, which is increasing the demand for workout clothes and supporting the expansion of India's sports apparel market.
Segments of the sports apparel market in India
The sportswear market in India is divided into segments according to company, region, end-user, distribution channel, and product type. The market is further segmented by product type into t-shirts, sweatshirts, sports vests, track pants and tights, and other items (such as swimsuits, sports hoodies, and sports bras). Due to widespread preference, sports t-shirts are anticipated to dominate the market. Due to their level of comfort, t-shirts are popular choices among people. Professional athletes and morning joggers alike prefer to wear track pants. The overall market is being driven by rising health-conscious population concerns. The market is divided into men, women, and kids as end users. In the next five years, men's clothing is expected to dominate.
Under Armour India Trading Private Limited, ASICS India Private Limited, Fila Holdings Corporation, Adidas India Marketing Private Limited, Nike India Private Limited, and Puma Sports India Private Limited are some of the leading players in the sports apparel market in India, Skechers Retail India Private Limited, Decathlon Sports India Pvt Ltd., Shiv-Naresh Sports Private Limited, and Lotto Sport Italia Spa, among others. To provide better products, businesses are participating in research and development for improved quality methods and various quality analysis tests. 
— Advertisement —
The impact of Covid-19 on the sportswear market
In spite of the fact that businesses all over the world continue to be affected by the COVID-19 pandemic, the athletic goods industry has been able to return to its pre-COVID-19 growth levels despite challenging economic conditions. The athletic goods industry's executives were focused on three major developments in 2020: customer shifts, the digital revolution, and changes in the industry. In 2021, these trends continued, intensified in some instances, or took exciting new turns. Athleisure has grown in popularity as a result of the increased number of people who continue to work from home. This reflects a shift in perceptions regarding traditional office attire to emerging sports fashion. Because people are more aware of their health, a lot of people have a new perspective on sports and fitness as a whole. Despite the relaxation of lockdown restrictions, customers continue to make online purchases, which has helped e-commerce flourish. The rise in popularity of the digital individual or community-based exercise and physical activity has opened up new opportunities for sporting goods companies.
Sportswear market expansion during pandemic
Between July and December 2020, the market for sportswear expanded by 8-10% year over year as customers wore them for exercise, work from home, or video meetings. Sales of sportswear have continued to grow during the pandemic, driven by an increasing appetite for fitness in the country, embracing sports fashion, and increased adoption of sporting disciplines other than cricket. As a result, sports fashion soared and the apparel and footwear companies have outpaced rivals in the fast-fashion and lifestyle industries since the beginning of the Covid-19 pandemic. Decathlon, Asics, Puma, Skechers, and Reebok grew by 7-24 percent in the fiscal year that ended in December 2020, according to regulatory filings. This is significantly more than apparel retailers Zara, Benetton, Marks & Spencer, Levi's, and Lifestyle, which either declined or expanded by the low single digits.
Data analytics company AltInfo says that Decathlon, a French retailer of athletic goods, increased by 24% to Rs 2,231 crore in the fiscal year that ends in March 2020, nearly tripling sales over the previous two years, and Reebok increased by 7% to Rs 428 crore. In the fiscal year that ended on December 31, 2019, the German brand Puma saw a 22% increase in revenue, reaching Rs 1,413 crore. Athletic sales increased, in contrast to other garment companies, which reported weak growth as a result of shop closures in March and customer anxiety about venturing outside even after the lockdown was lifted. Sportswear companies that had previously concentrated on brick-and-mortar retail made money by expanding online as well.
---
Also Read | Top 9 Best Tracksuits For Men | Start Your Fitness Journey Today
---
Dynamics of the market
Increasing Sportswear Sales Online
With 1.3 billion people, India is one of the fastest-growing and largest markets for footwear manufacturers. T-shirts, track pants, running shoes, walking shoes, and women's tights saw an increase in demand, according to Flipkart, which is owned by Walmart. Even in Tier-3 markets, sports shoes are becoming increasingly popular, according to a Flipkart spokesperson. As the epidemic progressed, consumer searches for workout apparel and equipment on Flipkart increased as individuals continue to experiment with new fitness regimens. 
Fitness as a category and sports fashion has been constantly expanding year after year. According to Amazon India, there has been a lot of demand for work-from-home necessities like open footwear in addition to sporting and comfort apparel. There was constant strong demand for running shoes in 2020, particularly women's running shoes, which saw a 1.6 times increase in demand. Sportswear sales increased by 1.2 times in 2020. Demand for sportswear in the Indian market is likely to rise as a result of this rise in online shopping.
Digital ecosystems, social commerce, & social media
The Indian market for sports apparel is likely to grow as a result of social media's growing influence on consumer purchasing decisions. More than 80% of consumers look for goods on the internet. Prominent players are taking advantage of this growing trend because social media continues to be an effective platform for influencers and digital communities to link consumers and commerce. 
In 2021, businesses that were able to streamline this connection between engagement and sales were able to significantly increase profits and even construct digital consumer-engagement ecosystems that extended from the company's website to applications, and retail stores. These ecosystems used the generated data to guide product development and demand planning. Additionally, live-streaming as a marketing and sales channel is already widely used in India and is expected to spread globally as the social media landscape changes. In the athletic goods industry, early adopters are attempting to establish themselves in this "metaverse," and others are likely to do the same.
Changing the Behavior & Preferences of Customers
In recent years, India has quickly caught up to the worldwide fitness craze. India's fitness habits are now on par with those of the rest of the world. Indian consumers and citizens have become more health-conscious as a result of the expanding economy and constantly shifting lifestyle choices. In order to maintain a healthy lifestyle in the midst of their busy lives, they are now required to incorporate new health and wellness practices. The sportswear industry in India has benefited greatly from this new fitness lifestyle shift, making sports fashion now one of the most in-demand fashion and apparel segments. Businesses and investors interested in the Indian market now have new trading opportunities thanks to this shifting trend.
The market for athleisure apparel and equipment is seeing an increase in demand as a result of the country's improving economic situation and evolving fitness attitudes. It has provided opportunities for brand and fundamental framework development, entrepreneurial setup, advanced technology, and services, as well as other new employment endeavors.
Indian & international manufacturers are expanding
In the past, the Indian market was dominated by well-known multinational sportswear companies. For more than two decades, Reebok, Adidas, Nike, and Puma have been present in India. They have grown by promoting their products by partnering with cricket and other athletic events. Newer competitors, on the other hand, have positioned themselves as regular athletic clothing and comfortable lifestyle businesses. When these brands first entered the Indian market a few decades ago, they quickly established a solid foothold. 
However, over time, indigenous businesses were able to meet the growing demand in the domestic market thanks to the growing interest of Indian consumers in fitness and Sports fashion & apparel in general. Indian brands have an advantage over these multinational retailers in the pricing sector. Over time, numerous low-cost and high-quality sporting goods companies have entered the market and gained a following among the intended audience.
---
Read | Top 10 Best Fitness Bands to track your daily fitness goals & get in shape today
---
The regional insights of the sports apparel market 
India's apparel market brought in USD 133,474 million in revenue in 2021. The market for sportswear is a major contributor to the growth of the Indian garment industry. In 2021, the India Sports Apparel Market was worth USD 579.47 million, and by 2029, it is expected to reach USD 2238.13 million, growing at a CAGR of 16.2 per cent.
The product's demand has increased as a result of the government's growing investment in sports, which has had a significant impact on the market expansion. For instance, in February 2020, the Economic Times reported that the Indian government had allocated USD 401.6 million toward its sports budget, representing an increase of USD 7.103 million from the previous year. In addition, the flourishing growth of sports like cricket, which has led to a significant number of people playing the sport professionally and as a hobby, has had a significant impact. The Indian cricket league known as the Indian Premier League is anticipated to be worth USD 6.8 billion with a growth rate of 7%, according to another Hindu data point published in September 2019. 
The competitive insights of sportswear in India
Over the past ten years, a number of garment manufacturers have significantly entered the Indian athletic market. RK Singh, a former athlete, started Shiv Naresh in Delhi as a small tailor shop. It is referred to as the "Face of Indian Sports," and a number of athletes, including Mary Kom and Vijender Singh, wear the renowned Shiv Naresh signature on their Indian team shirts. One of the pioneers of Indian athletic apparel in the 1970s, the company eventually developed into one of India's most well-known brands. It has a classic logo on the chest and side of the shorts, which is often seen at international and national tournaments in India and all over the world.
Re Design has taken a different approach to the Indian sportswear market by putting a strong emphasis on the details of the fabric and sports fashion. With features like anti-chafe seams, moisture-wicking, and tailored compression, Re Designs products give users an extra layer of comfort and agility. Fitness shirts, skins, and tights are just a few of the many products embracing sports fashion. The low cost and affordability of this business are major selling points. Also, since it started selling on e-commerce platforms like Ajio and Reliance Trends, Mumbai-based Performax has seen a significant rise in customers. The sportswear company continues to expand and has partnered with the Mumbai Indians and Jaipur Pink Panthers in a number of Indian sporting tournaments. This innovative new-generation sportswear company has entered the Indian market and offers a wide range of high-performance apparel to its customers.
---
Also Read | Sports Biomechanics
---
Key factors influencing the trends of the sports market
The rising interest in a healthy lifestyle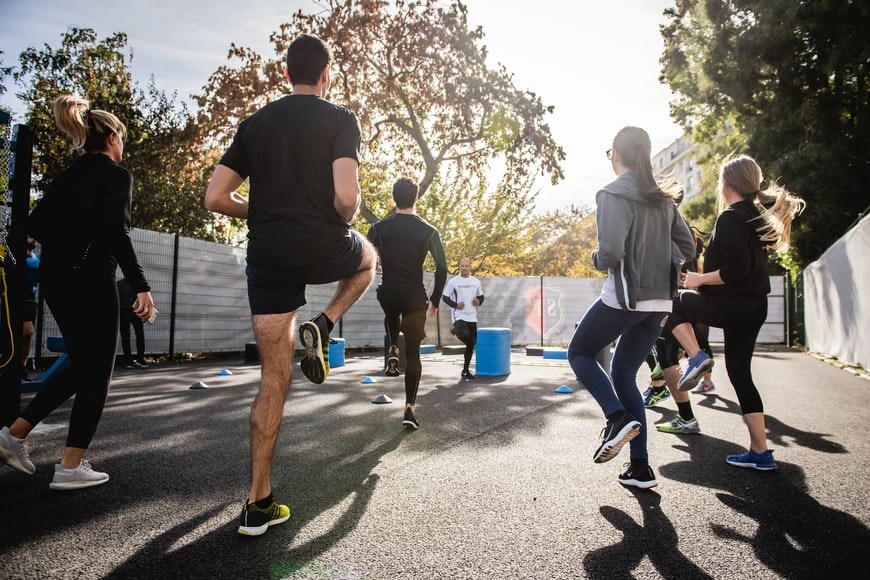 The consumer's disposable income is rising as a result of the rapid expansion of the economy. Due to the necessity of maintaining a fit lifestyle, numerous sports-related activities are gaining popularity. As governments and educational institutions encourage students to participate in more sports, physical activity of any kind has gained importance. Depending on a person's identity and cultural preferences, there are a variety of sports that appeal to their preferences and temperaments. People want to be fit, healthy, and attractive. During the forecast period, these factors will accelerate the growth of the sports apparel market.
Men and women participating actively
Both boys and girls are becoming very interested in sports. It is anticipated that women who participate devotedly in numerous domestic and professional sporting events will have high levels of self-confidence. They are more likely to actively contribute to society if they have a positive image and high levels of psychological well-being. From casual joggers to professional athletes, consumers are investing in sportswear with performance-enhancing features like temperature control and moisture absorption to prevent discomfort and injury. In addition, surviving in a competitive workplace requires essential life skills like goal setting, team building, and striving for excellence in performance. Sports teach the value of focusing on the end result. In the years to come, the demand for sports apparel will rise as a result of these factors.
Emergence of sports fashion
The intersection of fashion and sports is a fashionable and adaptable phenomenon. It is easy to wear and look appropriate for a variety of occasions. Sportswear is here to stay. Men typically don sweatpants, and hoodies, whereas women frequently don leggings and, sports bras. Because they are comfortable, breathable, and suitable for strenuous sports and workouts, all-purpose clothing is gaining popularity. Customers are incorporating these clothes into their regular wardrobes and pairing them with dresses, denim, or formal wear. Key retailers are taking advantage of the growing interest in fitness among people of all ages by introducing novel products that are tailored to the fashion, function, and technical requirements of their customers. During the forecast period, this, in turn, will boost the growth of the market for sports apparel.
The international sporting market is expanding at an alarming rate
There is a huge interest in live sporting events. Sports stars are working with fitness brands to promote their clothing and products. Fans greatly admire these professional athletes for their incredible accomplishments. Numerous young people are inspired by their path to success. Customers are prepared to make an investment in high-quality sports apparel by collecting autographs and wearing the same brand of clothing as they advertise. In addition, the level of participation in megaevents has skyrocketed in tandem with the rise of social media and digitization. Numerous sponsorships are flooding in, and betting platforms are gaining popularity. The entire viewing experience is being revolutionized by AR and VR technologies. The market for sports apparel will expand rapidly as a result of these factors in the coming years.
---
Read More | Top 10 Nike sports shoes 
---