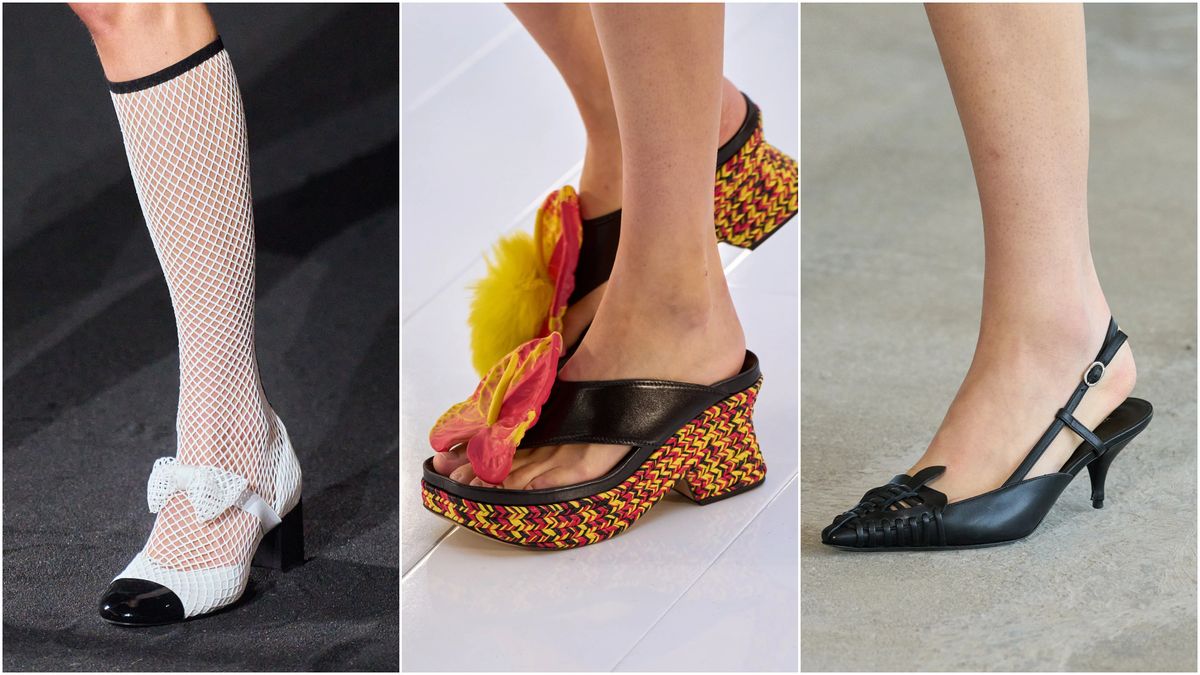 The Best Spring 2023 Shoe Trends
Spring hasn't kicked off quite yet—Punxsutawney Phil is still slumbering soundly in his little groundhog burrow, our seasonal fate yet to be determined. But in the fashion world, now is the time to start shifting into springtime gear. You want to have a grasp on the spring 2023 fashion trends (opens in new tab) before the crocuses sprout because, like a Boy Scout, we fashion folks are always prepared (or, at least, we try our best to be). And once you're aware of ready-to-wear, you'll want to study up on the soon-to-be standout accessories, starting with the spring 2023 shoe trends because there's a lot of material to cover. From out-of-the-box thong sandals to sporty ballet flats (opens in new tab), footwear balances practicality and fashion-heavy flair in the coming season.
Scroll onward to discover the leading shoe trends and shop a curated edit of the styles to get a leg-up—hah!—going into spring 2023.
Sling It, Baby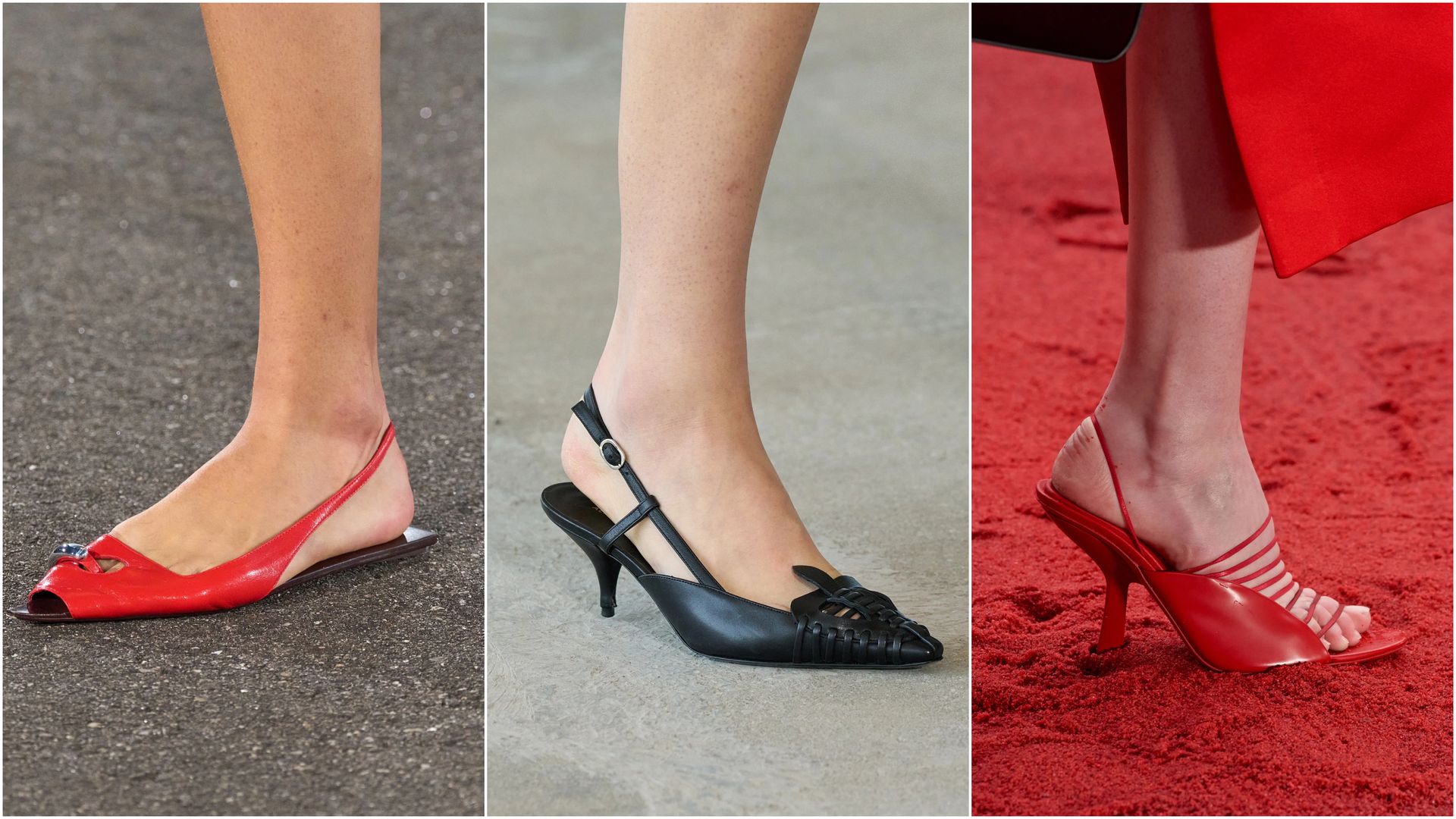 Experimentation is always welcome within fashion, of course, but there's something about a classic slingback shoe in the springtime that just feels right. Evidently, designers agree: Tory Burch offered peep-toe slingbacks, while  Altuzarra and Ferragamo, newly helmed by the up-and-coming Maximilian Davis, opted for slight height with multi-strap pumps.
Not-So-Traditional Thongs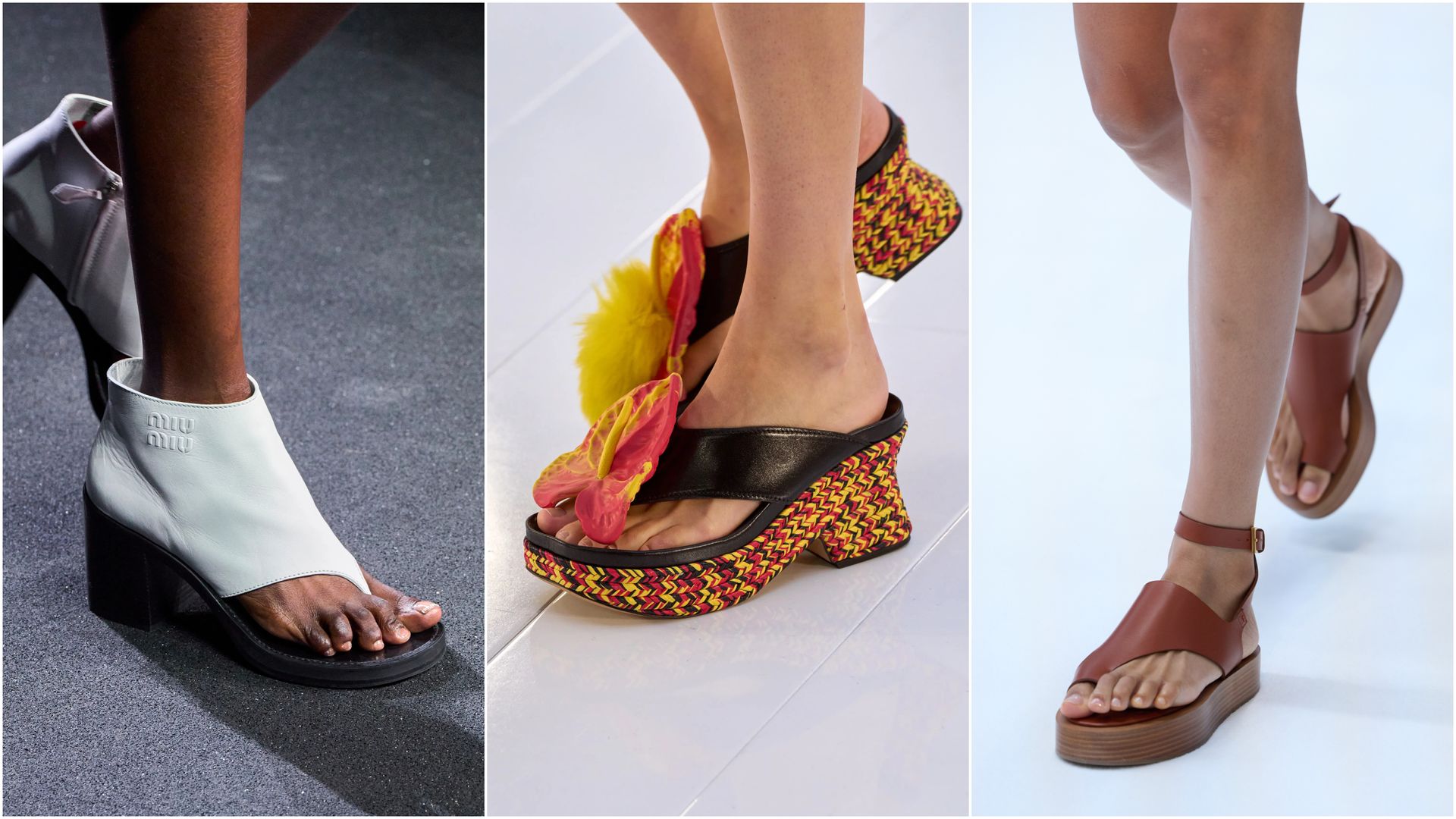 These are not the '90s-era, hair-thin strappy thong sandals you're familiar with. In spring 2023, expect flip-flops done in chunkier leather and, in some cases, like Miu Miu and Max Mara's, with hide covering a major portion of the foot. Jonathan Anderson for Loewe also opted for thick leather straps but, as he's wont to do, took a more surrealist approach with exaggerated flower appliques. When test-driving the look yourself, shop hefty hide thongs that toe the line between minimal and maximal. And if Anderson's "just tore through a garden and an anthurium is stuck between my toes as carnage" is a bit too avant-garde for your taste, opt for a chunky sandal in a fresh-in-bloom print instead.
Ready, Set, Plie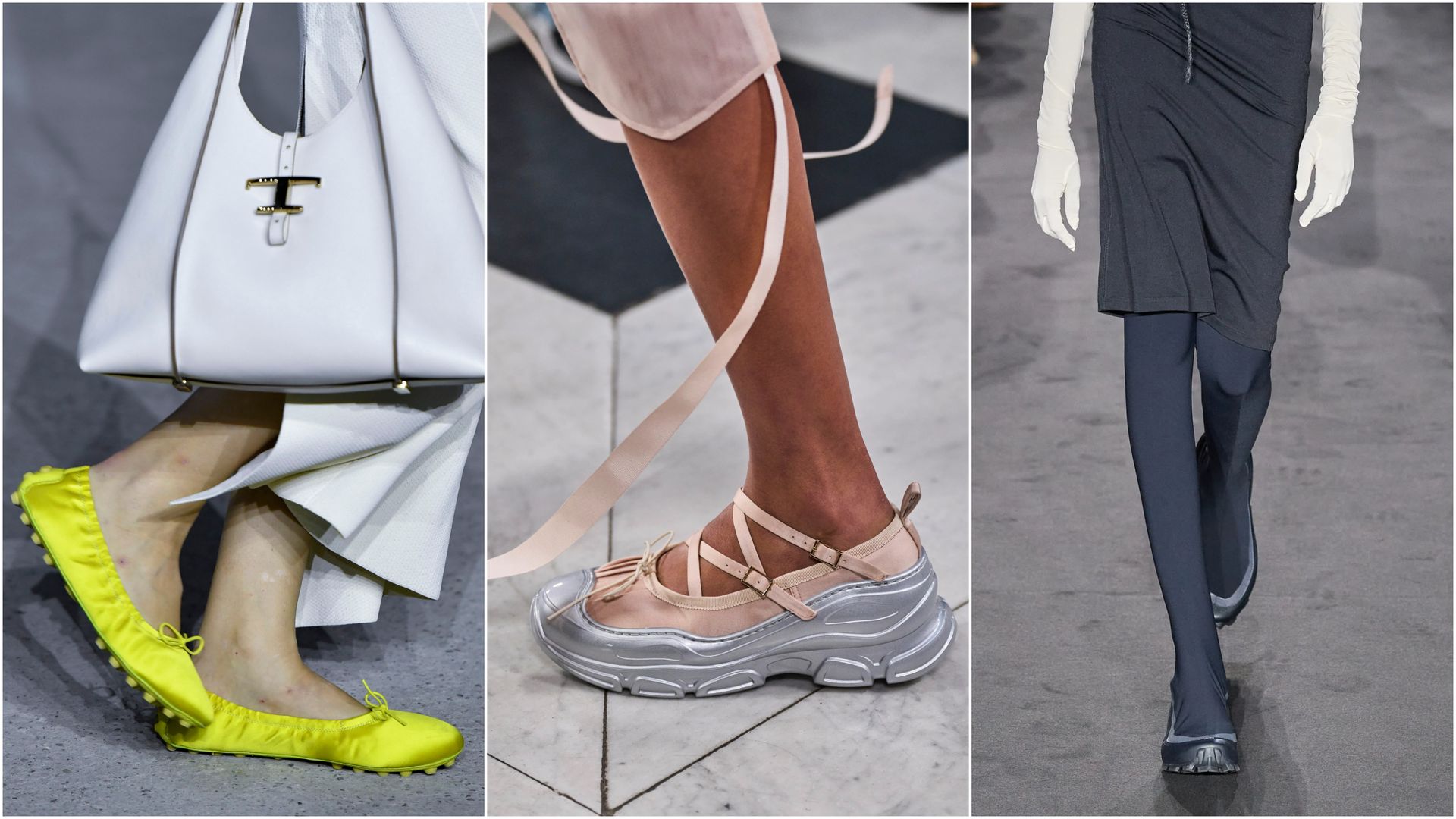 Practice your pirouettes—or at least consider signing up for that barre class you've been too intimidated to try—because ballet flats are a defining spring shoe. But you'll notice an unexpected aesthetic injected into the plie-ready silhouette: the dainty shoe receives a sporty, almost gorpcore-inspired tweak. Tod's and MM6 opted for rubber sole grips that allow you to shift into sports mode at a moment's notice, while Simone Rocha took to the runway with sneaker-flat hybrid designs.
Net Worth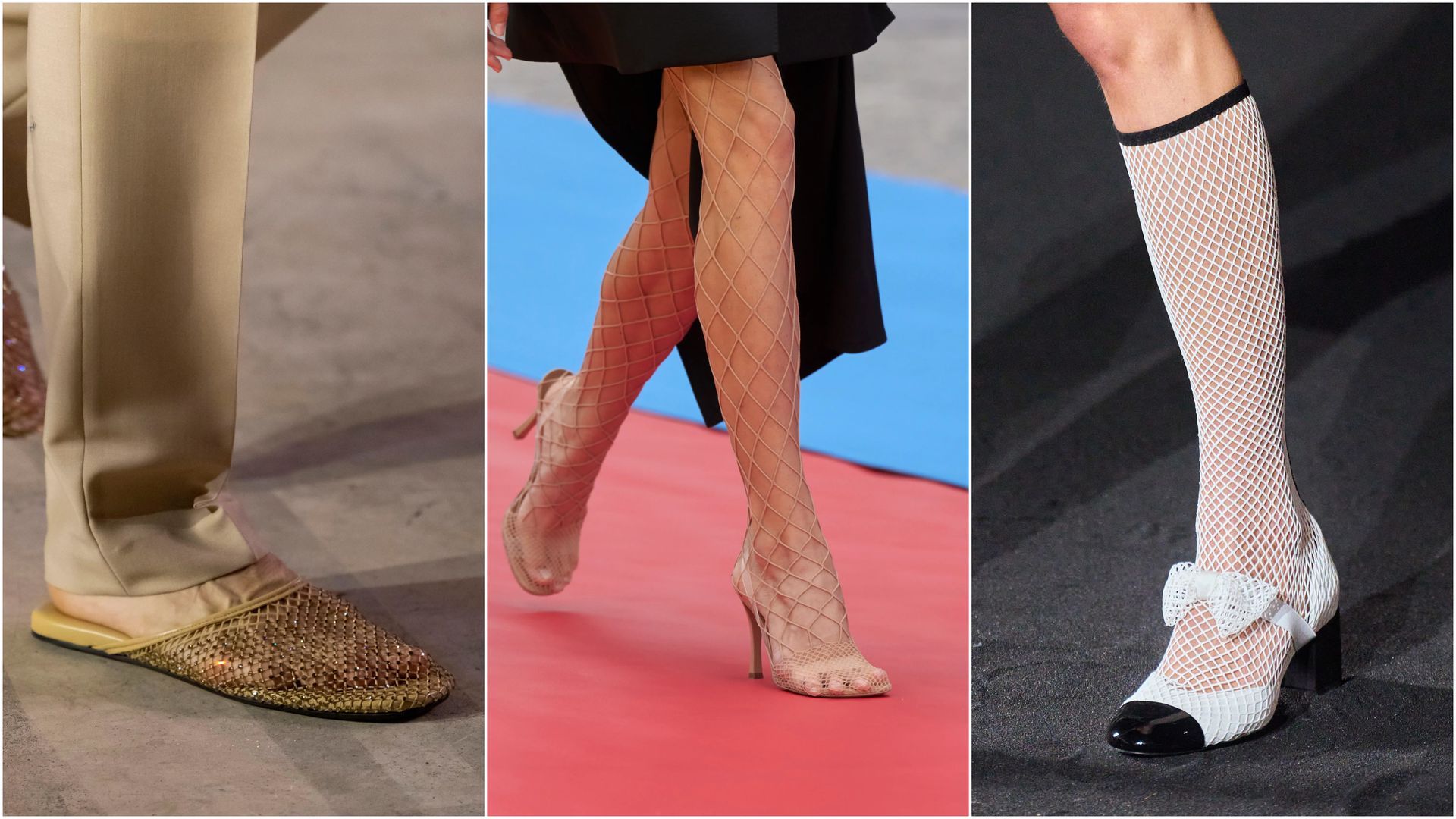 The fishnet footwear on the Spring/Summer 2023 runways—namely Chanel's knee-high net pump, Bally's sparkling mules, and Stella McCartney's lattice heels—captured our attention hook, line, and sinker. Make a splash this season by inviting hosiery-inspired footwear into your collection, either via a mesh mule or woven sandal. 
Swiped From Cinderella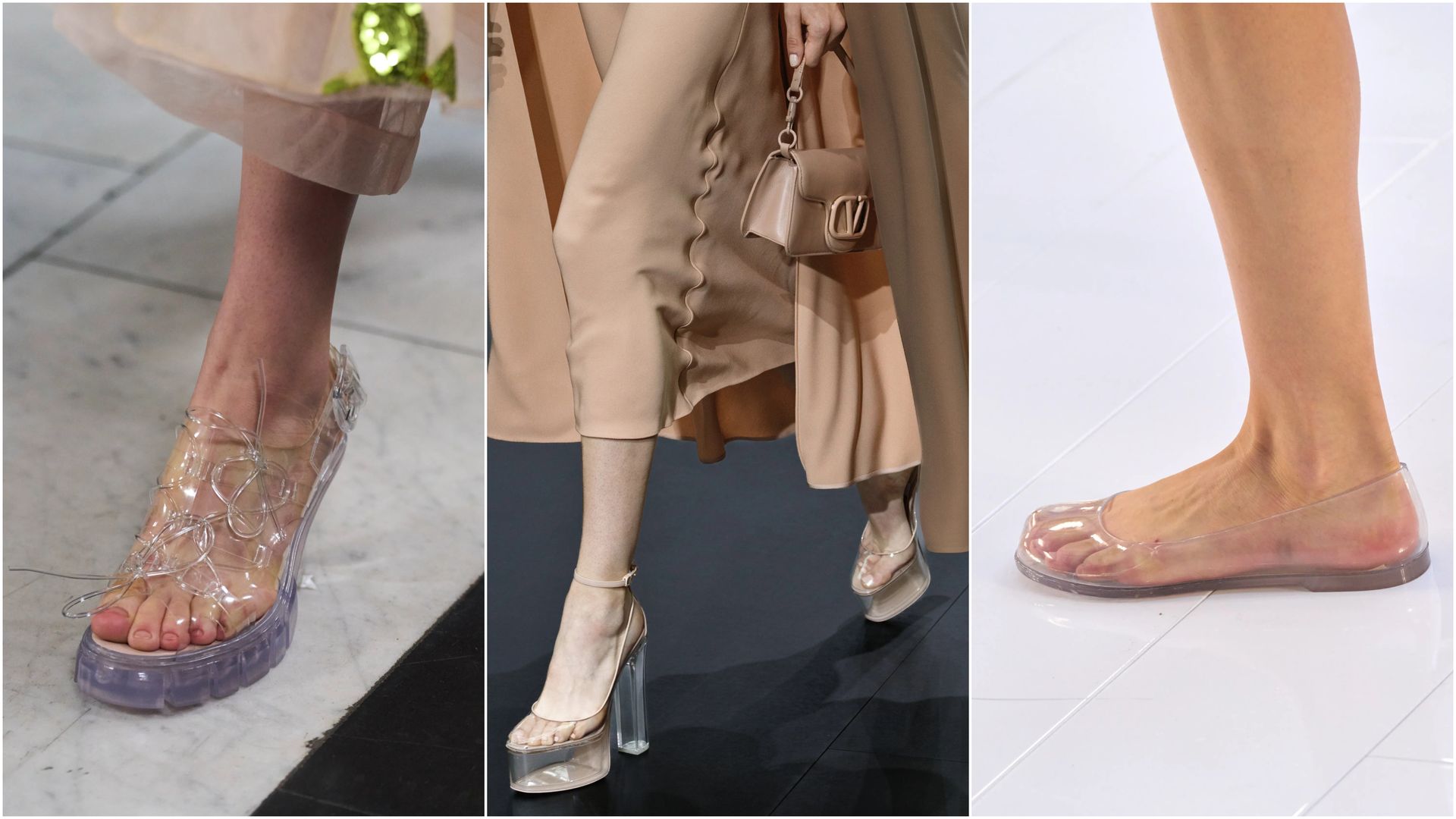 You've heard it a million times: Sheer fabrics (opens in new tab)—mesh, macrame, transparent tulle, and what have you—have the trend cycle in a vice grip. And as you can see with the see-through shoes seen at Simone Rocha, Valentino, and Loewe, the bare-it-all philosophy has now trickled down to footwear, too. This spring, take inspiration from Cinderella's iconic slipper with a PVC pump or harken back to your halcyon days with a crystal-clear jelly sandal.