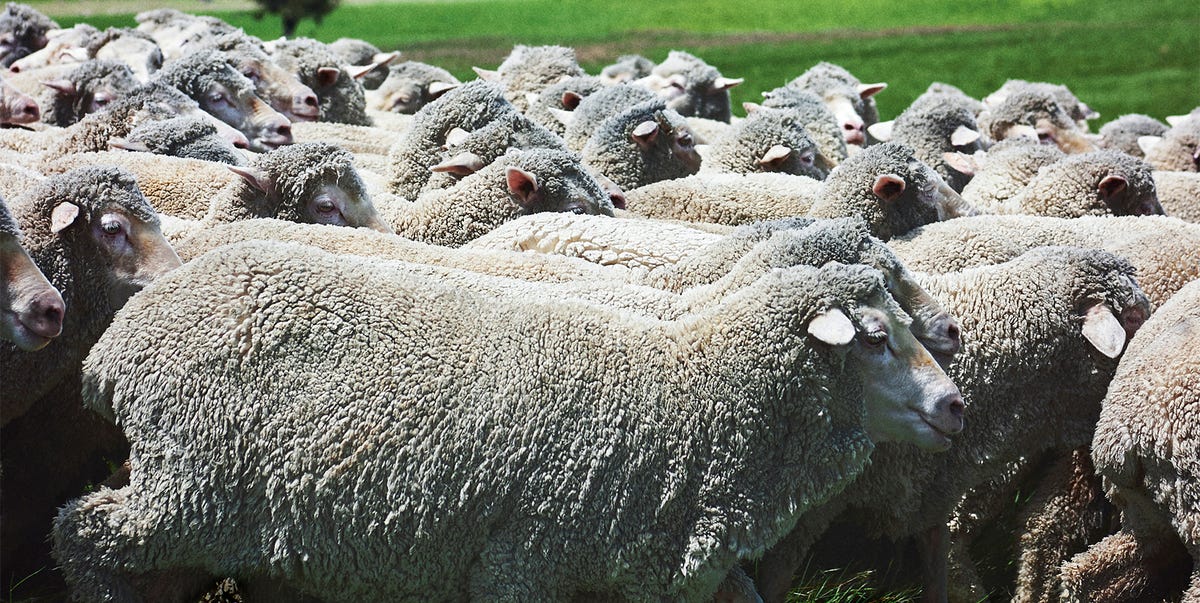 Fashion's New Origin Story
Do you know where your sweater came from? If it's one of Loro Piana's cloud-soft merino-wool knits and you wave your iPhone over the label, a digital certificate will pop up on your screen that gives detailed information about the bucolic Australian or New Zealand sheep station where the ultrafine fibers were shorn and the factories in Italy's Piedmont industrial region where they were washed, scoured, carded, drawn, spun, woven, and dyed. You'll also learn that Loro Piana's proprietary merino wool, called the Gift of Kings, is the finest in the world—at 12 microns, it's less than one fifth the diameter of a human hair—and comes from just a handful of breeders who focus on pasture management and grazing practices that preserve biodiversity. While that may sound like a futuristic experience straight out of Minority Report, it relies on advanced technology you likely already use in your daily life: The data is encoded in a blockchain and shared with your mobile device via a QR code.
Loro Piana is just one of many luxury brands that are now harnessing the power of technology to meet the demands of an increasingly conscious wave of consumers who make purchasing decisions based on where things come from and the practices and processes involved in their production. "The brand has always paid attention to the environment and local communities," says Loro Piana's head of sustainability, Valentina Boffi. "And thanks to this system, we are now able to tell the unique story of every step of production."
The tech behind Loro Piana's enhanced transparency is courtesy the Aura Blockchain Consortium, a utopian-sounding—and seemingly unlikely—collaboration between rival luxury conglomerates that includes LVMH (Loro Piana's parent company), Richemont, Prada Group, and OTB. The coalition was formed in April 2021 as a way to fast-track a green application of blockchain technology to fashion. While the most common use case of blockchain for cryptocurrency mining has been critiqued for the amount of energy it requires, the Aura blockchain currently has only 24 computer nodes (compared with Bitcoin's 100,000) and runs on 100 percent clean energy. Aura brands are betting big that consumers will soon prioritize seeking out the same kinds of information when they're shopping for luxury goods that they already do when they're buying organic food or clean beauty products. "Today, you want to know what's in the food you eat, what's in your lipstick and face cream," says Aura Blockchain Consortium's general secretary, Daniela Ott. "I'm convinced that within three years, you'll expect the same from fashion."
Blockchain verification can also serve as an immutable certificate of authenticity and help keep luxury products in circulation for years to come. Over the past nine months, a slew of Aura-verified products has begun to arrive in stores, including Louis Vuitton LV Diamonds fine jewelry featuring conflict-free stones cut and polished in Belgium or India, Maison Margiela Recicla refurbished leather handbags, and Prada Eternal Gold recycled-gold bijoux.
Aura isn't the only player in traceability technology. The Chloé Vertical project, which debuted on the Chloé Spring 2023 runway, uses a blockchain called EON to track natural materials from field to fashion show. They include linen sourced from the French agricultural cooperative Terre de Lin and wool supplied by creative director Gabriela Hearst's own family ranch in Uruguay. Stella McCartney's Spring 2023 collection features a cheeky Snog-a-Log graphic tee made from a climate-positive, blockchain-verified cotton grown in Turkey using regenerative practices that allow the farm to capture and store more carbon in the soil than it emits.
Blockchain traceability often relies on a QR code or contactless chip being sewn into a garment. But the Sydney start-up FibreTrace has developed a way to make the fibers themselves traceable. A luminescent tracking pigment made from rare-earth minerals is mixed into batches of regenerative cotton or wool. The resulting fabric can be scanned to confirm its origin. FibreTrace's nanotechnology-based approach, currently used by local B Corp–certified label Maggie Marilyn, is set to be adopted by global luxury players in the coming months.
In shopping more responsibly, knowledge is power, and the hope is that increased traceability will allow more of that power to reside in the hands of the consumer.
This article originally appears in the April 2023 issue of Harper's BAZAAR, available on newsstands April 4.