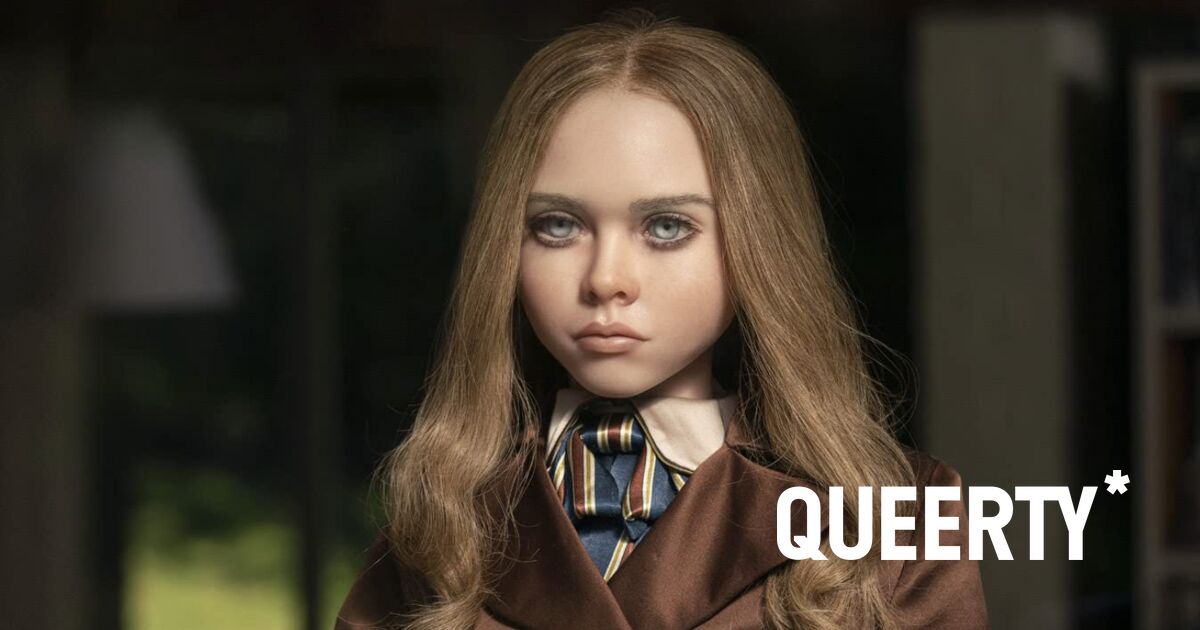 M3GAN enters her supermodel era in killer new fashion campaign & the girlies are living
Not content with just murdering the big screen, M3GAN has not set her demonic sights on slaying the runway.
After proving she can walk that f*cking duck in her self-titled blockbuster, the dancing AI diva is striking poses and serving Gen Z retro punk eleganza in new a campaign for Marc Jacobs' Heaven brand.
In the ads, M3GAN trades her trademark tan mini dress, striped bow, white tights and patent leather Mary Janes for a '90s grunge-era skull hoodie, denim mini skirt and black platform motorcycle boots. Smells like homicidal teen spirit!
Keeping with her classic sinister vibe, the campaign features a blood red light on M3GAN's animatronic visage that adds an even more ominous energy to her horrifyingly stoic gaze.
The brand's official Instagram account shared the images with the image: "M3GAN in heaven."
Reactions to M3GAN's modeling debut had the legit fashionistas cheering for the new It girl.
"OMG," commented the official Paper magazine account.
"LMAOOO," commented ballroom king and former Legendary contest Gravity Jacobs.
Even Marc Jacobs himself was taken aback by M3GAN's "natural" talent and wrote, "So sick. I love it."
But it was the queer fans of the Model 3 Generative Android diva that were really gooped and gagged.
Peep the cheers from the gays:
— Sam Stryker (@sbstryker) March 14, 2023
she's working overtime for the gays and gals pic.twitter.com/TQQk2zBxie

— shivers (@thecroakerqueen) March 14, 2023
AI models should be normalized.

— TheFutureParty ⚡️ (@thefutureparty) March 15, 2023
It's giving Bratz x Steve Madden pic.twitter.com/fv4T9r7Gj8

— Lindsay Goldwert (@lindsaygoldwert) March 14, 2023
why is it giving pic.twitter.com/aibRSmzEUW

— andrew (@everytimeandrew) March 14, 2023
Others foreshadowed how M3GAN's model moves will recalibrate the entire industry:
Law Roach comes back from retirement to style M3GAN for The Met Gala

— vers flop (@parmado) March 15, 2023
Ended Kendall with just one pic

— ᱬ A L E X ❤️‍🔥 (@_hoekage_23) March 14, 2023
I want HER on Euphoria pic.twitter.com/hlWFr6ksrL

— maybe (@allineedistime2) March 14, 2023
bella hadid who pic.twitter.com/ZcUZ0f848k

— the cuntress diaries (@dawnorrin) March 14, 2023
oh ended cardi

— jr is streaming rmiv 🦹🏽‍♀️ (@HOEZINTHETRAP) March 14, 2023
She model better than Kendall Jenner pic.twitter.com/TOhNva9KS1

— Porshay 🍂🍁 (@PorshayHarris1) March 14, 2023
While others lamented how some members of M3GAN's own community will be out to get her for this flex:
Annabelle wish's she could be this cunty

— being_pretentious_atthebeach ⎕🪩🪦🌼 (@justbrianna60) March 14, 2023
More like: Hell by Marc Jacobs…

Chucky and Tiffany need to catch M3GAN outside 🤣

— TANIZZLE.com (@iTanizzle) March 14, 2023
oh bitch it's over for annabelle and chucky. pic.twitter.com/0UMUF9VUk3

— xander ✰ (@x4ndrr) March 14, 2023
Tiffany needs to step up her game pic.twitter.com/mGQpW4e6xk

— Judyn Roberts-Reed (@BlackwellJudyn) March 14, 2023
"She Will Never Be Me." – Annabelle on M3GAN's modeling photos. pic.twitter.com/uir2icM6T3

— Just4entertainment (@here4choas) March 14, 2023
With her modeling career booked and busy, M3GAN is still set to return to the titular role in the upcoming sequel to her self-titled viral horror film alongside Allison Williams.
M3GAN 2.0 is currently scheduled to hit theaters in January 2025.
In the meantime, fans can catch more explicit glimpses of our AI queen in the recently released unrated version of M3GAN on Peacock.