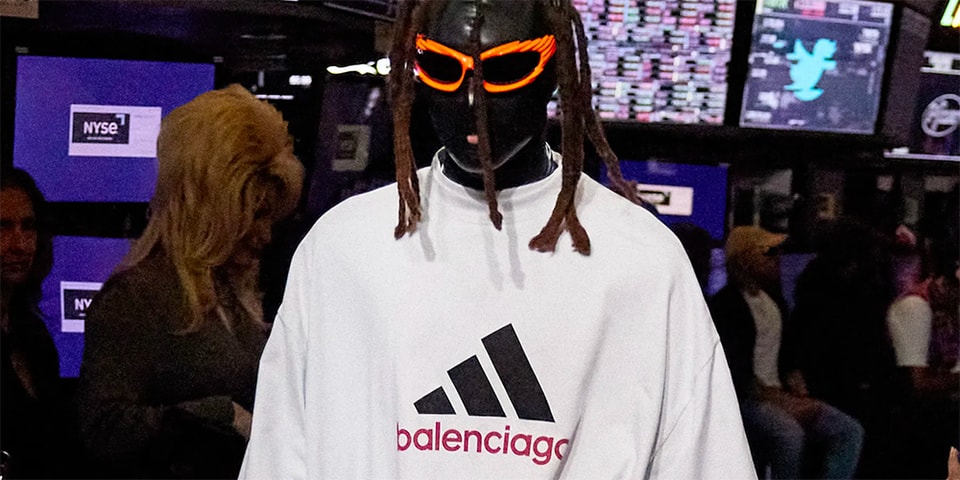 Is Balenciaga x adidas Peak Luxe Collab Irony?
The design cues of traditional sportswear companies and heritage luxury houses aren't as far apart as it seems. Cast your eye back to the 1980s when Gianni Versace's sporty silk blousons were the height of fashion, or the '90s with Chanel's foray into ski jackets and puffy clothing. It continued with adidas in the 2000s, tapping Yohji Yamamoto before it enlisted everyone from Raf Simons and Rick Owens to then-up-and-coming designers like Craig Green and Wales Bonner. This is nothing new, but today it seems that collaborations – particularly ones that combine sportswear and streetwear with heritage luxury labels – are a dime a dozen.
This concept has caused a shift in what luxury fashion means. It arguably started with Louis Vuitton x Supreme, potentially the catalyst for Virgil Abloh's Louis Vuitton x Nike collaboration, Dior x Jordan, and of course in recent times, adidas' work with Prada, Gucci, and now Balenciaga. Sportswear collaborations within the luxury realm such as these have become industry-defining moments and have gone on to change brand strategies, particularly for once-antiquated luxury names.
The recent Balenciaga x adidas collaboration, which debuted during the label's Spring 2023 show held at Wall Street's New York Stock Exchange, transformed the American Dream into an atmosphere that commented on (to the point of mocking) capitalism, bootleg culture, and just how far a brand can push its audience. This has become Demna Gvasalia's modus operandi, and now we live in the era of brands testing the limits of what "luxury" means in the fashion industry. 
Balenciaga's collaboration with adidas was all of the above, and instead of being inspired by bootleg culture – something Demna often did at Vetements, famously with its DHL T-shirt – the collection turned out to be more in its own lane of "bootleg couture." Simply, high-end variations of everyday adidas items. 
As the Instagram account Diet Prada highlighted, a strappy adidas dress that usually costs $45 USD is now a $1,550 USD strappy tank top, seemingly just because Balenciaga replaced adidas' name with its own. This continued with $18 USD socks turned into $210 USD co-branded ones and a technical track jacket made largely from the same materials seeing a price increase from $120 USD to $2,350 USD – arguably because the silhouette was exaggerated in Balenciaga's usual manner and its branding appeared once again.
But with anything Balenciaga, you have to look beyond face value. Like its viral Distressed Paris Sneaker, Demna makes a point of wearing sneakers worth $1,850 USD that, if they were not Balenciaga, you would throw away. Likewise, the Destroyed Stan Smith warranted comments from HYPEBEAST's audience such as "You can just buy some regular Stan Smiths and wear them through hell for three years, and they'll look just like this." Other products such as the adidas Triple S divided opinions, once again proving that many luxury brands, like Balenciaga, are looking at provocation.
Demna, both when he was at Vetements and now with Balenciaga, is obsessed with irony. It's a part of Balenciaga's brand DNA, heavily influencing collections such as the Spring/Summer 2022 red carpet-themed show that saw hypothetical celebrities (aka the models) arrive at a faux event for a screening of a very satirical episode of The Simpsons. Here, this worked, as Demna would present retro-futuristic tailoring and divisive footwear in a setting fit for the Met Gala, or previously with Vetements, Demna delivered Juicy Couture tracksuits and reimagined Levi's denim on a runway inside institutions like McDonald's. 
This level of subversion is apparent in Balenciaga's recent runway – wealthy, fashionable onlookers were invited to Wall Street at a time the stock exchange is tanking and the cost of living continues to rise, all while gimp mask-clad models walked down the runway. Commenting on the show, Demna said that money is the biggest fetish of them all, but did Balenciaga really evoke the irony we've come to expect by showing multi-thousand-dollar garments inspired by the bootleg culture and Wall Street at the NYSE while it also directly benefits from this industry, theme, and luxury price bracket?
In short, this is all great marketing for a house that continues to be the world's hottest brand year on year. However, it's becoming increasingly difficult to understand who the latest collection is for.
adidas' collaborations with Prada, Gucci and Balenciaga are certainly not for its typical consumer. While plenty of the Gucci collaboration was well-received, especially its $850 USD Gazelles, it isn't unreasonable to question why these shoes are more than eight times the price of the original sneaker. It comes down to how meticulously well-designed they are, that they're made in Italy by the hands of Gucci's own artisans (like Dior's Air Jordan 1), and use some of the highest quality materials in Gucci's armoire. The same goes for the rest of the Gucci x adidas collection, which saw traditional Gucci silhouettes infiltrated by adidas' Trefoil and Three Stripe iconography, coming together harmoniously in a way that appeals to lovers of overt branding and the culture of hype. However, perhaps less so to OG adidas heads. 
For adidas, it means it can have a slice of the luxe market without having to fully devote itself to this field. For the brands it collaborates with, they get to reap the benefits of a younger audience deeming it relevant in their world, all while neither are actually making products for those pockets of society. Here, the appeal is on the luxury house's clientele, subsequently pushing the agenda of rewriting what luxury means in today's climate. 
These collaborations have changed the face of luxury and have introduced a new theme to the high-end audience. To most of us it seems like a tact marketing ploy, but perhaps it's more about breaking down the boundaries of traditions. adidas' collaborative partners are the perfect case, because while Prada, Gucci and Balenciaga offer their own take on sportswear as an extension of their aesthetic and identity, they also realize that adidas offers them something money cannot buy: authenticity. 
However yet again, this is where it gets sticky. Just how authentic are adidas' luxury collaborations? Forget price points and audiences; adidas is a heritage sportswear brand with mass appeal. Balenciaga is infamously controversial, Gucci plays on history and flamboyance, and Prada's latest direction is as high-fashion as it's ever been. 
As we've come to learn, authenticity is key to a good collaboration – research has shown that 59% of 16-24-year-olds are more likely to buy fashion brands they consider authentic. Studies have also shown that "Many consumers who buy luxury goods are not in a financial position to be able to afford luxury goods" and "some people perceive non-luxury goods as inferior simply by virtue of them being non-luxury, [so] they also come to the conclusion that higher priced goods are of better quality (contrary to any evidence about their actual level of quality or durability)."
Maybe this is what we are facing here. Balenciaga, through adidas, is giving its fans what they want – irony in its most palpable form, so visually impactful that everyone knows you spent that kind of money on the power of a logo. 
Instead, these collaborations have paved the way for brands that were typically not associated with the luxury world to dip their toes into that realm, authentically or not. They have tried and succeeded in creating a new era, meaning, and cross-pollination of hype, luxury, streetwear, and fashion, and this goes beyond just making luxury houses so-called "cool." This is the Balenciaga effect: dad sneakers for $1,000 USD and the distorted destruction of high-luxury goods have been the norm for some time now. The question is, how far can these collaborations go before the pendulum of trends swings against its favor and we all return to a less satirical era of fashion?